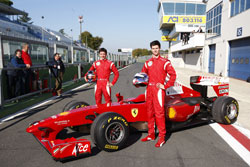 Rome, Italy (November 15, 2011) — Michael Lewis put on a Ferrari red driving suit before climbing into the Ferrari F60 race car, the same car that Formula 1 Champion Kimi Raikkonen drove, today at the Vallelunga Circuit just outside of Rome, Italy, as a result of earning the 2011 Formula 3 Italia Rookie Championship.
The test session was arranged by Scuderia Ferrari and the CSAI, the sporting arm of the Automobile Club of Italy, for Michael Lewis and 2011 Formula 3 Italia Champion Sergio Campana due to their respective championships in the Formula 3 Italia series.
Michael's morning test session consisted of approximately 200 kilometers total or at least 50 rounds on the 4.085-mile track to get him acclimated to the gearbox, accelerator and carbon fiber composite brake discs, as well as the astounding 800-horsepower engine.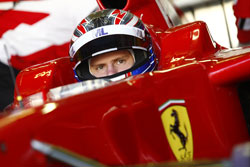 "This car is amazing," exclaimed Michael Lewis. "It accelerates so fast and then it stops even faster. I have dreamed all my life as to what it would be like to sit and drive one of these cars and today I found out firsthand. This was an experience I will never forget. I owe so much to the ACI Sport Formula 3 program that made arrangements with Ferrari to offer such a grand prize for the Rookie Champion and overall F-3 Series Champion. I appreciate all the help and support provided by Ferrari Academy chief Luca Baldisserri and my engineer today Francesco Pon. They gave me so much encouragement and help to prepare me for what I had to do."
Today's test session was led under the supervision of the ACI ACIS federation and Luca Baldisserri the chief of the Ferrari Driver Academy. Ferrari Driver Academy engineer Francesco Pon was assigned to work with Michael through the entire test session.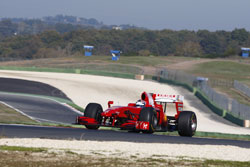 The air was crisp and cool Tuesday morning at Vallelunga when Michael began his first laps in the powerful race vehicle. The press was at the track in droves and captured this important moment from all perspectives. The test session was divided up into six- to eight-lap sessions and each time Michael became more comfortable with the 800 horsepower race car that accelerates rapidly and with the carbon brake stopping power that was a very new sensation for the American driver.
At the end of the morning session Michael was more comfortable and his lap times were reflective of his effort. As a result, the Ferrari crew allowed Michael a few extra laps and then suddenly the red Ferrari F-1 car stopped on the track.
"I ran out of fuel on my last lap," added Michael, with a laugh. "I really appreciate all the effort and work Ferrari put into this program for me and Sergio Campana to have this special opportunity today. I really did not want to get out of the car but when it ran out of fuel I guess that was the signal for the end of my time for the test."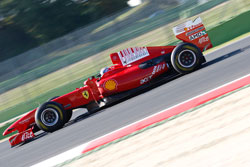 "The test by which in cooperation with Scuderia Ferrari we award the best drivers of our F3 championship," explained Angelo Sticchi Damiani, CSAI President, "is a moment of great satisfaction and unfinished pride for the Italian federation. Through the route drawn from karting to Formula ACI CSAI Abarth and finally in Formula 3 we have outlined a chain by which a young talent can follow a precise path addressed to professionalism. A path of growth and selection enhanced just by the role that Ferrari, through Ferrari Driver Academy and Ferrari F.1 prize test, held in cooperation with CSAI and that makes our championships appealing to the entire international scene."
After completing the successful four-hour test session, Michael quickly changed from his red Ferrari driver uniform to street clothes and was rushed to the Rome airport by friend Giacomo Ricci for a flight to Austria to attend the FIA Driver Academy program. After the conclusion of FIA Driver Academy program on Friday, November 18, Michael will stay in Italy to start a winter testing program with the PREMA Powerteam in a F-3 Euro Series car. Michael will return home to the United States in December to attend the annual Performance Racing Industry Trade Show in Orlando. Michael's plans for the 2012 season will be announced soon as the final details for Michael's next season of racing are nearly in place.