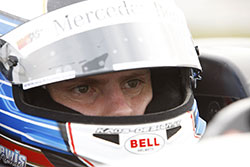 Hockenheim, Germany (April 29, 2012) — Round 3 of the Formula 3 Euro Series' visit to the Hockenheimring Baden-Württemberg didn't end the way American racer Michael Lewis had planned as his day ended earlier than expected.
After earning 9th- and 10th-place finishes in Rounds 1 and 2, respectively, at the 4.574-km German race track, Michael was eager to deliver a strong finish for the PREMA Powerteam in his Mercedes-powered Dallara F312 in the last F3 Euro race of the weekend. The Sunday morning race featured a driver's grid based on the Friday qualifying order, which put Michael in 4th starting position. This offered Michael the opportunity to make up some championship points if he finished well as he started behind Carlos Sainz Jr., Daniel Juncadella and Felix Rosenqvist.
"I was excited about the opportunity to get a good start and keep pace with the drivers ahead of me so I could run a smart race and take advantage of my qualifying position," said Michael Lewis.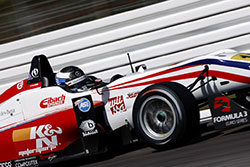 The 18 Formula 3 Euro cars lined up onto the starting grid with the grandstands on the main straightaway and around the Hockenheimring packed with enthusiastic race fans with attendance estimated to reach 100,000 by the time of the start of the afternoon's DTM event. When the starting lights went out for the F3 Euro field, Michael made a very strong launch from the grid and headed into turn one right behind the first three cars. On the 2nd lap at the hairpin corner Michael drifted wide and lost several positions. However, he caught up to the pack and made a couple of passes and showed the speed that he had during qualifying. On lap 5 Michael initiated an overtaking maneuver on the outside of a right-hand corner and slid up into the marbles and then flew off into the sand pit, which ended his hopes for a strong finish in Race 3.
"I had a really good car and I was confident that I could get the results the PREMA Powerteam expected today," said Michael. "I wanted to get up to the front and challenge for a podium finish. Unfortunately, I misjudged my line into the corner, which resulted in my drifting off into the sand trap ending my day at Hockenheim." As a result of his 18th-place finish, Michael stands in 11th position in the 2012 Formula 3 Euro Series points standings.
Michael will return to his European home base of Baveno, Italy, and begin preparing for the FIA Formula 3 European Championship event at the Grand Prix de Pau in Pau, France, on the weekend of May 11–13.
Michael Lewis' 2012 sponsor lineup includes Eibach Springs, K&N Engineering,  GoPro Cameras, Electric Sunglasses, Klotz Synthetic Lubricants, Cometic Gasket, Team ASE, Bell Helmets, Braille Battery, Wiissa, CMNTY Clothing and Performance Racing Industry.