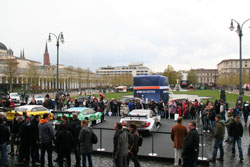 Wiesbaden, Germany (April 23, 2012) — The German city of Wiesbaden served as the host location for the unveiling of the new Mercedes Dallara that American Michael Lewis will compete in for the 2012 Formula 3 Euro Series season with the PREMA Powerteam.
Approximately 72,000 people visited the capital of the German province of Hessen on Sunday, April 22, for the annual DTM and F3 Euro Series official press announcement day. Despite morning rain, race fans flocked to the event by the thousands to get a personal and up-close look at their favorite drivers and cars in both the F3 Euro and DTM Series during the event's festival-type atmosphere.
While outfitted in his official drivers suit, Michael greeted fans as he signed autographs in the F3 Euro Series tent. He then moved to the Hankook Tire exhibit where his PREMA Powerteam Mercedes Dallara F-312 was on display.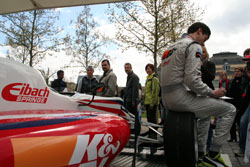 The new race car for the 2012 season proudly features Michael's sponsor team, which includes K&N, Eibach Springs, Electric Sunglasses, Cometic Gasket, GoPro Cameras, Klotz Synthetic Lubricants, Team ASE, Bell, Braille Battery, Wiissa, CMNTY Clothing, and Performance Racing Industry. An amazing scene unfolded while Michael was besieged by fans for autographs and photo opportunities all day long.
"I have never seen anything like this before," exclaimed Michael Lewis. "The combination of effort put forth by the DTM and F3 Euro Series organizers was amazing. To see all of these great fans come out by the tens of thousands was a bit overwhelming at times. I was proud to be here representing my team and all my sponsors. There is such huge enthusiasm and excitement from the German fan base for both the DTM cars and our F3 Euro Series cars and drivers. I ran out of autograph cards so I started signing hats, t-shirts and anything I could write on toward the end of the day. It was really fun to be a part of this very special press announcement festival."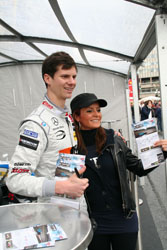 This special event leads up to the first three rounds of the F3 Euro Series Championship, which begins April 27–29, at Germany's Hockenheim Circuit. Michael and his Mercedes Dallara F-312 of the PREMA Powerteam will join 19 other drivers on the grid for 27 events as he seeks to clinch the 2012 F3 Euro Series Championship.
"I am looking forward to getting the season started this coming week at Hockenheim," added Michael. "The PREMA Powerteam has worked hard all winter to get the new Dallara up to speed and now it is my responsibility to do my job with strong finishes and earn championship points."
Michael Lewis' 2012 sponsor lineup includes Eibach Springs, K&N Engineering, GoPro Cameras, Electric Sunglasses, Klotz Synthetic Lubricants, Cometic Gasket, Bell Helmets, Braille Battery, Wiissa, CMNTY Clothing and Performance Racing Industry.
For more information about Michael Lewis, please contact Meredith Burns at [email protected].