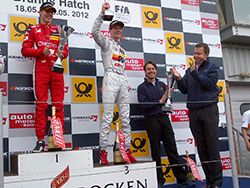 Longfield, Kent, England (May 19, 2012) — After qualifying 4th fastest for Round 4 of the Formula 3 Euro Series, Michael Lewis was confident that he would do well for this morning's race, and that confidence shined through as he finished the race in an impressive 3rd place.
Michael climbed into his K&N Engineering, Eibach Springs PREMA Powerteam Mercedes-powered Dallara F312 Formula 3 car, and when the lights on the starting grid went out, he made a terrific start and quickly vaulted into third place on the first lap. PREMA teammates Danni Juncadella and Raffaele Marciello set a torrid pace at the beginning of the race, but Michael followed suit and all three PREMA cars were lined up one, two, three. Michael kept pace with his teammates, although at times he did feel pressure from 4th-place driver Carlos Sainz Jr., but held him off to make that podium appearance.
"My start was good and on the first few meters, I was already quite close behind Daniel and Raffaele, who were battling for the lead," said Michael Lewis. "In the race, I wasn't able to match the pace of the two of them, but I am also happy with third place."
Michael ran P-3 for the entire 40-minute, 56-lap race and earned his first podium finish this season in the competitive F3 Euro Series at the famous Brands Hatch Circuit. This race also served as the 5th round of the FIA European Formula 3 Championship.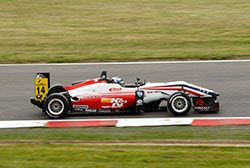 "I must thank everyone on the PREMA Powerteam who provided me with a car that was fast and easy to drive," added Michael. "My engineer Cosimo and mechanic Franceso prepared the car perfectly, which made my job easier. The team did a terrific job as the PREMA cars finished an impressive 1st, 2nd, 3rd and 6th in this race. It was sure fun running up front with my teammates Danni and Raffaele. It means so much to me to be able to give K&N Engineering and Eibach Springs and all my associate sponsors the opportunity for a podium finish at such a famous circuit like Brands Hatch My Mercedes engine gave me that little bit of extra power I needed to gain an edge as I exited the corners."
Round 5 of the Formula 3 Euro Series will take place this afternoon at 4:35 p.m. local time (8:35 a.m. PDT/11:35 a.m. EDT). Michael will take the grid in 6th starting position because the race organizer inverts the top-eight finishers from the first race of the weekend.
Michael Lewis' 2012 sponsor lineup includes Eibach Springs, K&N Engineering, GoPro, Electric Sunglasses, Klotz Synthetic Lubricants, Cometic Gasket, Bell Helmets, Braille Battery, Wiissa, CMNTY Clothing and Performance Racing Industry.
Round 4 Results
1. Raffaele Marciello – Prema Powerteam
2. Daniel Juncadella – Prema Powerteam – +1.782
3. Michael Lewis – Prema Powerteam – +9.447
4. Carlos Sainz Jr – Carlin – +10.299
5. Pascal Wehrlein – Mucke Motorsport – +11.217
6. Sven Muller – Prema Powerteam – +11.594
7. Felix Rosenqvist – Mucke Motorsport – +13.788
8. Jazeman Jaafar – Carlin – +16.737
9. Fahmi Ilyas – Double R Racing – +29.221
10. Tom Blomqvist – ma-con Motorsport – +29.768
11. Emil Bernstoff -ma-con Motorsport – +30.354
12. Geoff Uhrhane – Double R Racing – +40.983
13. Sandro Zeller – Jo Zeller Racing
14. Andrea Roda – Jo Zeller Racing
15. Will Buller – Carlin
16. Lucas Wolf – URD Rennsport
17. Harry Tincknell – Carlin