Longfield, Kent, England (May 19, 2012) — After finishing 3rd in Saturday morning's Round 4 of the Formula 3 Euro Series event at Brands Hatch, American Michael Lewis had the confidence and the PREMA Powerteam had the Dallara F-312 with Mercedes power dialed in to be a contender in Saturday afternoon's Round 5.
This second F3 Euro race of the day is a 20-minute sprint, which featured 17 drivers completing 28 laps. Because this second race has an inverted starting order of the top-8 from the first F3 Euro race of the weekend, Michael started in 6th position.
"Because of the invert, every car I can overtake makes a huge difference in the points accumulation," said Michael Lewis. "I knew how important getting a strong start would help me and play a key role in my finishing position. Plus my two teammates who finished in the top-two positions in Round 4 were directly behind me, so it made it even more important to get a strong start to hold them off."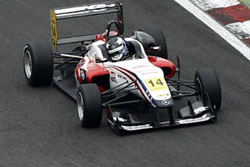 The lights went out to begin the race and Michael made a bold start and immediately moved into 4th place by halfway through the first lap. Toward the latter stages of the race, Felix Rosenqvist was trying to challenge Michael for 4th position, but Michael kept his line, drove a smart race, and held off any attempts to lose the position.
"My PREMA Dallara F-312 with Mercedes power felt very good in the early stages of the race but eventually the lead pack started to move away," said Michael. "I then kept my focus on maintaining 4th position knowing that each and every point in this competitive series is very important."
Michael's PREMA Powerteam teammate Sven Muller continued PREMA's podium streak in the F3 Euro Series season so far as he earned a strong second-place finish.
Sunday's third F3 Euro race of the weekend, which is Round 6, will be 40 minutes, or 56 laps, whichever comes first. The cars will be placed on the grid for Round 6 based on their qualifying order, which Michael will start the race in 4th position. Round 6 is scheduled to start at 10:50 a.m. local time on Sunday morning (2:50 a.m. PDT/5:50 a.m. EDT).
Michael Lewis' 2012 sponsor lineup includes Eibach Springs, K&N Engineering, GoPro, Electric Sunglasses, Klotz Synthetic Lubricants, Cometic Gasket, Bell Helmets, Braille Battery, Wiissa, CMNTY Clothing and Performance Racing Industry.
Round 5 Results
1. Jazeman Jaafar – Carlin
2. Sven Muller – Prema Powerteam – +0.392
3. Pascal Wehrlein – Mucke Motorsport – +4.847
4. Michael Lewis – Prema Powerteam – +8.828
5. Felix Rosenqvist – Mucke Motorsport – +9.141
6. Carlos Sainz Jr – Carlin – +9.511
7. Raffaele Marciello – Prema Powerteam – +10.060
8. Fahmi Ilyas – Double R Racing – +16.383
9. Tom Blomqvist – ma-con Motorsport – +16.903
10. Will Buller – Carlin – +17.477
11. Emil Bernstoff – ma-con Motorsport – +18.303
12. Daniel Juncadella – Prema Powerteam – +18.673
13. Harry Tincknell – Carlin – +19.743
14. Geoff Uhrhane – Double R Racing – +29.787
15. Andrea Roda – Jo Zeller Racing – +30.046
16. Lucas Wolf – URD Rennsport – +30.575
17. Sandro Zeller – Jo Zeller Racing – +35.682