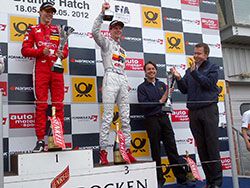 Longfield, Kent, England (May 20, 2012) — American Michael Lewis' successful weekend at Brands Hatch continued as he made another podium appearance by finishing in 3rd position in today's Formula 3 Euro Series Round 6.
Michael started with a strong 4th-place qualifying effort on Friday, which placed him in the 4th starting spot on the grid for Rounds 4 and 6 of this weekend's races.
He was focused and determined to deliver another impressive finishing position for today's Round 6 after finishing in 3rd for Round 4 and 4th in Round 5, which both races took place on Saturday. When the starting lights went out on the grid to begin today's race, Michael fell in line behind PREMA Powerteam teammate and leader Daniel Juncadella, teammate Raffaele Marciello, and William Buller. During the race, Daniel had to serve a drive-through penalty for a starting grid infraction, so Michael inherited 3rd place. During the 40-minute, 56-lap race, Michael kept pressure on William Buller as he sought to move into 2nd position, while during the early stages of the race, Carlos Sainz Jr. challenged Michael as he tried to take the position away.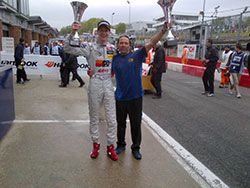 "I was able to get another good start and immediately fell in line behind Buller at the start of the race," described Michael Lewis. "I felt that my PREMA Powerteam Mercedes-powered Dallara F-312 was going to be strong. I did my best to manage the tires and to keep the pace, but my teammate Raffaele Marciello was just too fast. My main concern then became to secure a podium position. In the end, it worked out that way. Again, I must acknowledge all the hard work and engineering expertise of the PREMA Powerteam and the effort of my engineer Cosimo and my mechanic Franceso who worked hard all weekend to make sure my car was fast. It is always special to be able to give my primary sponsors K&N Engineering and Eibach Springs the reward of a podium finish."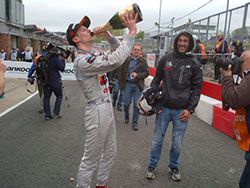 "After the good qualifying at Hockenheim and the positive race at Pau, we expected Michael to do well here," said Rene Rosin, PREMA Powerteam team manager. "He did a very good job as he demonstrated once again his continuous progression and is improving at every event. Actually, at Brands Hatch, he was the driver who gained the second most points over the entire weekend. We now head to Spielberg in Austria in two weeks where we look forward to see him continue this very positive trend."
Michael Lewis came into the Brands Hatch weekend 11th position in the Formula 3 Euro Series Championship points standings, but after his strong finishes in Rounds 4, 5 and 6, Michael vaulted into 6th position in the points. Michael's next F3 Euro race event will be June 1–3, at the Red Bull Ring in Austria for Rounds 7, 8 and 9.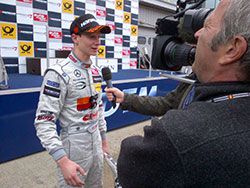 Michael Lewis' 2012 sponsor lineup includes Eibach Springs, K&N Engineering, GoPro, Electric Sunglasses, Klotz Synthetic Lubricants, Cometic Gasket, Bell Helmets, Braille Battery, Wiissa, CMNTY Clothing and Performance Racing Industry.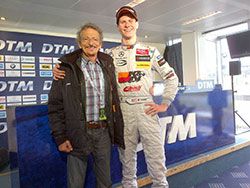 Round 6 Results
1. Raffaele Marciello – Prema Powerteam
2. Will Buller – Carlin – +15.537
3. Michael Lewis – Prema Powerteam – +17.987
4. Carlos Sainz Jr – Carlin – +20.476
5. Pascal Wehrlein – Mucke Motorsport – +26.308
6. Harry Tincknell – Carlin – +26.995
7. Tom Blomqvist – ma-con Motorsport – +28.318
8. Daniel Juncadella – Prema Powerteam – +31.036
9. Emil Bernstoff – ma-con Motorsport – +39.753
10. Sven Muller – Prema Powerteam – +40.182
11. Andrea Roda – Jo Zeller Racing
12. Geoff Uhrhane – Double R Racing
13. Lucas Wolf – URD Rennsport
14. Sandro Zeller – Jo Zeller Racing
15. Fahmi Ilyas – Double R Racing
16. Felix Rosenqvist – Mucke Motorsport
17. Jazeman Jaafar – Carlin
(results courtesy of www.stopandgo.tv)
2012 Formula 3 Euro Drivers Championships Points Standings
1. Daniel Juncadella – 74
2. Raffaele Marciello – 73
3. Carlos Sainz Jr. – 69
4. Felix Rosenqvist – 49
5. William Buller – 47
6. Michael Lewis – 41
7. Pascal Wehrlein – 38
8. Sven Muller – 36
9. Tom Blomqvist – 26
10. Emil Bernstorff – 10
(results courtesy of www.f3euroseries.com)