Pau, France (May 13, 2012) — After earning a respectable 10th-place finish in Race 1 of the FIA Formula 3 Championship event on Saturday, May 12, during the 71st Grand Prix de Pau, Michael Lewis knew that in order to move up from his 14th-place starting position in today's Race 2, he would have to make his move early on in the race.
Because the Formula 3 cars are the top billing for the annual Grand Prix de Pau street race, the throngs of spectators arrived early to enjoy the festival atmosphere of the race day. They filled the grandstand seating positioned around the course waiting in anticipation for the 2:05 p.m. start of the 40-minute and 31-lap race for the 24 Formula 3 drivers.
As a result of Michael's qualifying on Friday, the second best qualifying lap by each driver set the starting grid, placing Michael in 14th for the start of Race 2. Knowing the difficulty of "overtaking" at Pau, Michael knew the importance of getting a strong start and to try to pass as many cars as possible at the start and then keep pace with the lead pack.
When the lights went out on the starting grid, Michael and his PREMA Powerteam Mercedes-powered Dallara F-312 vaulted from the 14th position on the grid into 11th place in just one-half lap. For the entire 40 minutes of the race and for all 31 laps Michael was right on the tail of PREMA Powerteam teammate Sven Muller's car. In fact, positions 6 through 11 were pretty much in a train with each of the drivers trying to figure out a way to pass on the narrow street course.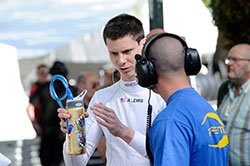 "I needed to have a good start because once everyone gets in a groove it is very hard to negotiate an overtaking maneuver and there is high risk here with every pass," said Michael Lewis. "My objective was to take it easy on my tires early on so I would be able to save them for the later stages of the race. However, all of us were going about the same speed and I knew that Sven had a good car, too, so I just wanted to be safe and get as many points as possible without the risk of making a mistake."

On lap 7 Michael posted the second fastest lap of the race at 1:11.967, which shows how strong all the PREMA Powerteam cars were for this event. Michael's teammate Raffaele Marciello won the race leading every lap while another PREMA teammate Danni Juncadella finished 4th, and Sven Muller finished 10th.
On Monday Michael will travel to another FIA camp in Vienna, Austria, before heading to England on Thursday for Round 2 of the Formula 3 Euro Series race at the Brands Hatch Circuit. This will be a combination event featuring both DTM and Formula 3 Euro Series cars.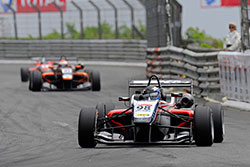 Race 2 Results
1. Raffaele Marciello – Prema Powerteam
2. Carlos Sainz Jr – Carlin – +13.129
3. Jazeman Jaafar – Carlin – +13.817
4. Daniel Juncadella – Prema Powerteam – +14.190
5. Pipo Derani – Fortec Motorsport – +15.797
6. Felix Rosenqvist – Mucke Motorsport – +16.500
7. Alex Lynn – Fortec Motorsport – +17.510
8. Jack Harvey – Carlin – +19.062
9. Pascal Wehrlein – Mucke Motorsport – +19.835
10. Sven Muller – Prema Powerteam – +20.939
11. Michael Lewis – Prema Powerteam – +21.861
12. Pietro Fantin – Carlin – +34.069
13. Emil Bernstoff – ma-con Motorsport – +37.861
14. Nick McBride – T-Sport – +54.307
15. Fahmi Ilyas – Double R – +57.908
16. Sandro Zeller – Jo Zeller Racing
17. Duvashen Padayachee – Double R
18. Geoff Uhrane – Double R
19. Felix Serralles – Fortec Motorsport
20. Richard Goddard – T-Sport
21. Tom Blomqvist – ma-con Motorsport
22. Hannes Van Asseldonk – Fortec Motorsport
23. Harry Tincknell – Carlin
24. Andrea Roda – Jo Zeller Racing
Michael Lewis' 2012 sponsor lineup includes Eibach Springs, K&N Engineering, GoPro Cameras, Electric Sunglasses, Klotz Synthetic Lubricants, Cometic Gasket, Team ASE, Bell Helmets, Braille Battery, Wiissa, CMNTY Clothing and Performance Racing Industry.