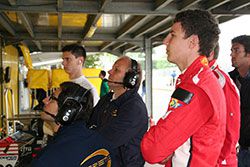 Pau, France (May 12, 2012) — After a decent qualifying effort and starting on the grid in 13th position, Michael Lewis worked his way up through the field to finish in 10th place for Race 1 of the FIA Formula 3 Championship race in Pau, France.
Pau Grand Prix F3 Qualifying
Both qualifying and Race 1 of the FIA Formula 3 Championship portion of the Pau Grand Prix were scheduled for Saturday. Leading up to Saturday, the weather in Pau was warm with blue skies, but Saturday morning brought low cloud cover and substantially lower temperature for the scheduled 10:00 a.m. F3 qualifying session. Because of the high car count, the race organizers decided to divide qualifying into two groups. American Michael Lewis was placed in the Qualifying A group, which was scheduled to go on the track after completion by the cars in the Qualifying B group. Only 15 minutes were allowed for each session, which gives the drivers approximately eight laps to squeeze out a good qualifying effort.
Michael waited patiently inside of his PREMA Powerteam Mercedes-powered Dallara F312 in pit lane for the 15-minutes qualifying session. Immediately after the 12 cars in Group B left the track, the drivers in Group A were given the signal to "start engines" and the green flag waved for the Group A drivers to begin their qualifying session.
About halfway through the session Michael turned his best lap time of 1:11.573, which placed him 7th among the Group A drivers. The grid placement is determined by the Group B drivers taking the left side of the grid while all of the Group A drivers will take the right side grid positions. Therefore, Michael will start Race 1 in 13th position from the 7th row. For Sunday's Race 2, Michael will start from the 8th row on the grid.
The starting grid positions for Race 1 are based on the second-fastest lap time by every driver. Michael's PREMA Powerteam Raffaele Marciello set the fastest time in Group A qualifying, so he will start Race 1 on the pole. Teammate Daniel Juncadella was also first in his qualifying group.
"The qualifying effort is so important in this series," described Michael Lewis. "I improved my Sector 1 and Sector 3 times but still struggled with the Sector 2, which is where I lost most of the time. Now I have my work ahead of me for both today's race and the Sunday race since I am starting in the middle of the field. The PREMA cars are fast as my teammates Raffaele Marciello and Danni Juncadella are starting on the front row for both of the races. Now I must work hard in both races and move forward the best I can."
Race 1 Report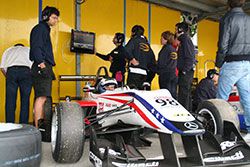 After a respectable qualifying effort Saturday morning, Michael Lewis and 23 Formula 3 cars lined up on the starting grid in the afternoon ready to start the 40-minute Race 1 before a very enthusiastic crowd. Driving the K&N Engineering, Eibach Springs PREMA Powerteam Dallara F-312 powered by Mercedes, Michael lined up on the grid in the 7th row with his PREMA Powerteam teammate Raffaele Marciello starting on the pole position.
When the starting lights went out Michael made a very good start and took off in line with a group of cars in the outside lane. He made it through the first corner without incident and then through the very tricky corner 3 and 4 combination, which requires a single file line on the first lap. Michael quickly made an overtaking move and then settled into 14th position. On lap 8, an incident involving PREMA teammate Danni Juncadella and another driver caused a full-course caution to remove both cars off the track.
When the green flag again waved, Michael went back to work and passed another car to arrive in 11th position. Then with just two laps to go, Michael made a strong move on the exit of a corner to overtake the position and finished the race in 10th.
"I could tell the minute I left the starting grid that my PREMA car with the Mercedes power was fast," exclaimed Michael. "I had to be careful and save my tires, and be strategic about when to overtake. Toward the end of the race I ran my best lap times and passed cars to achieve a top-10 finish. The Pau street circuit is a tricky place because it is very easy to make a mistake here. As a driver, I have to take it just up to the edge but do not want to go over the edge because then the car will be dangling from the hook. I want to thank my engineer Cosimo and my mechanic Francesco for their great work. The Mercedes power was a big help today because I was able to pass on the exit of the corner."
Michael's PREMA Powerteam teammate Raffaele Marciello won Race 1. He started on the pole and led every lap, winning by a large margin.
Race 2 will take place on Sunday afternoon at 2 p.m local time, which will be another 40-minute race that gives the drivers 23-plus laps of green-flag racing.
Race 1 Results:
1. Raffaele Marciello – Prema Powerteam – 23 laps
2. Jazeman Jaafar – Carlin – +6,734
3. Alex Lynn – Fortec Motorsport – +8,057
4. Felix Rosenqvist – Mucke Motorsport – +8,813
5. Jack Harvey – Carlin – +12,329
6. Carlos Sainz Jr – Carlin – +15,351
7. Harry Tincknell – Carlin – +16,099
8. Felix Serralles – Fortec Motorsport – +16,928
9. Fahmi Ilyas – Double R – +23,716
10. Michael Lewis – Prema Powerteam – +24,465
11. Hannes Van Asseldonk – Fortec Motorsport – +25,155
12. Sven Muller – Prema Powerteam – +25,498
13. Tom Blomqvist – but with-Motorsport – +27,434
14. Peter Fantin – Carlin – +28,120
15. Nick McBride – T-Sport – +29,738
16. Geoff Urhane – Double R – +36,887
17. Richard Goddard – T-Sport – +37,434
18. Sandro Zeller – Jo Zeller Racing – +39,384
19. Andrea Roda – Jo Zeller Racing – 1 lap
20. Pipo Derani – Fortec Motorsport – 12 laps
21. Daniel Juncadella – Prema Powerteam – 8 laps
22. Pascal Wehrlein – Mucke Motorsport – 8 laps
23. Emil Bernstoff – 0 laps
24. Duvashen Padayachee – Double R – 0 laps
Michael Lewis' 2012 sponsor lineup includes Eibach Springs, K&N Engineering, GoPro Cameras, Electric Sunglasses, Klotz Synthetic Lubricants, Cometic Gasket, Team ASE, Bell Helmets, Braille Battery, Wiissa, CMNTY Clothing and Performance Racing Industry.