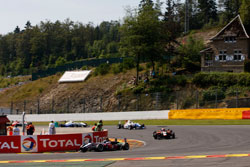 Francorchamps, Belgium (July 27, 2012) — After a strong qualifying effort made on Thursday, July 26, American Michael Lewis anxiously awaited the start of today's first FIA European Formula 3 Championship race of the weekend at Belgium's Spa-Francorchamps Grand Prix circuit.
The weekend features three races, with Friday's Race 1 scheduled for 30 minutes and Race 2 is 40 minutes, while Saturday's Race 3 is a 20-minute sprint event.
Michael qualified 11th of 29 drivers late on Thursday afternoon so that will allow him to start Saturday's 20-minute feature event 11th on the grid. However, all of the drivers' second best times from qualifying were used to grid the cars for today's Race 1, which placed Michael on the starting grid in 8th.
The Spa-Francorchamps 6.968-kilometer circuit is known for being host to some amazing races that have taken place during inclement weather conditions, but the weather cooperated for the first race, which serves as the 11th round of the Championship, allowing all 29 cars to line up on the starting grid with tires for dry track conditions. After qualifying just .796 seconds behind the pole sitter in yesterday's qualifying, Michael brought his K&N Eibach Springs PREMA Powerteam Dallara F312 powered by Mercedes to the grid with an optimistic mindset.
"Since we arrived at Spa-Francorchamps, my PREMA Powerteam crew has been working on every aspect to give me a good car," explained Michael Lewis. "I felt confident that we were going in the right direction with my qualifying set-up. With a few more adjustments I knew I could have a competitive race and I was going to be ready for a good start and pass some cars."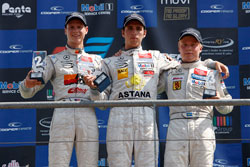 Michael made a strong launch at the start of the race and fell in behind a pack of cars in 7th position. For the first few laps the fighting for the top-7 positions was furious and frantic and on lap 4 Michael made a pass to claim 6th position. For the next 9 laps, the cars in positions 4 through 8 ran nose to tail as each of the drivers sought a golden opportunity to make a pass. Michael was on the tail of British F-3 Series championship leader Jack Harvey during this time and on the white flag lap Michael attempted to pass Harvey but that opened the door for Alex Lynn who was right on Michael's tail. Lynn made an overtaking maneuver and grabbed 6th place from Michael. Michael finished Race 1 in 7th position after putting forth a strong effort during the 30-minute event.
"The race was really fun," said Michael. "My goal was a top-5 finish. In the overall race classification, I am only 7th, but in the ranking of the European Formula 3 Championship, I have scored many points for finishing 3rd. That was important to me."
Only drivers registered for the FIA European Formula 3 Championship earn points, which placed Michael 3rd in today's finishing results toward the overall points championships.
Unfortunately, Michael and the rest of Formula 3 drivers were not able to compete this afternoon as the second race of the FIA European Formula 3 Championship at Spa-Francorchamps was cancelled. According to series' officials, for safety reasons, the race could not be started due to heavy rain. The second race does not award points for the Championship. The third race of the weekend, or the 12th round of the Championship, is scheduled for Saturday at 12.05 p.m. local time.
Michael Lewis's 2012 sponsor lineup includes Eibach Springs, K&N Engineering, GoPro, Electric Sunglasses, Klotz Synthetic Lubricants, Cometic Gasket, Bell Helmets, Braille Battery, Wiissa, CMNTY Clothing and Performance Racing Industry.
FIA European Formula 3 Championship Round 11 Results
Felix Serralles – Fortec Motorsport
Daniel Juncadella – PREMA Powerteam
Carlos Sainz Jr – Carlin
Jack Harvey – Carlin
Jazeman Jaafar – Carlin
Alex Lynn – Fortec Motorsport
Michael Lewis – PREMA Powerteam
Pipo Derani – Fortec Motorsport
Felix Rosenqvist – Mucke Motorsport
Tom Blomqvist – ma-con Motorsport
Raffaele Marciello – PREMA Powerteam
Sven Muller – PREMA Powerteam
Harry Tincknell – Carlin
Pascal Wehrlein – Mucke Motorsport
Geoff Uhrhane – Double R Racing
Pietro Fantin – Carlin
Emil Bernstoff – ma-con Motorsport
Nick McBride – T-Sport
Andrea Roda – Jo Zeller Racing
Lucas Wolf – URD Rennsport
Fahmi Ilyas – Double R Racing
Sandro Zeller – Jo Zeller Racing
Hannes van Asseldonk – Fortec Motorsport
Richard Bradley – Carlin
Duvashen Padayachee – Double R
Luis Sa Silva – Angola Racing Team
Adderly Fong – CF Racing
Spike Goddard – T-Sport
Pedro Pablo Calbimonte – T-Sport
(results courtesy of www.stopandgo.tv)