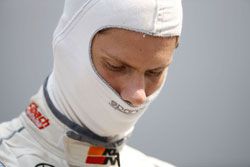 Francorchamps, Belgium (July 26, 2012) — American Michael Lewis eagerly returned today to the site of his first 2011 Formula 3 Italia win as he seeks another positive outcome. Michael joined 28 Formula 3 drivers as they visited Belgium's Spa-Francorchamps Grand Prix circuit for practice and qualifying for the 11th and 12th rounds of FIA European Formula 3 Championship.
The headline event for the race weekend is the annual 24 Hours of Spa, but being on the same event ticket allows the Formula 3 drivers access to a wider race audience. Due to its absolute beauty surrounding the historic race course, the FIA European Formula 3 event has drawn a large contingent of drivers who will fill the grid during three races this coming weekend. Today was a busy day for the drivers and teams as two 30-minute practice sessions occurred along with the all important qualifying session late in the day that decides the grid positions for the race events.
Practice Session 1
The first of two 30-minute practice sessions began this morning with Michael taking his #98 PREMA Powerteam Dallara F312 with K&N and Eibach Springs sponsor livery and Mercedes power onto the 6.968 kilometer race circuit.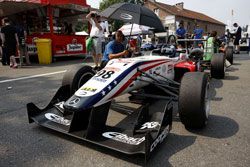 "I have been anticipating my return to Spa since I saw the FIA European Formula 3 Championship race schedule, and this weekend could not come fast enough," said Michael Lewis. "Spa-Francorchamps is a special place. It provides the opportunity to race and pass cars here so the drivers and team must work together to get the package correct."
Although Spa is known for offering some challenging weather conditions due to its location in the Ardennes, today's conditions were ideal under clear skies. Michael struggled with getting up to speed and fought a loose condition for most of the entire practice session. His best lap time was 2:17.309, which ranked him P-13 on the speed charts.
Practice Session 2
Later in the afternoon the 29 drivers returned to the track as they attempted to improve their morning practice times. Unfortunately, Michael could not find a setup that worked for him.
"I did not feel comfortable during this session and tried to work on a number of elements but nothing seemed to get me further up on the charts," said Michael. "I knew that in order to qualify in the top 10 later in the day I would have to work closely with my engineer so we could come up with the optimum approach for qualifying."
Michael's best lap in the second practice session was a time of 2:17.889, which ranked him 23rd.
Qualifying
After two challenging practice sessions, Michael worked closely with his PREMA Powerteam engineer to develop a plan to improve his qualifying time. Promptly at 5:30 pm, the Formula 3 cars returned to the Spa-Francorchamps Grand Prix circuit for the all-important 30-minute qualifying session. Each driver is allowed two sets of tires so managing the clock is important. The drivers had around six laps to lay down a strong lap before coming into the pit area for their teams to put on a new set of tires for the second part of the qualifying session. On the first set of tires Michael's best time was 2:16.472 set on lap 4. His PREMA Powerteam teammate Dani Juncadella was ranked P-7 in the first part of the qualifying session with a time of 2:15.821.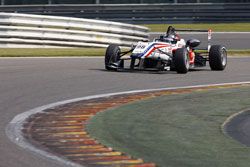 With less then 10 minutes left on the clock, Michael left the pit lane with the second set of new tires and was ready to improve his qualifying time with only 5 laps to go. On Michael's 10th lap of the session with time running out, he recorded a lap of 2:15:953, which placed him P-11 on the charts and only .796 seconds behind the pole setting effort of Felix Serralles.
"This much improved qualifying time is a total team effort," said Michael. "I feel good about how we ended up this afternoon. I worked closely with my PREMA Powerteam engineering group and mechanics, and our effort was achieved also with the help of my Mercedes engine. Now I feel we are in striking distance to achieve strong finishes in tomorrow and Saturday's races. It is always fun to compete here at Spa, and I know each race will be exciting from start to finish."
Two races will take place on Friday and the final FIA European Formula 3 Championship race of the weekend is scheduled for Saturday. Friday's first race and Saturday's race will feature a starting grid in the order of today's qualifying times.
Michael Lewis's 2012 sponsor lineup includes Eibach Springs, K&N Engineering, GoPro, Electric Sunglasses, Klotz Synthetic Lubricants, Cometic Gasket, Bell Helmets, Braille Battery, Wiissa, CMNTY Clothing and Performance Racing Industry.
FIA Formula 3 European Championship At Spa Qualifying
Felix Serralles – Fortec Motorsport – 2:15.157
Carlos Sainz Jr – Carlin – 2:15.198
Daniel Juncadella – PREMA Powerteam – 2:15.460
Alex Lynn – Fortec Motorsport – 2:15.527
Jazeman Jaafar – Carlin – 2:15.678
Tom Blomqvist – ma-con Motorsport – 2:15.697
Jack Harvey – Carlin – 2:15.767
Pipo Derani – Fortec Motorsport – 2:15.815
Hannes van Asseldonk – Fortec Motorsport – 2:15.834
Harry Tincknell – Carlin – 2:15.914
Michael Lewis – PREMA Powerteam – 2:15.953
Peter Fantin – Carlin – 2:15.972
Felix Rosenqvist – Mucke Motorsport – 2:16.026
Nick McBride – T-Sport – 2:16.189
Raffaele Marciello – PREMA Powerteam – 2:16.320
Sven Muller – PREMA Powerteam – 2:16.570
Emil Bernstoff – ma-con Motorsport – 2:16.612
Pascal Wehrlein – Mucke Motorsport – 2:16.640
Fahmi Ilyas – Double R Racing – 2:16.681
Geoff Uhrhane – Double R Racing – 2:16.777
Richard Bradley – Carlin – 2:16.912
Andrea Roda – Jo Zeller Racing – 2:16.966
Sandro Zeller – Jo Zeller Racing – 2:17.503
Lucas Wolf – URD Rennsport – 2:17.792
Adderly Fong – CF Racing – 2:17.826
Spike Goddard – T-Sport – 2:17.962
Luis Sa Silva – Angola Team Racing – 2:18.155
Duvashen Padayachee – Double R Racing – 2:18.804
Pedro Pablo Calbimonte – T-Sport – 2:19.325
(results courtesy of stopandgo.tv)