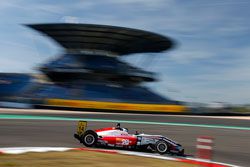 Nürburg, Germany (August 17, 2012) American Michael Lewis and the field of 16 fellow drivers start the second half of the 2012 Formula 3 Euro Series this weekend at Germany's famous Nürburgring.
The 3.629-km Grand Prix circuit located in the Eifel region began buzzing with activity this morning for the series' two 50-minute practice sessions.
"I have studied very hard for the last two weeks preparing for my first visit to Nürburgring by watching video and studying my team's engineering reports from past races here," explained Michael Lewis. "I feel that I have a good grasp of what I need to do to be among the fast drivers here."
Promptly at 10:35 a.m., the pit lane green light flashed on and all 17 drivers drove onto the track as they began the first practice session in perfect weather conditions. While driving the PREMA Powerteam K&N / Eibach Springs sponsored Mercedes Dallara F312 during the first session, Michael hovered around P-9 and he was only about .600 off the top three drivers. After a brief time in the pits to consult with his engineer Cosimo Prusciano, Michael went out again and continued to record lap times. Towards the end of the session, Michael improved his time to 1:24.391, which put him 11th on the time charts.
At the break between sessions Michael discussed with his engineer and mechanic how to improve his time so they decided to start the final session on a set of new tires. Michael went out and immediately improved his time to 1:24.024, which placed him in the top six on the time charts. Then with just 12 minutes left in the session, all the drivers came into the pits and put on new tires including Michael. Everyone went back out onto the track but the red flag came out for about four minutes, which stopped all racing, limiting the time left in the session. Michael improved his time to 1:23.803 once green flag racing resumed, but it was not enough to move up the charts as the other drivers also took advantage of better lap times on new tires. Michael finished 12th in the final standings of the second practice session. Michael was the last driver to finish in the 1:23 mark, and was only .684 seconds slower than the fastest driver of the session.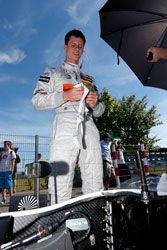 "I felt I could improve my time and get down into the 1:23 zone, which I was able to do," said Michael. "With the red flag condition and not managing traffic as well as I should have, I did not get a clear path to really get the potential out of my PREMA Powerteam car."
Qualifying
Under a bright blue sky with an air temperature in the range of 80 degrees, 17 Formula 3 Euro Series drivers were staged in pit lane while they waited for the late afternoon 30-minute qualifying session. Each team is provided with two sets of Hankook Tires so the drivers average about seven to eight laps per set of tires as they seek to find the "perfect lap." Saturday's Race 1 and Sunday's Race 3 grids are determined by today's qualifying order.
Promptly at 4:15 p.m., the green light at the end of pit lane came on and all at once most of the cars headed for turn one. Michael was held back for a few minutes to make sure he would have a clear track ahead to avoid traffic that could negatively affect his qualifying time. His PREMA Powerteam Mercedes-powered Dallara F312 car sponsored by K&N and Eibach Springs came to life and Michael headed from pit lane to the track. For the first 13 minutes of the qualifying session Michael was ranked 11th. On his last lap prior to coming in for the second set of tires he turned his best lap at that time of 1:23.998 and he vaulted up to P-5. Michael's engineer called him to the pit box for his second set of tires and the PREMA Powerteam crew quickly placed the new tires on his car. Eventually Michael turned a lap of 1:23.599, which was four-tenths improvement from the first set of tires but it was not enough for him hold his top five position from the first part of the session, so he finished qualifying in 10th.
"As they do at every Formula 3 Euro Series event, the PREMA Powerteam gave me a good car," described Michael. "We made improvements from the first practice session and I was excited about the potential to qualify well today. Even with my improved time on the second set of tires I fell short of my goal for this weekend. There are four drivers just ahead of me who are all within a few hundredths of a second, so tomorrow's race will be very exciting."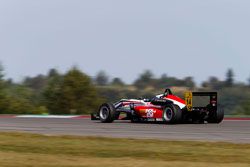 The first race on Saturday, Round 13, will be 40 minutes in length and is scheduled to start at 11:15 a.m. local time (5:15 a.m. EDT / 2:15 a.m. PDT). Michael will be positioned 10th on the grid as the grid is based on the second fastest lap of the qualifying session. Race 2, or Round 14, is a 20-minute sprint race with the top-eight finishing positions from Race 1 inverted for the grid placement. Saturday's Race 2 is scheduled to begin at 3:25 p.m. local time (9:25 a.m EDT / 6:25 a.m. PDT). Race 3, or Round 15, will take place on Sunday beginning at 11:15 a.m. local time (5:15 a.m. EDT / 2:15 a.m. PDT). Michael will start the 40-minute feature in 10th position, which is based on his fastest lap from the qualifying session, which was a mere .503 seconds behind teammate Daniel Juncadella, who is on the pole.
The races can be viewed live on the Formula 3 Euro Series website at www.f3euroseries.com, and click on "live stream."
Michael Lewis's 2012 sponsor lineup includes Eibach Springs, K&N Engineering, GoPro, Electric Sunglasses, Klotz Synthetic Lubricants, Cometic Gasket, Bell Helmets, Braille Battery, Wiisaa, CMNTY Clothing and Performance Racing Industry.
Qualifying for Race 1
1. Daniel Juncadella, PREMA Powerteam, 1:23.212
2. Sven Müller, PREMA Powerteam, 1:23.413
3. Felix Rosenqvist, Mücke Motorsport, 1:23.434
4. Pascal Wehrlein, Mücke Motorsport, 1:23.464
5. Raffaele Marciello, PREMA Powerteam, 1:23.510
6. Jazeman Jaafar, Carlin, 1:23.557
7. Carlos Sainz Jr., Carlin, 1:23.604
8. Alexander Sims, Threebond with T-Sport, 1:23.607
9. William Buller, Carlin, 1:23.746
10. Michael Lewis, PREMA Powerteam, 1:23.836
Qualifying for Race 3
1. Daniel Juncadella, PREMA Powerteam, 1:23.096
2. Felix Rosenqvist, Mücke Motorsport, 1:23.289
3. Sven Müller, PREMA Powerteam, 1:23.337
4. Raffaele Marciello, PREMA Powerteam, 1:23.364
5. Pascal Wehrlein, Mücke Motorsport, 1:23.376
6. William Buller, Carlin, 1:23.440
7. Carlos Sainz Jr., Carlin, 1:23.511
8. Alexander Sims, Threebond with T-Sport, 1:23.538
9. Jazeman Jaafar, Carlin, 1:23.545
10. Michael Lewis, PREMA Powerteam, 1:23.599