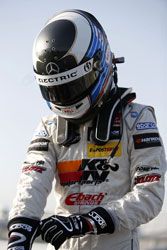 Hockenheim, Germany (October 19, 2012) — For the second time this season, American Michael Lewis will compete at Germany's Hockenheimring, but this time it will be to conclude the Formula 3 Euro Series' season with Rounds 22, 23 and 24.
After a strong performance three weeks ago at Valencia, Spain, which included a win in Round 20, Michael comes to Hockenheim with a very positive frame of mind.
"The win at Valencia was a very important accomplishment," stated Michael Lewis. "I was very pleased to earn points toward the team championship for the PREMA Powerteam as a result of my performance in Spain. Now I must focus on the task at hand here at Hockenheim for the last race event of the season. All the drivers want to leave here with good results. I have worked hard the past three weeks and I know that my PREMA Powerteam engineers will give me a competitive car to work with."
Michael is currently listed 8th in the Formula 3 Euro Series Championship Standings, only 12.5 points behind British driver Tom Blomqvist.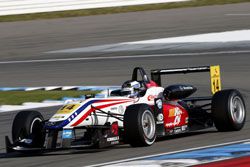 Practice
The action began late this morning when 20 Formula 3 Euro Series drivers took to the famous Hockenheimring under perfect weather conditions to begin the two 50-minute practice session and to prepare for the all-important qualifying session later in the afternoon. Michael drove his PREMA Powerteam K&N and Eibach Springs-sponsored Dallara F312 powered by Mercedes-Benz to pit lane and waited for the green light to appear to start the first practice session. Michael chose to begin with a used set of tires and develop the balance of the car. With about eight minutes left in the first session Michael had climbed the time charts to P-4 on the old tires. He was signaled to come in for a set of new tires so he would have an opportunity to improve his ranking before the session ended. Unfortunately, Michael was not able to fully take advantage of the new tires and had issues with spacing and traffic on the track so the first practice session ended with Michael in 10th position, just .7 seconds off the quick time set by Felix Rosenqvist.
After a short five-minute break, the second 50-minute practice session began. This would allow the drivers the opportunity to gain more track experience and possibly improve their times. About 10 minutes into the session, the course marshal displayed the red flag and called all drivers into pit lane for a "briefing," because it had been reported that some drivers were not being respectful of "course limits." The red flag unfortunately shortened considerably the second 50-minute practice session and Michael was unable to improve his time, resulting in 17th and 15th with the combined scoring of the results from the first and second practice sessions.
"My team and I tried several different setups during practice to help us attack qualifying this afternoon," said Michael. "Unfortunately, the shortened second practice didn't allow us to fully implement everything we wanted to try, so hopefully it won't affect this afternoon's qualifying result."
Qualifying
Michael regrouped with his team and planned a strategy for qualifying for this weekend's first and third races at the Hockenheimring.
When the 30-minute qualifying session began, Michael joined the 19 other drivers to put up the fastest times possible. The optimal track conditions provided plenty of fast lap times, and very close competition. As a result, Michael qualified 16th overall. His fastest lap was only 1.182 seconds behind the pole sitter, and this will place him 16th for Sunday's Race 3. Saturday's Race 1 will place Michael in 15th on the starting grid, which is based on his second fastest lap during qualifying.
"The competition was fierce today," reported Michael. "However, our team is already planning a strategy to move up through the field tomorrow to produce a much better result."
Saturday's 40-minute Race 1 is scheduled to begin at 11:15 a.m. local time (5:15 a.m. EST/2:15 a.m. PST). Saturday afternoon will feature Race 2, which is a 20-minute sprint race scheduled to begin at 3:25 p.m. (9:25 a.m. EST/6:25 a.m. PST). Sunday's Race 3 will be 40 minutes in length, and is schedule to begin at 11:15 a.m. local time (5:15 a.m. EST/2:15 a.m. PST).
Michael Lewis's 2012 sponsor lineup includes Eibach Springs, K&N Engineering, GoPro, Electric Sunglasses, Klotz Synthetic Lubricants, Cometic Gasket, Bell Helmets, Braille Battery, Wiisaa, CMNTY Clothing and Performance Racing Industry.