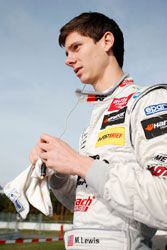 Hockenheim, Germany (October 20, 2012) — After a challenging qualifying effort on Friday afternoon for this weekend's Formula 3 Euro event at Germany's Hockenheimring, Michael Lewis knew that he had to work hard and have some racing luck go his way to be able to earn a top-10 finishing position in today's Rounds 22 and 23.
Round 22
The welcomed summer-like weather with bright blue skies brought strong spectator attendance filling the grandstands while the 20 Formula 3 Euro Series drivers brought their cars to the Hockenheimring starting grid in preparation for the 11:15 a.m. Race 1 start. Michael positioned his K&N Engineering and Eibach Springs sponsored PREMA Powerteam Dallara F312 powered by Mercedes-Benz car in its grid position to start in 15th. Michael was confident that he would be able to move up through the field during the 25-lap race.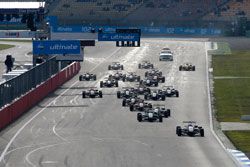 After the grid ceremonies the race director gave the green flag for the traditional warm-up lap. Michael concentrated on the warm-up lap to build heat in his tires and then again positioned his car perfectly in the grid starting box. As has become his trademark this season, Michael engineered a strong launch at the start and by the end of the 1st lap he was scored in 14th position. By lap 4 he had moved into 12th position gaining one position from a drive-through penalty assessed on Felix Serralles. On lap 8 Michael passed Brazilian Felipe Nasr to take 11th position right behind Lucas Wolf. For the next six laps, Michael closely shadowed the rear wing of Wolf. Both drivers gained a position as a result of another driver-through penalty assessed to a different driver by the race director. Then on lap 22 Michael inherited another position and moved up to 9th position. With just 3 laps to go Michael began to really put pressure on Wolf and made frequent efforts to make a pass for the all important 8th position but just did not have enough left to complete the pass. When the checkered flag waved Michael crossed the finish line in 9th moving up considerably from the 15th starting position.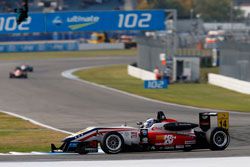 "My PREMA Powerteam crew made some changes in my car," reported Michael Lewis, "and what they did certainly worked! In the early stages of the race I had a real advantage and was able to make the passes and push hard. Along the way I earned a couple of gift positions as a result of drive-through penalties and one car leaving the race with a mechanical issue. I wish I had one more lap because I was so close to passing Lucas Wolf for 8th position, which would have allowed me to start up front in Race 2."
Race 2 is a 14-lap sprint race scheduled for Saturday afternoon. The grid positions are based upon the finishing order of Race 1 with the first 8 positions inverted. Michael will start in 9th position from the 5th row.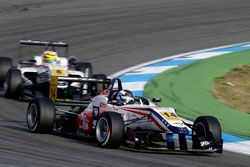 Round 23
After a few hours break, Michael and the 19 other Formula 3 Euro drivers climbed back into their cars for Saturday afternoon's 20-minute sprint race. Michael started the race in 9th position. With all the drivers battling for position at the start of the race, Michael fell back to 10th, but recovered the position on lap 2. After gaining 6 positions in Race 1, Michael was confident that he could move up in this race also. He battled Pascal Wehrlein for 8th position for several laps, and then passed Wehrlein on lap 6 for the position. There was a tight battle for the 7th position between several cars and on lap 11, Michael got caught up in the fight for position and dropped back to 12th. At that point, realizing that he needed to save his tires in order to finish the race, Michael carefully drove around the track and ended the race in 14th place.
"After working through traffic in this morning's race, I was confident that I could gain more positions in Race 2," explained Michael. "I did move up to 8th and was battling for 7th with Pascal Wehrlein and Felix Rosenqvist, but got caught up and dropped several spots. I had to be careful with my tires to make sure I finished the race."
The third race of the weekend will be tomorrow morning at 11:15 a.m. local time (5:15 a.m EST/2:15 a.m. PST). The race will be broadcast live on the Formula 3 Euro Series website at www.f3euroseries.com, and click on "Live Stream."
Michael Lewis's 2012 sponsor lineup includes Eibach Springs, K&N Engineering, GoPro, Electric Sunglasses, Klotz Synthetic Lubricants, Cometic Gasket, Bell Helmets, Braille Battery, Wiisaa, CMNTY Clothing and Performance Racing Industry.