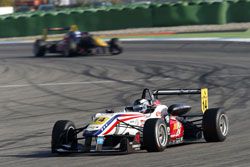 Hockenehim, Germany (October 21, 2012) — Today marked the last race of the 2012 Formula 3 Euro Series season, and Michael Lewis sought to complete Round 24 of the series with strength for the PREMA Powerteam, of Vicenza, Italy, in his K&N Engineering / Eibach Springs-sponsored Dallara F312 with power from Mercedes.
Michael and the PREMA Powerteam brought the No. 14 car to the starting grid this morning for the 11:15 a.m. start time while spectators filled the grandstands for the last race of both the Formula 3 Euro Series and DTM championships to take place at Germany's Hockenheimring GP Circuit.
In yesterday's Race 1, Michael started in 15th position but maneuvered through the field to finish in 9th place, while he started Race 2 in 9th, worked his way up to 7th before going long, which cost him several positions.
Today, Michael lined up on the starting grid in 15th position. "Starting 15th is a bit of a challenge because overtaking here at Hockenheim is difficult," explained Michael Lewis. "However, I felt confident in the car my PREMA team gave me so I wanted to end the season placing as far up as possible in the final finishing order."
As he as done so many times this season, Michael leaped from his starting box and chose the outside part of the track as he approached turn 1. Initially it appeared that this decision would earn him a number of positions as the cars ahead were bunched together on the right. However, the car directly ahead of Michael made contact with another car and then slowed suddenly, which cost Michael the ability to gain positions. But, by the end of lap 1, Michael was scored in 14th. The next couple of laps Michael was able to overtake a car each lap and worked his way quickly up to 12th position. On lap 13 two cars collided in the hairpin, but Michael was able to avoid the mess and was scored 10th at the end of that lap, about 4 seconds behind Emil Bernstorff. Michael kept a fast and determined pace while he raced closer to Emil. With 4 laps to go, Michael came within two-tenths of a second of Emil. However, Michael also wore down the efficiency of the front tires during his enthusiastic hunt for the next position, it was difficult to mount a safe overtaking move. Michael finished the last Formula 3 Euro Series race of 2012 in 10th place.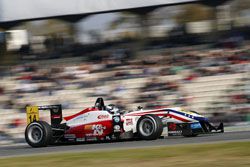 "This was an amazing experience for me to be able to compete in the 2012 Formula 3 Euro Series Championship," said Michael. "So many famous drivers have raced and won in this competitive series, and have gone on to Formula 1, DTM, IndyCar and other major series. It is the best place to learn how to race, be fast and compete with the best young drivers in the business. I learned a lot this season and very much appreciate the support of my PREMA Powerteam principals Rene and Angelo Rosin along with my engineer Cosimo and mechanic Francesco. I cannot say enough about the Mercedes engine and all the engineering help and support from HWA that gave me that little bit extra power and torque that was really a big help during the races. I also want to congratulate my teammate Dani Juncadella, who clinched the 2012 Formula 3 Euro Series Championship today as a result of his finish in Round 24. He had a fantastic season, and was always helpful to me and my other teammates. I am looking forward to returning next season and again working with the PREMA Powerteam."
As a result of the finishes this weekend at the Hockenheimring, Michael finished 8th in the series' championship standings with 1 win and 5 podium appearances.
Michael Lewis would like to thank his 2012 sponsor team, of which, this top-8 series finish would not be possible without their help. Michael Lewis's 2012 sponsor lineup includes Eibach Springs, K&N Engineering, GoPro, Electric Sunglasses, Klotz Synthetic Lubricants, Cometic Gasket, Bell Helmets, Braille Battery, Wiisaa, CMNTY Clothing and Performance Racing Industry.
Round 24 Results
1.Felix Rosenqvist, Mücke Motorsport
2. Pascal Wehrlein, Mücke Motorsport
3. Alex Lynn, Fortec Motorsport
4. Daniel Juncadella, PREMA Powerteam
5. Felix Serralles, Fortec Motorsport
6. Sven Müller, PREMA Powerteam
7. Tom Blomqvist, ma-con Motorsport
8. Raffaele Marciello, PREMA Powerteam
9. Emil Bernstorff, ma-con Motorsport
10. Michael Lewis, PREMA Powerteam
2012 Formula 3 Euro Drivers Championship
1. Daniel Juncadella, PREMA Powerteam, 240
2. Pascal Wehrlein, Mücke Motorsport, 229
3. Raffaele Marciello, PREMA Powerteam, 219.5
4. Felix Rosenqvist, Mücke Motorsport, 212.5
5. William Buller, Carlin, 182.5
6. Sven Müller, PREMA Powerteam, 172
7. Tom Blomqvist, ma-con Motorsport, 157.5
8. Michael Lewis, PREMA Powerteam, 127
9. Carlos Sainz Jr., Carlin, 112
10. Emil Bernstorff, ma-con Motorsport, 91