Austin, Texas (November 16, 2012) — Michael Lewis, Formula 3 Euro Series driver from Laguna Beach, California, has been invited by Circuit of The Americas to make numerous appearances at Austin Fan Fest Powered by Mobil 1 and hospitality functions during the inaugural 2012 FORMULA 1 UNITED STATES GRAND PRIX. Michael has come all the way from his current residence in Baveno, Italy, to attend and support the return of Formula 1 racing to the United States.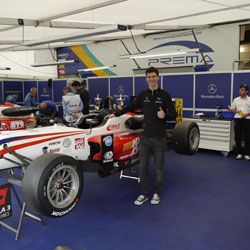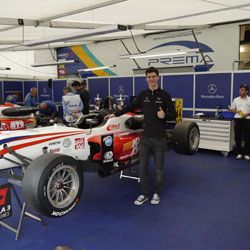 "It is a real honor and pleasure to have been invited to be a part of the festivities here in Austin," said Michael. "It is so important that Formula 1 has a home and presence in the US, and I look forward to interacting with all the eager fans during this race weekend."
Michael will be at Austin Fan Fest Powered by Mobil 1, an experience that incorporates five free stages of music downtown, interactive F1 activities complete with show cars, simulators, gaming, and various paid concerts at different downtown venues. He will be available at the following events to interact with fans:
Friday, November 16: Flo Rida at COTA Club at the Austin Convention Center
Saturday, November 17: Enrique Iglesias at COTA Club at the Austin Convention Center
Sunday, November 18: Circuit of The Americas' Official After Party at Bob Bullock Texas State History Museum
"I am excited to go to some of these activation events to really make everyone aware of the energy that Formula One has to offer outside of the race track. It's a great chance to get to know the city of Austin, Texas, and have some fun as well," added Michael.
More details about the Austin Fan Fest Powered by Mobil 1 are available at www.austinfanfest.com.
About Circuit of The Americas
Circuit of The Americas is a world-class destination for performance, education and business. It is the first purpose-built Grand Prix facility in the United States designed for any and all classes of racing, from motor power to human power, and is home to the 2012 FORMULA 1 UNITED STATES GRAND PRIX™ set for Nov. 16-18. Racing series joining the Circuit's 2013 line-up include MotoGP™, V8 Supercars™ and GRAND-AM Road Racing™. The Circuit of The Americas' master plan features a variety of permanent structures designed for business, education, entertainment and race use. Its signature element is a 3.4-mile circuit track. Other support buildings include an expansive outdoor live music space, an iconic 251-foot tower with observation deck, an events and conference center, a banquet hall as well as a state-of-the-art medical facility. For more information and downloadable video, audio and photos, visit: www.CircuitofTheAmericas.com.