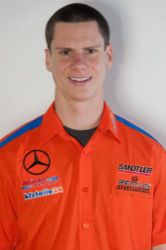 Berlin, Germany (April 8, 2013) — Michael Lewis' plans for the 2013 race season have been confirmed as Team kfzteile24 Mücke Motorsport, of Berlin, Germany, announced that he would fill the last of the team's four Dallara-Mercedes seats for the FIA Formula 3 European Championship. Michael's first event for the team will be this weekend, April 12–14, in Silverstone, England. This will be the second event weekend of the 2013 FIA Formula 3 European Championship season, with Michael competing in rounds four, five and six, of the Championship.
"We are happy to have Michael aboard now. He has got the potential to fight about podium placings and win races," said Team Principal Peter Mücke, who now has a promising replacement for Pascal Wehrlein, who switched to the DTM (Deutsche Tourenwagen Masters) as the youngest DTM driver for the Mercedes-Team Mücke Motorsport. Wehrlein was on the podium three times (first, second and third position) at the Formula 3 European Championship season opener in Monza, Italy, at the end of March. "I am sure Michael can accomplish similar positions as well, because he already took part in the Formula 3 Euro Series and the European Championship last year," Mücke added.
"It is a great honor to be with kfzteile24 Mücke Motorsport," said 22-year-old Michael Lewis, a native of Laguna Beach, California, and who resides in Baveno, Italy. "There is a history of success that Peter Mücke and his team have built, so it gives me great confidence to know I am driving for a very established team. My goal is to go out and win races. With the strong support of kfzteile24 Mücke Motorsport, this goal can be achieved."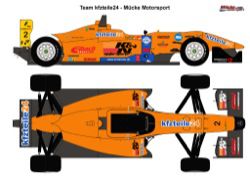 Michael competed in the Formula 3 Euro Series Championship last year earning one win and seven podium appearances. He previously competed in the Italian Formula 3 Championship where he finished as Vice Champion and earned Rookie Championship honors in 2011. Michael had a strong career in Formula BMW as well, earning Rookie Champion in the 2009 Americas championship, and in 2010, scoring podiums in Asia and running strong in Europe. Previously a champion in United States karting, Michael also developed his skills in European karting. Michael has earned victories and championships in Focus Midgets, touring cars, quarter midgets, and even stock cars.
"It is exciting to finally get back in the car for the second round at Silverstone and start scoring some points," Michael added. "I am ready to give all of my effort for the next event, and I would like to thank kfzteile24 Mücke Motorsport and Mercedes-Benz for this opportunity."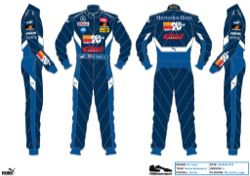 All FIA Formula 3 European Championship races will be broadcast live this season at http://www.fiaf3europe.com/livestream.html. Please visit the website 10 minutes prior to the start of each race, then click on "Livestream" to watch each event.
2013 Formula 3 European Championship Schedule
March 23–24 Monza, Italy
April 13–14 Silverstone, England
May 4–5 Hockenheim, Germany
May 18–19 Brands Hatch, England
June 1–2 Red Bull Ring, Austria
July 13–14 Norisring, Germany
August 17–18 Nürburgring, Germany
September 28–29 Zandvoort, The Netherlands
October 19–20 Hockenheim, Germany
October 26–27 Paul Ricard, France
Michael Lewis' 2013 sponsor lineup includes K&N Motorsports, Eibach, Mercedes-Benz, ASE, Cometic Gasket, GoPro, Bell Helmets, Puma Motorsport, Subè Sports, Braille Batteries, Formula Medicine, Klotz, and Racing Electronics.
For more information about Mücke Motorsports and photos to download, visit www.muecke-motorsport.de.
American contact:
Meredith Kaplan Burns
[email protected]
International contact:
Roland Hanke
Team kfzteile24 Mücke Motorsport Presse
E-Mail:…………… [email protected]
E-Mail:…………… [email protected]
Background information of the German Team kfzteile24 Mücke Motorsport from Berlin:
Peter Mücke started in Formula motor sports with his team in 1998 and nowadays it is the one of the biggest and most successful private racing stables in Germany and it is involved in the DTM since 2005 as well. Already at the first year in Formula sports his son as the newbie in the field, Stefan Mücke, got the title for Mücke Motorsport at the Formula BMW, and at the offspring series there were three further titles, last time with Pascal Wehrlein in 2011 at the ADAC Formula Masters. The driver from Worndorf got the sixth Rookie title one year later as well as the fifth vice championship at the drivers ranking since the access of Mücke into the Formula 3 in 1999. Attached to that there were two wins at the Formula 3 Masters in Zandvoort as well as position two in 2012 at the Formula 3 Grand Prix in Macau of the Swede Felix Rosenqvist, who was championship third last year as well and who fights for the European Championship title in the actual team as well. Now in 2013 the team has four Dallara Mercedes at the FIA Formula 3 European Championship, as well as six Formula ADAC powered by Volkswagen at the ADAC Formula Masters.
Car master craftsman, car and bike shop owner Peter Mücke is involved in motor sports for about 40 years already. The 66 year old got more than 500 wins himself and has been Auto Cross European Champion three times in his self built Buggy as well as GDR Champion eleven times (seven times Auto-Cross, four times circular track) and is still behind the wheel of his Ford Capri RS at some Youngtimer races, if there is the time. His good feeling for talented drivers made his team to a well-known offspring team that offers the whole range, from rookies and beginners of motor sports up to the advancement into the royal league of the Formula sport. Until now, six former drivers of Mücke Motorsport started at the Formula 1. And one of them is the threefold World Champion Sebastian Vettel from Heppenheim. Five further drivers that were engaged in the offspring school of Mücke Motorsport in different series, also succeeded to drive at the Formula 1: Sergio Perez (Mexico), Robert Kubica (Poland), Sébastien Buemi (Switzerland), Christian Klien (Austria) and Markus Winkelhock (Germany).
Stefan Mücke (31), who is the consultant of his father's team as well, switched 2007 to the sports cars scene after his time as Mercedes pilot at the DTM. In 2009, he was the champion of the Le Mans Series in the LMP1 sports car prototype, in 2011 vice champion at the FIA GT1 World Championship and in 2012 vice champion with his Team Aston Martin Racing at the FIA World Endurance Championship. At the WEC, the Berlin is behind the wheel in 2013 as well and this will be his sixth year in a row as Aston Martin works driver. In June he will take part at the famous 24 hour race of Le Mans for the seventh time.