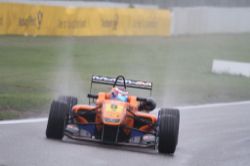 Hockenheim, Germany (May 6, 2013) — In only the second race weekend with his new team, American Michael Lewis and the kfzteile24 Mücke Motorsport team continue to form a relationship as they seek to deliver a strong performance in the 2013 FIA Formula 3 European Championship.
After joining the kfzteile24 Mücke Motorsport team after the first race weekend this season, Michael and the team continue to seek a balance with very limited seat time for him in the Dallara 312 chassis with Mercedes power. While not earning the results they had hoped for this weekend in Hockenheim, Germany, they did gain valuable experience working together, which will be helpful at the series' next installment at Brands Hatch, England.
FRIDAY, MAY 3
Friday's Free Practice looked promising for Michael and the team as he finished in 12th position of 29 drivers at the end of both Free Practice sessions.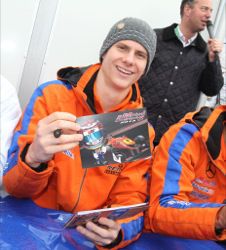 "The car felt pretty solid, and I even had 3/10ths of a margin as there was a long yellow flag in sector two preventing a larger lap time improvement on the new tires," explained Michael Lewis. "It was a decent start to the weekend." Michael next put his focus on qualifying, which took place later that afternoon.
Friday afternoon played host to two qualifying sessions. Q1 determines the starting grid for Race 1 and Race 2, which were both scheduled for Saturday. However, the track proved tricky for both the engineers and drivers alike as the track was completely dry in sectors 1 and 2, but in full wet conditions in sector 3. The challenging conditions actually benefited Michael at the start of Q1 as the American was in the top 5 over the beginning of the session.
"Our team chose to qualify on slick tires, so it was pretty fun to manage the half wet/dry conditions," reported Michael. "However, once the track dried out, I struggled to get everything out of that last sector. In the end, the track was dry, but I was losing a lot of time in that last sector." Michael ended up qualifying P24 for Race 1, and P25 for Race 2, in the 29-car field. "It was pretty frustrating to qualify at the back for Race 1 and 2," he admitted.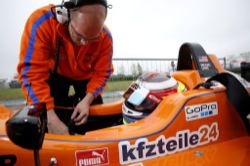 Just after the completion of Q1, Michael and the 28 other drivers returned to the track for the second qualifying session. Q2, which determines the starting grid for Race 3 on Sunday, took place in full dry conditions. While Michael improved his qualifying result compared to Q1, he had to settle for P20.
"It was definitely a poor result to start the weekend as I had higher expectations," said Michael. "My kfzteile24 Mücke Motorsport guys deserve to be higher up on the grid."
SATURDAY, MAY 4
Saturday morning's Race 1 began in the rain. Although Michael started the race in 24th place, he was able to work his way through the wet track conditions to finish 22nd.
"By starting so far in the back, it was a struggle to fight my way forward from all the spray and the incidents happening on the track," said Michael. Although not pleased with his finishing position, Michael appreciated being able to gain more track time in the kfzteile24 Mücke Motorsport Dallara and finished the race.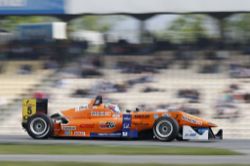 The erratic weather conditions continued to wreak havoc on the race engineers as Race 2, which took place early Saturday evening, occurred under full dry conditions. Michael started the race in 25th, but was able to pass several cars to earn 21st when the checkered flag fell.
"In the dry conditions, my pace was not the strongest, so I wasn't passing cars left and right," described Michael. "Both races today were a struggle. In the end, I finished both races higher then my starting position, but it wasn't enough as we need to be higher up in the standings. I am still keeping a positive attitude and working hard with my guys to get as much out of this weekend as possible. It is important to always keep pushing and never give up during the race weekend. I believe in my kfzteile24 Mücke Motorsport team and know that we will deliver favorable results in future races."
SUNDAY, MAY 5
The dry track conditions continued for Sunday's Race 3. This race featured Michael's best starting position of the weekend in 20th, and he worked diligently to move forward in the field, ending his day in P16.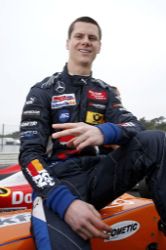 "It was a better result compared to the first two races for sure, but I was struggling on pace," described Michael. "It is definitely frustrating sometimes to be back there, but that's racing. I will apply what I learned from this weekend to races throughout this season.
"There are areas that I need to work on before my next race at Brands Hatch," he continued, "and all I can do is look forward to that race and put this weekend behind me. I want to really thank the kfzteile24 Mücke Motorsport team, and especially the guys I work with, for staying enthusiastic and working hard just as they did in the last race at Silverstone. With only two races with this team, I can see the dedication and the positive attitudes of everyone."
The fourth event weekend of the 2013 FIA Formula 3 European Championship will take place May 17–19, on the "Indy" Circuit at Brands Hatch, in England. Michael Lewis and the kfzteile24 Mücke Motorsport team are already hard at work to improve their performance.
Qualifying for Round 4 will take place on Friday, May 17, beginning at 4:25 p.m. (British Summer Time)/8:25 a.m. PDT, with the second qualifying session beginning at 5:25 p.m. (BST)/9:25 a.m. PDT. Live timing can be viewed by visiting the FIA F3 European Championship website at www.fiaf3europe.com, and click on "timing." Races 1 and 2 will take place on Saturday, May 18, at 11:10 a.m. (BST)/3:10 a.m. PDT, and 4:40 p.m. (BST)/8:40 a.m. PDT, respectively. These races will be broadcast live on the FIA F3 website, and can be viewed by visiting the website and clicking on the "stream" icon. Sunday's Race 3 is scheduled to begin at 9:50 a.m. (BST)/1:50 a.m. PDT.
Michael Lewis' 2013 sponsor lineup includes K&N Motorsports, Eibach, Mercedes-Benz, ASE, Cometic Gasket, GoPro, Bell Helmets, Puma Motorsport, Subè Sports, Braille Batteries, Formula Medicine, Klotz, and Racing Electronics.
For more information about Mücke Motorsports and photos to download, visit www.muecke-motorsport.de.
American contact:
Meredith Kaplan Burns
[email protected]
International contact:
Roland Hanke
Team kfzteile24 Mücke Motorsport Presse
E-Mail:…………… [email protected]
Background information of the German Team kfzteile24 Mücke Motorsport from Berlin
Peter Mücke started in Formula motor sports with his team in 1998 and nowadays it is the one of the biggest and most successful private racing stables in Germany and it is involved in the DTM since 2005 as well. Already at the first year in Formula sports his son as the newbie in the field, Stefan Mücke, got the title for Mücke Motorsport at the Formula BMW, and at the offspring series there were three further titles, last time with Pascal Wehrlein in 2011 at the ADAC Formula Masters. The driver from Worndorf got the sixth Rookie title one year later as well as the fifth vice championship at the drivers ranking since the access of Mücke into the Formula 3 in 1999. Attached to that there were two wins at the Formula 3 Masters in Zandvoort as well as position two in 2012 at the Formula 3 Grand Prix in Macau of the Swede Felix Rosenqvist, who was championship third last year as well and who fights for the European Championship title in the actual team as well. Now in 2013 the team has four Dallara Mercedes at the FIA Formula 3 European Championship, as well as six Formula ADAC powered by Volkswagen at the ADAC Formula Masters.
Car master craftsman, car and bike shop owner Peter Mücke is involved in motor sports for about 40 years already. The 66 year old got more than 500 wins himself and has been Auto Cross European Champion three times in his self built Buggy as well as GDR Champion eleven times (seven times Auto-Cross, four times circular track) and is still behind the wheel of his Ford Capri RS at some Youngtimer races, if there is the time. His good feeling for talented drivers made his team to a well-known offspring team that offers the whole range, from rookies and beginners of motor sports up to the advancement into the royal league of the Formula sport. Until now, six former drivers of Mücke Motorsport started at the Formula 1. And one of them is the threefold World Champion Sebastian Vettel from Heppenheim. Five further drivers that were engaged in the offspring school of Mücke Motorsport in different series, also succeeded to drive at the Formula 1: Sergio Perez (Mexico), Robert Kubica (Poland), Sébastien Buemi (Switzerland), Christian Klien (Austria) and Markus Winkelhock (Germany).
Stefan Mücke (31), who is the consultant of his father's team as well, switched 2007 to the sports cars scene after his time as Mercedes pilot at the DTM. In 2009, he was the champion of the Le Mans Series in the LMP1 sports car prototype, in 2011 vice champion at the FIA GT1 World Championship and in 2012 vice champion with his Team Aston Martin Racing at the FIA World Endurance Championship. At the WEC, the Berlin is behind the wheel in 2013 as well and this will be his sixth year in a row as Aston Martin works driver. In June he will take part at the famous 24 hour race of Le Mans for the seventh time.