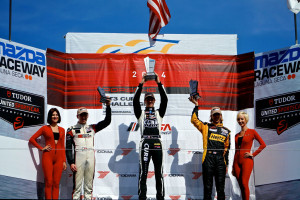 Laguna Beach, California — In only his third race in the IMSA GT3 Cup Challenge USA by Yokohama series, Michael Lewis proved victorious in his home state of California at Mazda Raceway Laguna Seca on Sunday, May 4.
Michael turned in a dominating performance this past weekend with the fastest time in the second practice session on Friday, quickest lap during qualifying on Saturday, and claimed not only victory for Sunday's first race in the morning, but came back that afternoon and led every lap in the No. 98 Competition Motorsport/Curb-Agajanian Porsche 911 GT3 Cup car to claim his second victory of the day and season.
Although Michael grew up in Laguna Beach, California, which is only a six-hour drive from the race track, he never actually raced on the historic road course before Thursday's practice. Michael looked like a seasoned veteran rather than a rookie in his first year driving Porsche sports cars.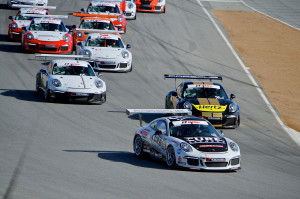 "Racing at Mazda Raceway Laguna Seca is a pretty special opportunity in itself," said Michael Lewis. "Then earning the pole position and winning both races; it's hard to get any better than that."
Michael and the Competition Motorsports team arrived at Mazda Raceway Laguna Seca on Thursday, May 1, which allowed Michael and his teammates some time to get acquainted with the 2.238-mile road course.
Saturday morning at promptly 9 a.m., qualifying for Sunday's two races began. With each of the 11 qualifying laps in the 20-minute session, Michael became more familiar with the circuit's 11 turns. Then at the end of the qualifying session, Michael found the perfect lap and set the class of the field with a blistering 1:27.786-minute lap, which placed him on the pole position for Sunday's two races.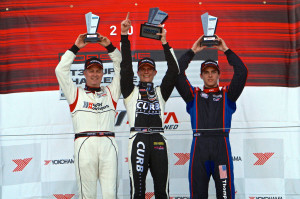 "The car was really good in qualifying," said Michael. "It was an awesome last lap, that's really all I can say. We had to do it in the last minute, and everyone was fighting for some track space. I had to fight for every inch of the track, and luckily I did it on the last lap.
"We were hoping to start in the first two rows, so it was icing on the cake to be first," he continued. "It was a great effort by the team, as we calmly kept to our plan amidst the chaos. I was just trying to improve mentally on what I was doing in the previous qualifying laps, a little bit of self-coaching on that last lap was enough to be P1."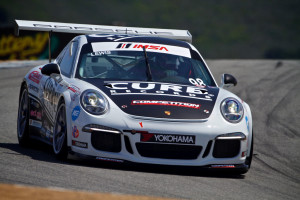 Sunday's first 45-minute race began at 9 a.m., with Michael feeling confident in the No. 98 Competition Motorsports/Curb-Agajanian Porsche 911 GT3 Cup car. As the green flag waved to start the race, Michael immediately pulled ahead while the cars behind him battled for position as they raced to the first turn. Michael kept his distance from the second-place car, but couldn't gain a considerable lead due to two caution flags during the race. With one lap to go, the final caution ended, and Michael wasn't challenged on the white-flag lap, and crossed the finish line in first, leading every lap.
"I was just trying to get a gap and run a clean race, but about mid-race the car behind me was close, so I just wanted to keep my pace up and pull away," explained Michael. "Then I saw he got a drive-through penalty, so from that point on, I tried to run a clean race to not wear out my car. There was a final safety car, leaving a one-lap dash to the finish, and I was able to hold my line into the first braking zone. Exiting the Andretti Hairpin on that last restart, I knew I could hold my lead until the checkered flag. I must say a big thank you to my team because they put a great effort into the car for this first win. Thank you to Curb Records and everyone involved to get this to happen. It was a fun race!"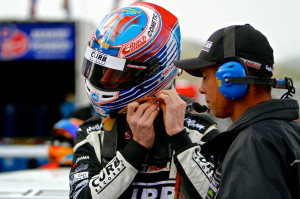 Although Sunday's second race wasn't scheduled until 5:15 p.m., that allowed Michael and his crew at Competition Motorsports to finalize their plan of attack. Again, Michael started on the pole position and immediately jumped ahead at the start of the race. However, a short caution period occurred during the first lap due to a car that stopped on the front straight-away. When the green flag waved again, Michael continued his dominance through the race, even for another caution period later. Michael once again took the checkered flag, leading every lap.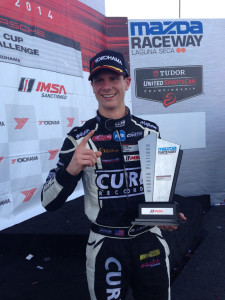 "This second race was pretty much green to checkered with no safety car, apart from a lap or two at the beginning and again at the end of the race," described Michael. "This made for an awesome, 45-minute sprint race from beginning to end. From the start, I focused to squeeze every tenth I could out of the track and to run consistently. Everyone had new tires, so all of us were pushing quite hard. This hard, consistent driving worked, and I was able to make a gap, lap by lap. Just before the last safety car, which arrived with about three laps remaining, I hit some lapped traffic. This was pretty intense, as there were two slower cars side by side for the first half of the track, forcing me to slow down and lose the gap I had built. I fought with the second-place driver into Turn 5, and was able to keep him behind me. Then the safety car was deployed, and on the restart with three laps to go, I held my line on the inside, and defended a big dive from the second-place driver. I was able to keep the lead exiting the Andretti Hairpin, and I pushed hard to the checkered flag. It was an intense, on-the-limit race!"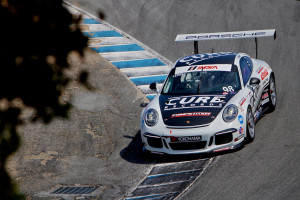 After four races, Michael's two wins have placed him in 2nd position in the 2014 Porsche GT3 Cup Challenge USA by Yokohama standings with 58 total points, and only six points behind Colin Thompson.
For a behind-the-scenes look of the track, Michael offers this interview during his Pre Race Update Video after he qualified first on Saturday, with a special guest appearance from Competition Motorsports team owner Bob Faieta: https://www.youtube.com/watch?v=kZemPWYf_Cw&feature=youtu.be
Michael participated in the series' "meet and greet" event on Thursday, May 1. To view Michael's interview during the event, click here: https://www.youtube.com/watch?v=4PcD-Ttd-ek&list=UUCPrD4BxIppSaAy92-3JerA
In addition, Michael shares his thoughts about his successful weekend in a Post Race Update Video. He brought home some great looking hardware from Laguna Seca! View the video here: https://www.youtube.com/watch?v=aMjT9zzDOEg&feature=youtu.be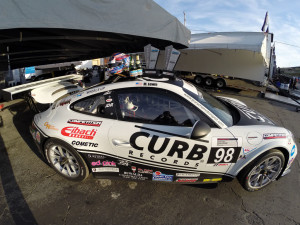 Michael's next race in the No. 98 Competition Motorsports/Curb-Agajanian Porsche 911 GT3 Cup car will take place at Lime Rock Park, in Lakeville, Connecticut, May 23-24.
Michael Lewis would like to thank his team of sponsors for the 2014 season, which include: Curb Records, Eibach, Cometic Gasket, ASE, C&R Racing, McKenna Porsche of Southern California, Ed Pink Racing Engines, Buwalda Construction, Laguna Classic Cars & Art, Camisasca Automotive Manufacturing, Inc., Mönik, Performance Racing Tech-Talk, Realatrends Real Estate Services, Inc., Mr. Paint Incorporated, RFMS Racing, Burger King, Val Lambros, M.D. F.A.C.S., Surterre Properties, Klotz Synthetics, Coast Fabrication, Racing Electronics, GoPro, Bell Helmets, Racing Goes Safer Foundation, JDR Graphics, Hobie Surf Shop Laguna Beach, and SACdesign.