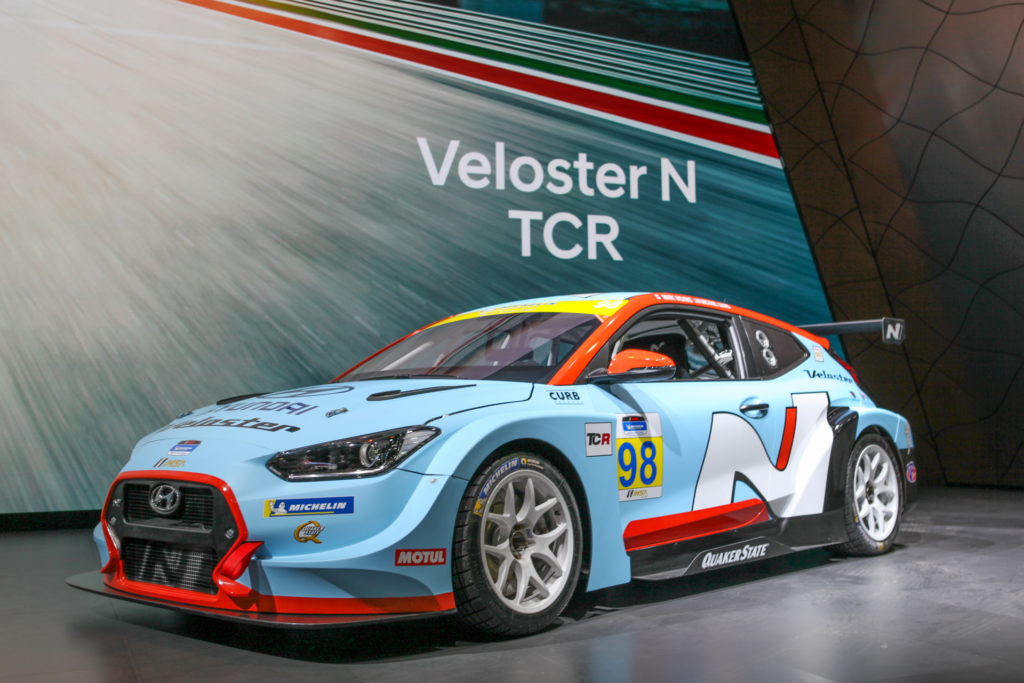 Indianapolis, IN — Bryan Herta Autosport w/ Curb Agajanian will debut the Hyundai Veloster N TCR in the 2019 IMSA Michelin Pilot Challenge season opener at Daytona International Speedway as part of the 2019 Rolex 24 Hours at Daytona event. Hyundai and Bryan Herta unveiled their #98 Bryan Herta Autosport Veloster N TCR race car and announced their 2019 driver roster at the North America International Auto Show in Detroit on Monday, January 14.
In addition to unveiling this year's challenger, Hyundai TCR veterans Michael Lewis and Mark Wilkins were confirmed to return to the #98 Bryan Herta Autosport w/ Curb-Agajanian entry while Harry Gottsacker and Mason Filippi will join the team to drive the #21 Hyundai Veloster N TCR.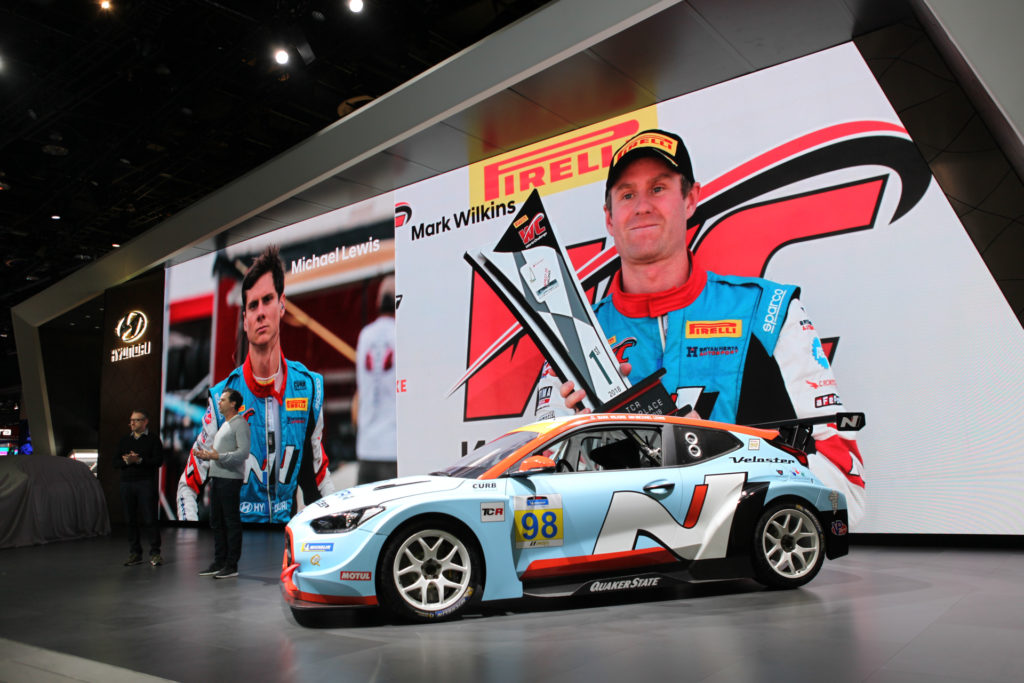 "We are incredibly proud to be expanding our relationship with Hyundai by bringing this all new 2019 Veloster N TCR into the IMSA Michelin Pilot Challenge for the coming season," said Bryan Herta. "We believe we have the most exciting driver lineup in the series, with proven TCR winners Michael Lewis and Mark Wilkins sharing the #98 and two exciting young talents in Mason Filippi and Harry Gottsacker co-driving in the #21."
Bryan Herta Autosport and Hyundai began their partnership in 2018 with a two-car assault on the Pirelli World Challenge TCR class. They found success together immediately with the Hyundai i30N TCR, winning eight of 13 races with Michael Lewis and Mark Wilkins, and capturing the Team championship and Manufacturers championship for Hyundai.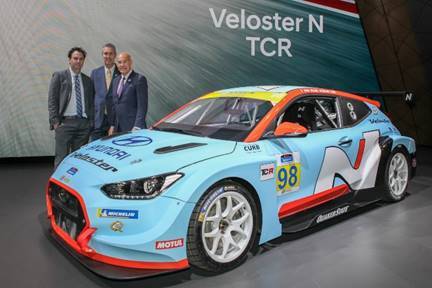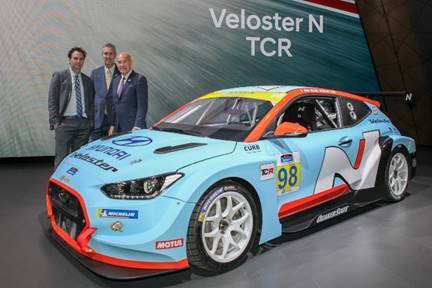 Transitioning to the IMSA Michelin Pilot Challenge for 2019, the 350-horsepower Veloster N TCR was designed by the same Hyundai Motorsport Customer Racing Team that developed the championship-winning i30 N TCR. Like its i30 sibling, the Veloster N TCR is produced at Hyundai Motorsport Headquarters in Alzenau, Germany. The two cars share around 85 percent of their core components, including the 350-hp 2.0-liter turbocharged engine.
"The Veloster is a perfect fit for the IMSA Michelin Pilot Challenge as we expand our motorsports efforts," said Dean Evans, vice president, Marketing, Hyundai Motor America. "The all-new 2019 Veloster and Veloster N are playful, fun-to-drive cars, and thanks to Bryan and his team we're excited to introduce them to racing fans across North America. In 2018, we won a manufacturer's championship, so it is great to get back to racing with our proven veterans, a pair of great young drivers, and this brand-new car."
No. 98 Hyundai Veloster N TCR
Michael Lewis: "I thank Bryan Herta for having me back on his team to help with the goal of winning races for his team and for Hyundai. The Veloster N has an incredibly strong following and it is an honor to be representing the Veloster N brand. People who follow our season can relate the Veloster N on the street to the Veloster N TCR that we use for racing purposes, and I think that is very cool. Additionally, the endurance race format with live pit stops and driver changes in the Michelin Pilot Challenge is a fun and new endeavor for our team. I am honored to join Mark Wilkins once again, and to work alongside Mason Filippi and Harry Gottsacker in our sister Veloster N TCR Race Car. Our team of engineers, management, mechanics, and drivers will work to bring attention to the fact that Hyundai not only builds efficient and economic cars, but also performance cars."
Recent Racing Career:
2018: Pirelli World Challenge TCR 4 wins, 6 poles Team (Bryan Herta Autosport) and Manufacturer (Hyundai) Champions
2017: Pirelli World Challenge, SprintX Pro-Pro with K-PAX Racing
2017: SRO California 8-Hours
2017: 25 Hours of Thunderhill with Competition Motorsports, finished second overall
2016: Pirelli World Challenge, GT and SprintX with EFFORT Racing/Curb Agajanian and Calvert Dynamics/Curb Agajanian: 2 Wins and 2 Poles, Sprint X 2 wins and 2 poles
2015: Pirelli World Challenge, GT with EFFORT Racing and Curb/Agajanian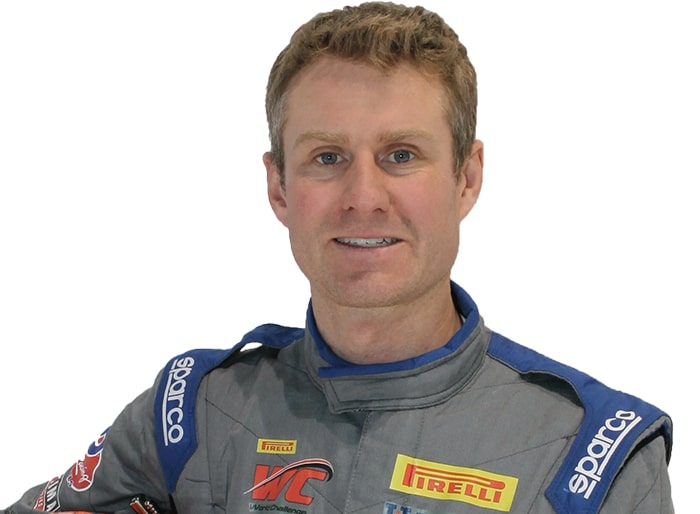 Mark Wilkins: "It's a privilege to represent Hyundai and Bryan Herta Autosport both on and off the race track and I look forward to showcasing the Hyundai Veloster N TCR throughout North America this season. I'm excited to be back in the IMSA paddock for 2019 with Hyundai! I love the venues we get to race at, the endurance race format and the added team component with the addition of pit stops. We've elevated the team aspect substantially and I'm especially excited to race with Michael in the same car. Michael is a real talent behind the wheel, a smart racer and real detail-oriented thinker. We get to carry on where we left off in 2018 and I think this is a great advantage as we dive into a new program in IMSA with a new car from Hyundai."
Recent Racing Career:
2018: Pirelli World Challenge TCR 3 wins, 1 pole, Team and Manufacturer (Hyundai) Champions
2017: Factory driver: IMSA SportsCar Championship and the Pirelli World Challenge
2017: North American Endurance Championship rounds at Daytona, Sebring, Road Atlanta
2017: Sprint X championship in Pirelli World Challenge; victory at Utah Motorsport Campus
2016: Second Sebring victory with CORE Autosport
2015: PWC victory at Miller Motorsports Park
2014: KIA PWC team; six podiums including two wins
No. 21 Hyundai Veloster N TCR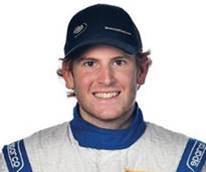 Mason Filippi: "I am extremely excited to be joining Bryan Herta Autosport and Hyundai this year for the 2019 Michelin Pilot Challenge. I am looking forward to driving with such a strong team and the Veloster N TCR will be very competitive. The transition to IMSA's format and long races presents a few more challenges that I am eagerly anticipating. It was great news to hear I have a fast co-driver Harry Gottsacker, He and I both have our eyes set on the podium."
Recent Racing Career:
2018: Pirelli World Challenge TCR, 4th in the Championship (RealTime Racing)
2017: Pirelli World Challenge TC 1 win, 5th in championship – rookie season
2016: Global MX 5 Cup, Pirelli World Challenge TCA, NASA 25 Hours of Thunderhill Winner (E1)
2015: Teen Mazda Challenge Championship, Top 8 Mazda Road to 24, NASA 25 Hours of Thunderhill Winner (E1)
2014: SCCA SFR Rookie of the Year
Harry Gottsacker: "I am really looking forward to 2019 with Bryan Herta Autosport. They are a great organization and have had success in all levels that they have competed in. The work that we've done together as a team so far has been great, and I really look forward to working with such a great group of people throughout the season. Hyundai has been such a capable car in TCR with their i30N and I am sure the Veloster N TCR will be even better, I can't wait to finally get my hands on it in Daytona in two weeks."
Recent Racing Career:
2018: Pirelli World Challenge GTS 2 wins, 2nd in the GTS overall and GTS SprintX Championship.
2018: IMSA Prototype Challenge 4th at Petit Le Mans
2017: British GT Silver GT3 class win, Pirelli World Challenge GTS 2 podium finishes
2016: Red Bull Global Rally Cross 2 top five finishes, Pirelli World Challenge GTS 1 podium finish
HYUNDAI VELOSTER N TCR TECHNICAL SPECIFICATIONS
Engine Type: Hyundai Motorsport 2.0-liter direct-injection turbocharged
Power (Max): 350 hp @ 7000 rpm
Torque (Max): 332 lb.-ft. @ 3500 rpm
Electronics: Life Racing ECU and power management system
Transmission Type: Front-wheel drive
Gearbox: Six-speed sequential gearbox with pneumatic paddle-shift
Differential: Mechanical with external pre-load adjuster
Clutch: AP Racing Cerametallic twin-disc
Cockpit Seats: Sabelt competition seats
Belts: Sabelt six-point HANS compatible
Instrumentation: Life Racing compact configurable driver's display
Chassis Front suspension: MacPherson struts with adjustable dampers
Rear suspension: Four-arm multi-link with adjustable dampers
Steering: Hydraulic power-assisted rack and pinion
Front Brakes: 380mm ventilated brake discs with Hyundai Motorsport-branded six-piston Brembo calipers
Rear Brakes: 278mm brake discs with two-piston calipers
Handbrake: Hydraulic control
Wheels: 10×18 inch aerodynamic Braid rims, designed for Hyundai Motorsport
Bodywork Structure: Hyundai Motorsport designed lightweight high-tensile steel roll cage
Bodywork: Steel and composite fiber panels
Length: 4,450mm
Wheelbase: 2,650mm
Width: 1,950mm
Track Width: 1,610mm
Fuel Tank Capacity: 100 liters
Weight: 1,285kg minimum (including driver)*
Price: €135,000 (approximately $155,000 in U.S. per current exchange rates)
*mandated by TCR regulations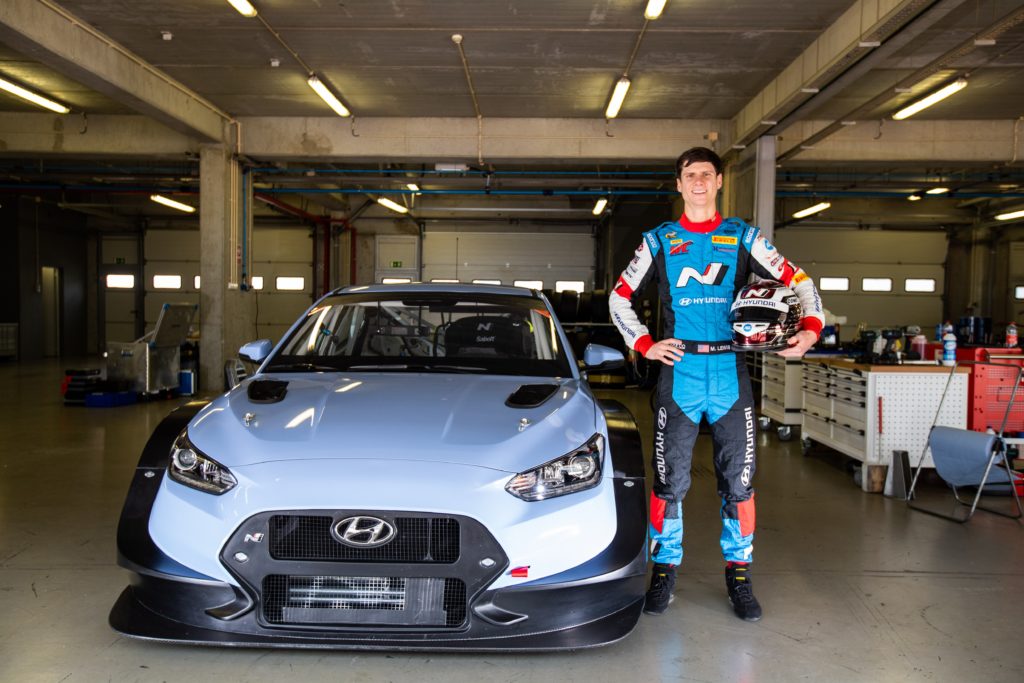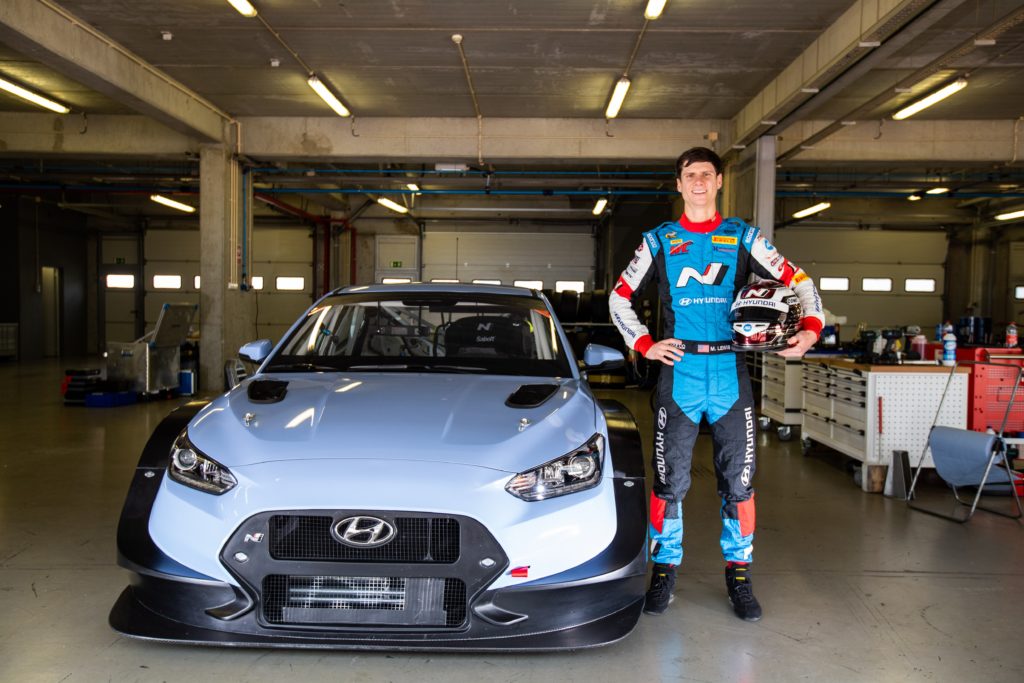 The highly competitive IMSA Michelin Pilot Challenge is a 10-race championship across North America's legendary racetracks. It features eight two-hour races and two four-hour endurance events, beginning with round one at Daytona International Raceway January 24–25. Follow the action live at www.imsa.com. NBC Sports Network will air the race from Daytona at 1pm ET on Wednesday, February 6. For more information, visit www.BryanHertaAutosport.com.
2019 IMSA Michelin Pilot Challenge Schedule
January 25 Daytona International Speedway
March 15 Sebring International Raceway
May 4 Mid-Ohio Sports Car Course
June 29 Watkins Glen International
July 6 Canadian Tire Motorsport Park
July 20 Lime Rock Park
August 3 Road America
August 24 VIRginia International Raceway
September 14 WeatherTech Raceway Laguna Seca
October 11 Road Atlanta
To view the IMSA Michelin Pilot Challenge broadcast schedule on NBC Sports, please click here.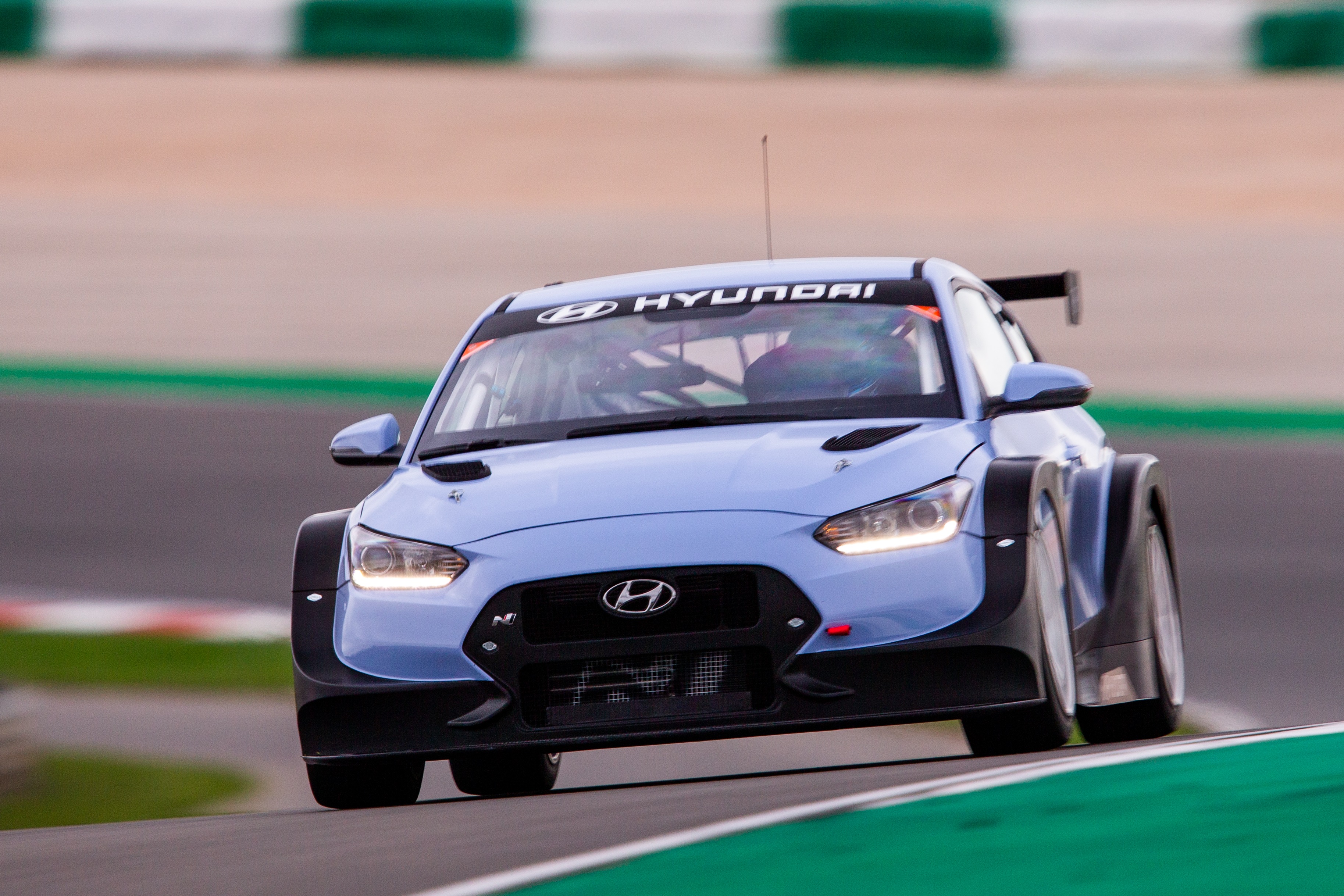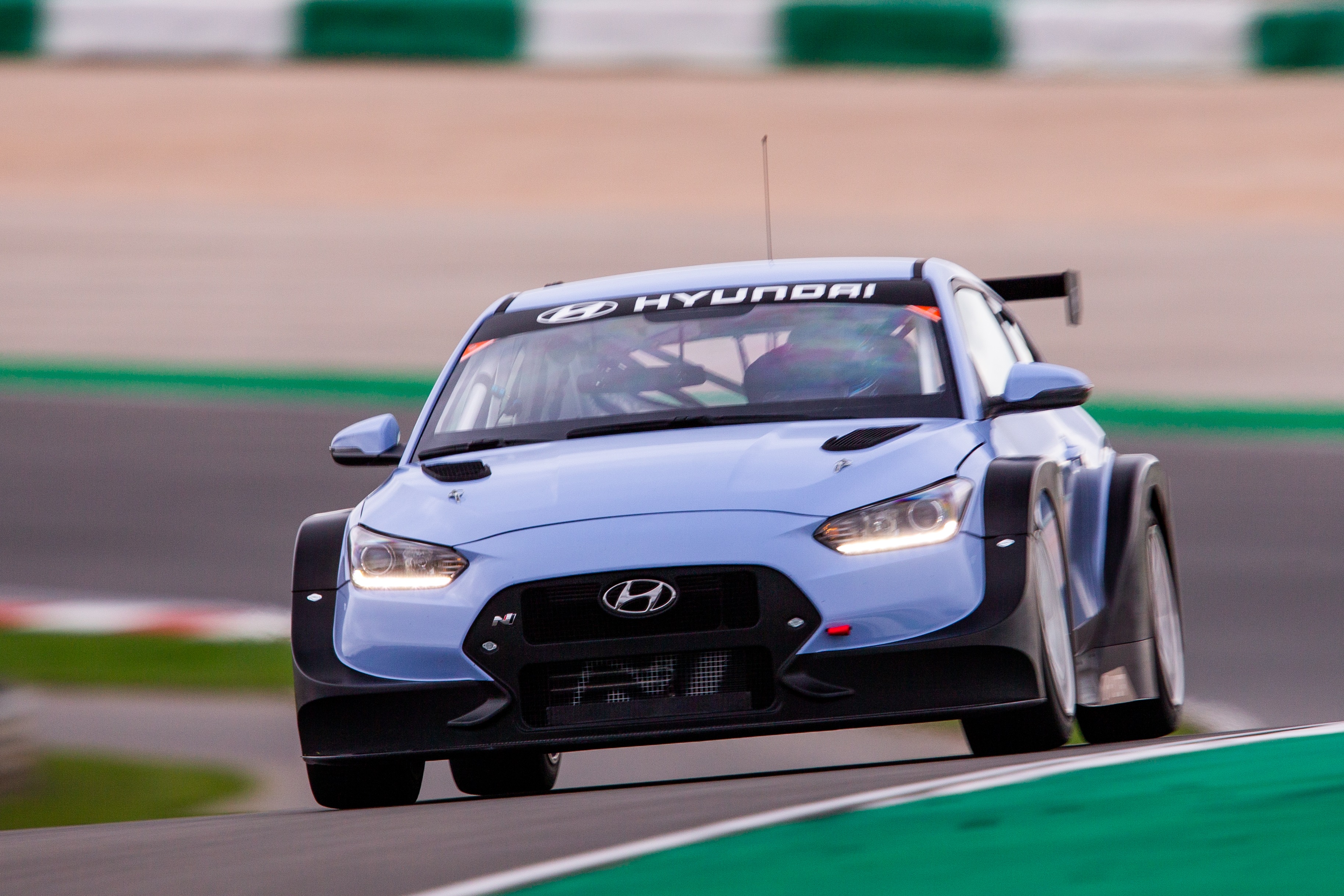 Bryan Herta Autosport
Founded in 2009, Bryan Herta Autosport has grown from a single car Indy-Lights team into a championship winning auto racing franchise. Led by IndyCar and Sports Car star Bryan Herta, Bryan Herta Autosport has won races in every discipline they've entered, including Indy Lights, Indy Car, Global Rally Cross, and Pirelli World Challenge. BHA rose to prominence after winning the 2011 Indianapolis 500 in what was the final race of the Centennial Era, a celebration of 100 years of racing at The Indianapolis Motor Speedway, with driver Dan Wheldon. Five years late, BHA partnered with Andretti Autosport, and defied the odds again, winning their second Indianapolis 500 with rookie driver Alexander Rossi. BHA entered the Global Rally Cross Championship in 2015 under the name Bryan Herta Rallysport, scoring multiple podiums and wins. In 2018, BHA entered the Pirelli World Challenge in partnership with Hyundai and dominated the TCR class, winning seven races with drivers #98 Michael Lewis and #99 Mark Wilkins in the Hyundai i30N TCR, securing the team and manufacturers championships in the process. For 2019, BHA continues its' successful partnership with Andretti Autosport to field the #98 U.S. Concrete Honda w/ Curb Agajanian in the IndyCar series for driver Marco Andretti. Also, in 2019, BHA takes their championship winning Hyundai TCR team to the IMSA Pilot Challenge where they will enter the #98 Hyundai Veloster N TCR for Michael Lewis and Mark Wilkins and the #21 for Harry Gottsacker and Mason Filippi.
Hyundai Motor America
Hyundai Motor America is focused on delivering an outstanding customer experience grounded in design leadership, engineering excellence and exceptional value in every vehicle we sell. Hyundai's technology-rich product lineup of cars, SUVs and alternative-powered electric and fuel cell vehicles is backed by Hyundai Assurance—our promise to deliver peace of mind to our customers. Hyundai vehicles are sold and serviced through more than 830 dealerships nationwide with the majority sold in the U.S. built at U.S. manufacturing facilities, including Hyundai Motor Manufacturing Alabama. Hyundai Motor America is headquartered in Fountain Valley, California, and is a subsidiary of Hyundai Motor Company of Korea.
View Michael's 2018 season with Hyundai and Bryan Herta Autosport by watching a three-part documentary series here:
Follow Michael Lewis here:
Website: www.mjlracing.com
Facebook: /MJLRacing
Instagram: @MJLRacing
Twitter: @MJLRacing_
Follow Bryan Herta Autosport here:
Website: www.bryanhertaautosport.com
Twitter: @bha
Instagram: @bryanhertaautosport
Facebook: /BryanHertaAutosport