Round one of the 2019 IMSA MICHELIN Pilot Challenge is in the books for the Bryan Herta Autosport w/ Curb Agajanian entries. The Indianapolis based team received their two new Hyundai Veloster N TCR racecars from Germany earlier this month and ran the cars for the first time at the season opener at Daytona International Speedway on Thursday. The event featured an accelerated schedule for the IMSA MICHELIN Pilot Challenge teams, with six sessions and a four-hour race over two days. Under the direction of team owner Bryan Herta, the crew and drivers took a methodical and conscientious approach to the weekend, as they familiarized themselves with their new equipment and new surroundings by cautiously executing the practice sessions, qualifying, and pitstops.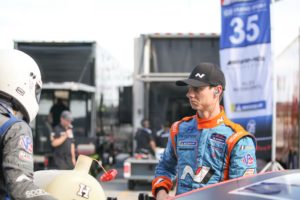 Mother Nature greeted the IMSA teams Thursday morning with heavy rain, thunder, lightning and strong winds. The IMSA Pilot Challenge series opened the famed Rolex 24 Hours At Daytona event with first practice at 9 am on Thursday. By the time the green flag fell on the first session of the season, the weather had subsided to light rain. Many teams chose to forego the session with no other rain forecasted over the event. The BHA squad eagerly anticipated their Veloster debut and took to the track despite the wet conditions. The team successfully used the session to give the all-new Veloster N TCR's a systems check, confirming the championship teams' preparations.
With each practice session, the #21 and #98 drivers worked diligently with their engineers to acquaint themselves with the Veloster N TCR and its response to set-up changes. As this progress developed, so did the performance and the lap times. Mark Wilkins set the 8th fastest qualifying time Thursday afternoon, while Mason Filippi was 13th.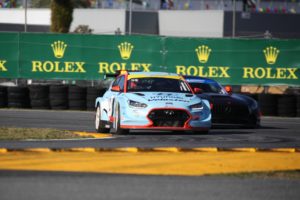 Cool temperatures and sunny skies greeted the teams for the race on Friday. The two-car Hyundai Veloster N TCR team ran inside the top-five several times in the four-hour event, with the #98 car driven by Mark Wilkins and Michael Lewis running as high as second on the high banks of Daytona. From the green flag until the checkered flag, the four-hour race was action packed with intense competition and lots of carnage. Mark Wilkins had a great start and had strong race pace, turning the car over to Michael Lewis in fourth position after completing one stint. Lewis settled in early, with three quarters of the race ahead. An issue in the first pitstop pushed him down the charts, but it wasn't long before he was working his way back through the field. Mid-race contact with the Honda Civic driven by Ryan Eversley ultimately ended the day early for the #98. Eversley was deemed responsible for the contact and penalized for the incident. The BHA crew made several stops in effort to bandage the car, but the damage proved to be too severe and retired on lap 76. The #98 team held on long enough to collect points for ninth position.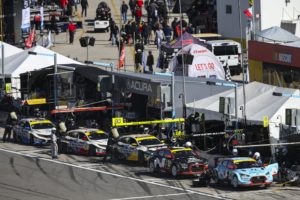 The BHA sister car, the #21 driven by rookies Harry Gottsacker and Mason Filippi finished fifth. Filippi started 13th and quickly accelerated through the field to sixth. A long pitstop sent Filippi back to his starting position, but once again he worked his way back toward the top-five. While Filippi consistently ticked off competitive lap times, Gottsacker observed from the pits, waiting patiently for the signal to get ready. Just over half way through the race Gottsacker took over driving duties. Trouble during the pitstop delayed his race debut even further, Gottsacker had a sizeable job ahead to get the car back into the top five. Shortly into his stint Gottsacker knew something was amiss. Focused on collecting as many points as possible, Gottsacker remained in the race and stayed consistent until he was forced to retire three laps before the checkered flag. It was not the way the young rookies wanted to finish their IMSA debut, but their patience paid off, they secured fifth place despite their retirement. The team now turns its focus to their next challenge, the Alan Jay Automotive 120 from the historic Sebring Raceway on March 15th. Watch the action from Daytona on Wednesday, February 6th at 1pm ET on NBC Sports SN.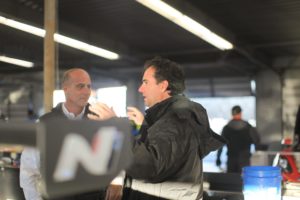 Team owner Bryan Herta: "Our goal this weekend was to execute…with a focus on consistency. We knew we had a significant challenge ahead with debuting a new car and program at Daytona. While we're not satisfied with our results, we learned a lot this weekend about the car, and our team. We're looking forward to this month to continue our program development and to revisit our extensive notes from the weekend so we will come out strong at Sebring. I am very pleased with the Veloster N TCR and our drivers. The big picture looks good for our team and Hyundai."
CAR #98 Bryan Herta Autosport w/ Curb Agajanian
Qualified: Mark Wilkins: 8th
Highest Race Position: 2nd
Finished: DNF – Contact, 76 laps p.9
Mark Wilkins: "We had a good start. The field was a bit scattered to be honest, no one really bunched up. We have a lot of new here this weekend and I'm learning the field, trying to figure out which drivers I can work with and which I need to watch out for, there's a lot of new. We got up to fourth and the car felt good. The Veloster N is a great racecar. It's the first race for this car, four hours and it is solid. I am confident it is going to be another great season with Hyundai and Bryan Herta Autosport."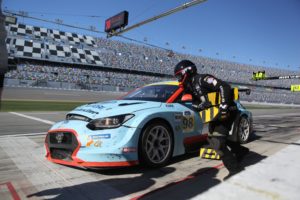 Michael Lewis: "Thank you to Bryan Herta Autosport and the whole team for working really, really hard all week long. They got the cars on the track in a fast and safe condition. Mark had a great stint, he was looking racy and brought the car into the pits in fourth. I was pumped! Once I got in and got my pace, we were catching the leaders and I thought we had a good car. We were a top-five car today and even ran as high as second. It was all looking pretty good through the first half of the race. On a re-start with about an hour and a half to go, we were hit hard from behind and that created quite a bit of damage. We tried to keep going after the contact, but the damage was to severe. I am disappointed we were not able to give Hyundai and BHA the result they deserved today with the Veloster N. I am happy though that we've got confidence and we know we have a competitive package going forward. It is going to be a great season. Congratulations to Mason and Harry for finishing in P5 and representing Hyundai as the highest finishing Veloster N TCR Race Car on our debut. They drove well and it was fun to race with them on the track."
CAR #21 Bryan Herta Autosport w/ Curb Agajanian
Qualified: Mason Filippi: 13th
Highest Race Position: 4th
Finished: Gottsacker: 96 of 101 laps completed – classified 5th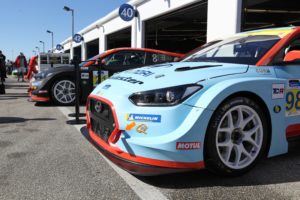 Harry Gottsacker on the race: "It was frustrating that neither car was able to finish the race, but we are looking forward to Sebring where will be stronger. It was our first race as a team all together. Mason my teammate did a great job, he was super consistent. We certainly all learned a lot this weekend. On the competition: "It was a little bit of a different than what I am used to, especially racing in the TCR category with the front wheel drive. It's a completely different ball game really and something I need to get used to. I'm really looking forward to getting back in the car and continuing our development."
Mason Filippi on the weekend: "It was my first time here at Daytona and It's been an incredible experience. To be a racecar driver competing at a place like this, is incredible. It was also our first weekend with the Veloster and my first impressions are very good. It was comfortable to drive right away, and it was fun to race. My teammate Harry and I have been able to work together well right from the beginning. I had a great first stint today, I enjoyed it very much. It was fun passing cars out there, not necessarily where I would have expected to, not knowing my competition and their characteristics. Ultimately, we were two laps shy of finishing the race with some sort of a problem that forced us to retire the #21, but we still scored points for fifth, which shows some consistency. We've got tools in our box to take to Sebring and I am looking forward to it."
Hyundai Motor America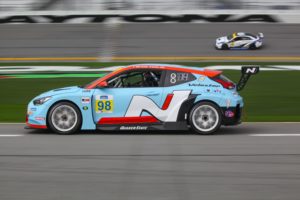 Hyundai Motor America is focused on delivering an outstanding customer experience grounded in design leadership, engineering excellence and exceptional value in every vehicle we sell. Hyundai's technology-rich product lineup of cars, SUVs and alternative-powered electric and fuel cell vehicles is backed by Hyundai Assurance—our promise to deliver peace of mind to our customers. Hyundai vehicles are sold and serviced through more than 830 dealerships nationwide with the majority sold in the U.S. built at U.S. manufacturing facilities, including Hyundai Motor Manufacturing Alabama. Hyundai Motor America is headquartered in Fountain Valley, California, and is a subsidiary of Hyundai Motor Company of Korea.
Bryan Herta Autosport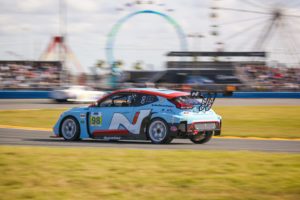 Founded in 2009, Bryan Herta Autosport has grown from a single car Indy-Lights team into a championship winning auto racing franchise. Led by IndyCar and Sports Car star Bryan Herta, Bryan Herta Autosport has won races in every discipline they've entered, including Indy Lights, IndyCar, Global Rally Cross, and Pirelli World Challenge. BHA rose to prominence after winning the 2011 Indianapolis 500 in what was the final race of the Centennial Era, a celebration of 100 years of racing at the Indianapolis Motor Speedway, with driver Dan Wheldon. Five years later, BHA partnered with Andretti Autosport, and defied the odds again, winning their second Indianapolis 500 with rookie driver Alexander Rossi. BHA entered the Global Rally Cross Championship in 2015 under the name Bryan Herta Rallysport, scoring multiple podiums and wins. In 2018, BHA entered the Pirelli World Challenge in partnership with Hyundai and dominated the TCR class, winning seven races with drivers #98 Michael Lewis and #99 Mark Wilkins in the Hyundai i30N TCR, securing the team and manufacturers championships in the process. For 2019, BHA continues its successful partnership with Andretti Autosport to field the #98 U.S. Concrete Honda w/ Curb Agajanian in the IndyCar series for driver Marco Andretti. Also, in 2019, BHA takes their championship winning Hyundai TCR team to the IMSA Pilot Challenge where they will enter the #98 Hyundai Veloster N TCR for Michael Lewis and Mark Wilkins and the #21 for Harry Gottsacker and Mason Filippi. Bryan Herta Autosport is the U.S. sales agent and parts support representative of Hyundai TCR race cars for customer teams. For more information, visit www.BryanHertaAutosport.com.
Follow Michael Lewis here: Website: www.mjlracing.com Facebook: /MJLRacing Instagram: @MJLRacing Twitter: @MJLRacing_
Follow Bryan Herta Autosport here: Website: www.bryanhertaautosport.com Twitter: @bha Instagram: @bryanhertaautosport Facebook: /BryanHertaAutosport