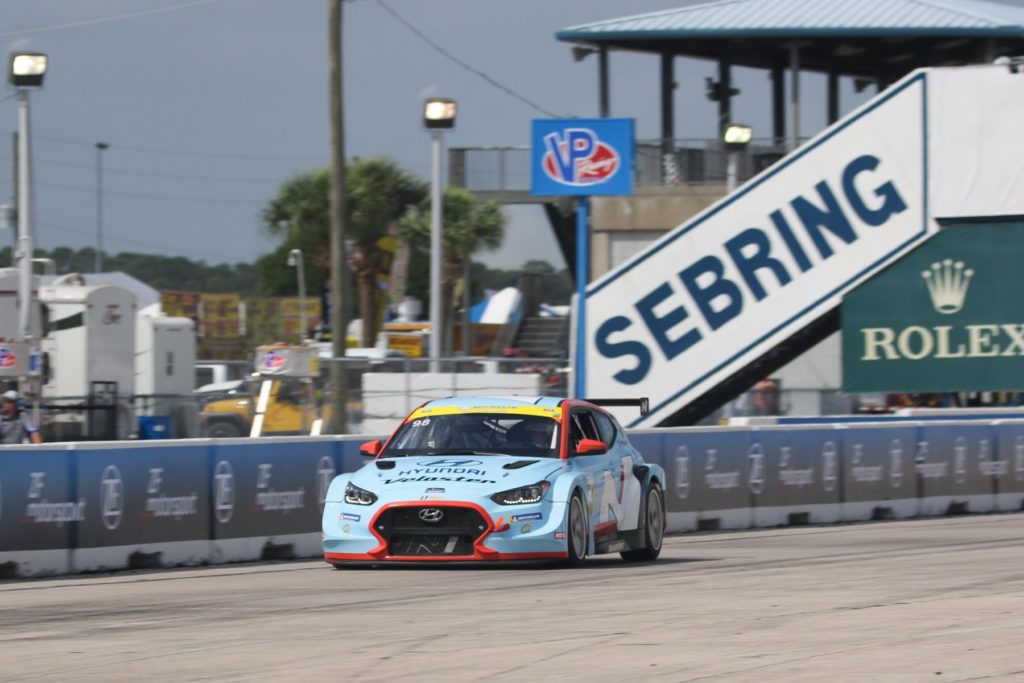 Sebring, Florida — Michael Lewis and Mark Wilkins, drivers of the No. 98 Bryan Herta Autosport (BHA) Hyundai Veloster N TCR, started third in Friday's Round 2 of the IMSA Michelin Pilot Challenge (IMPC) and fought for a podium finish the first half of the race before eventually finishing sixth. BHA teammates Mason Filippi and Harry Gottsacker jumped to second in the IMPC Championship with a 4th-place finish at Sebring International Raceway. The rookies started 8th and scored their second consecutive top-five finish in as many races.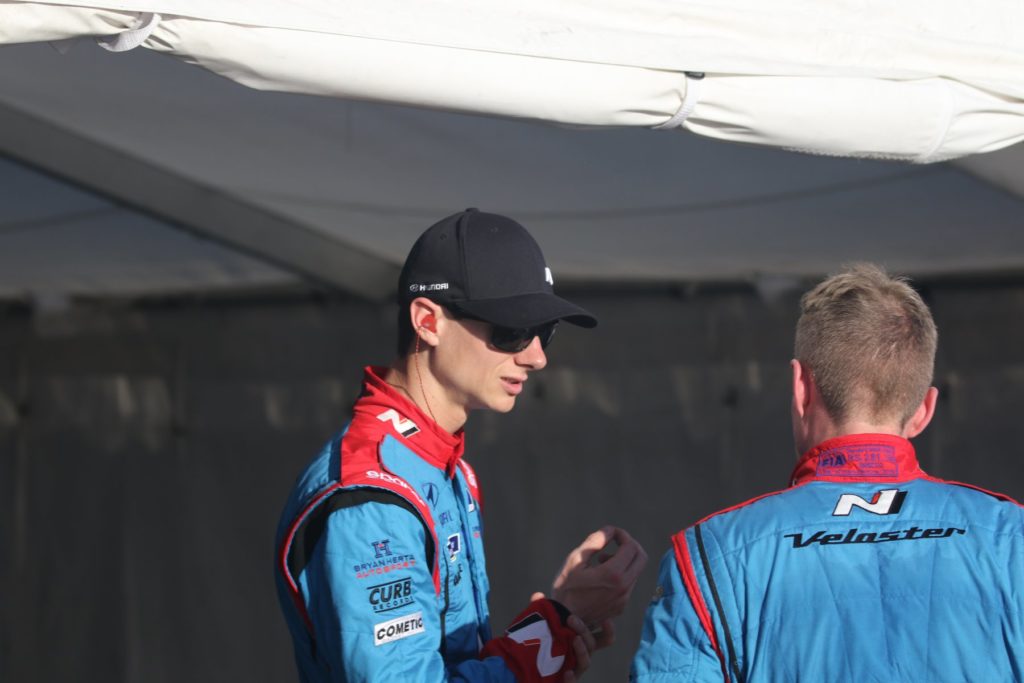 Rookies in the IMSA Michelin Pilot Challenge series, the Bryan Herta Autosport team has adapted quickly to IMSA competition, having led laps, qualified inside the top three and earned two top-five finishes in the first two races.
Catch the action from Sebring on NBC Sports Network on Thursday, March 28th at 3 p.m. EDT. The team returns to action the weekend of May 5th for the third round of the IMSA Michelin Pilot Challenge at Mid-Ohio Sports Car Course.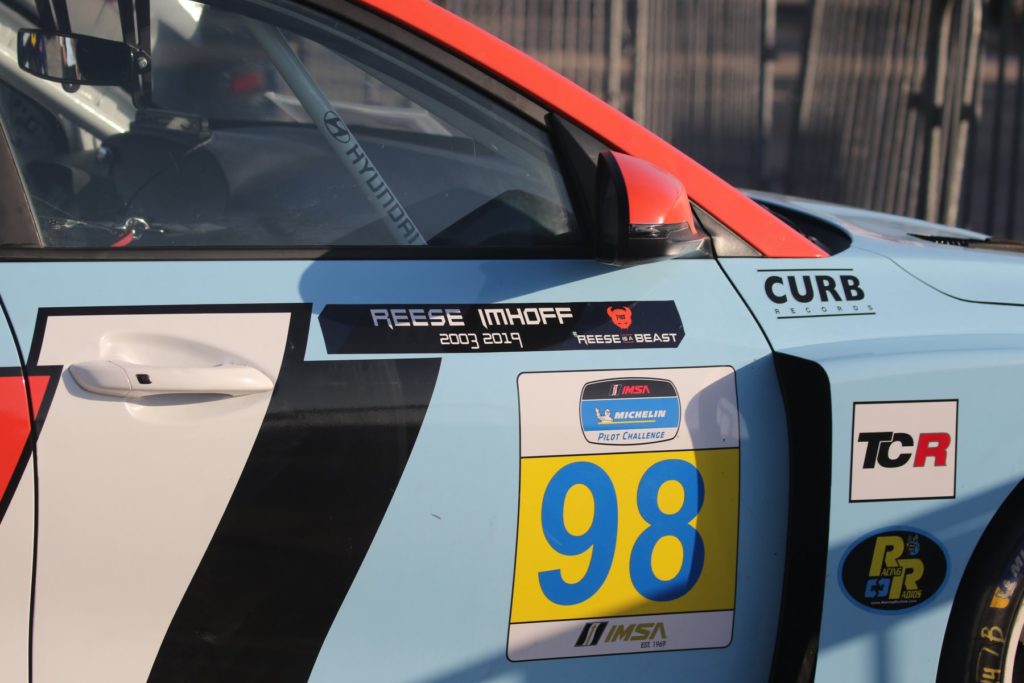 Reese Imhoff, a friend of the team, lost his battle with cancer last weekend. The BHA cars have proudly carried the #ReeseisaBeast logo in support of Reese's battle over the past year. "Reese was a part of our team and we were a part of his. Sadly, Reese recently lost his brave battle, but we will carry his spirit and determination with us forever." –Bryan Herta
QUOTES:
Michael Lewis: "We started the weekend off with a long test session and that was very helpful with us in our continuation of learning the car and setup. In fact, we found some things that really helped, so that session really paid off for us. In the race itself Mark had a great qualifying, which really amped up the team and got me psyched to see if we could bring home a good result. Mark did a great job of staying out of the chaos that was starting at the front of TCR. He navigated perfectly through the slower GT4s and traffic and had a great first stint. We had a good pitstop and he handed me a car with good grip in the tires. I was pleased with my restart and had a good battle going and then suddenly, I heard the call for a drive-through for a pitlane infraction. Despite the drive-through, we still salvaged a strong sixth-place position and I am pleased with the direction we are heading as a team. The Veloster N TCR is a great race car and I know we will continue to be competitive all season."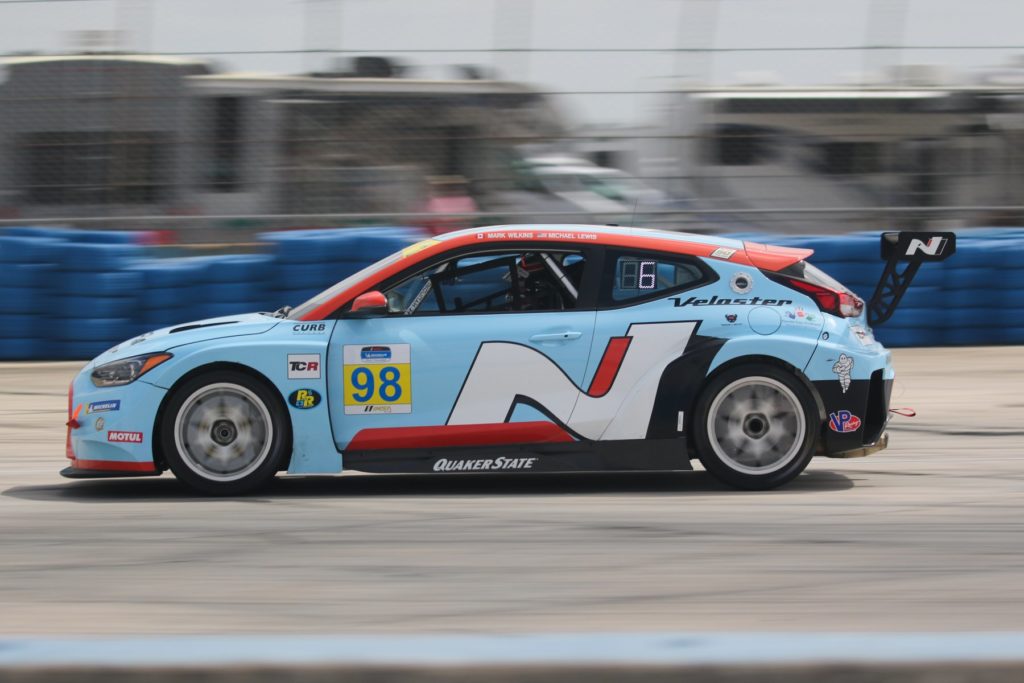 Mark Wilkins: "We had solid results for both Bryan Herta Autosport cars here at Sebring. I had a good first stint and did my best to keep up with the lead pack. We stayed clean and Michael did a great job in the car. We were a contender today and worked hard to get back to sixth after the drive-through. The Veloster N TCR is a riot to drive around Sebring! I can't wait for Mid-Ohio and the next round in the championship!"
Harry Gottsacker on Sebring: "I had a great start and was able to pick off two cars to move up to 6th position. We had a caution early in the race and navigating traffic cleanly was the goal. The Veloster N TCR kept getting faster throughout the run and I was able to hand the car over to Mason without a spot on it. Mason did a great job and was able to climb up from 7th to 4th by the end of the race. We will keep working hard and get the next step up to the podium"
Mason Filippi on the race: "Sebring is an amazing track; it was my first time and I am really happy with the weekend. Harry did a great job on the start, he kept it clean despite all the carnage on the track and his pace was good. I couldn't wait for my stint and I was so happy with the car. The Veloster N TCR car was really good on tires and it was a great car on long runs; the engineers set it up just right. Our pitstops were good and because of a strong team effort, we are going into the next round at Mid-Ohio second in the championship!"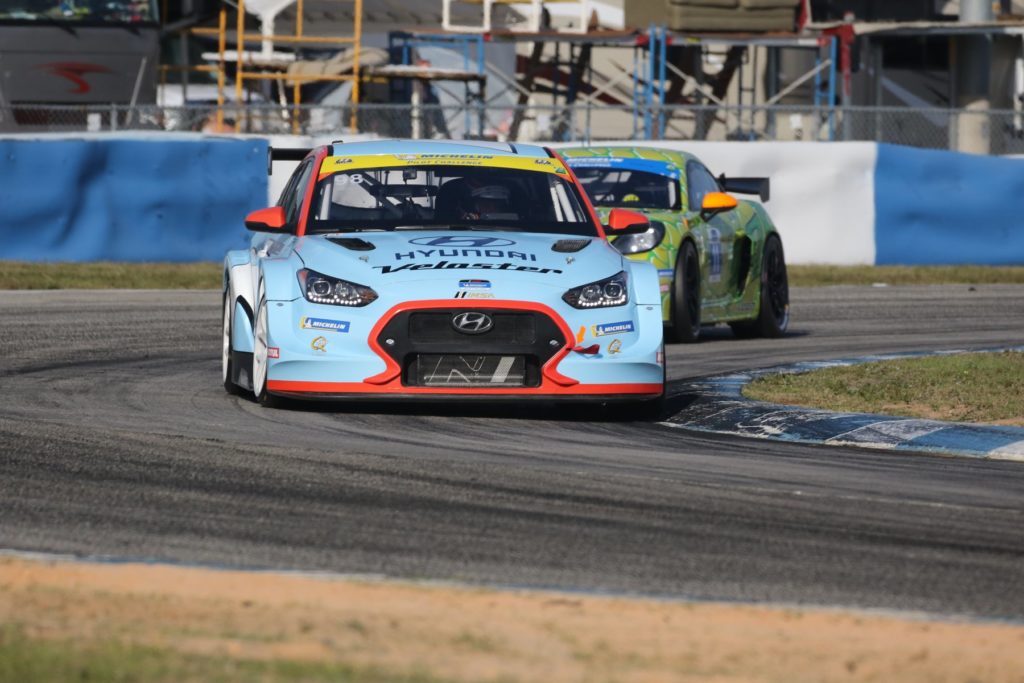 Bryan Herta, team owner on Round 2 of the IMPC today at Sebring: "It was challenging but I think our drivers did a good job out there today. I am happy with the team and pleased Harry and Mason brought home their second consecutive top-five finish and earned a strong position in the championship. The Veloster N TCR performed great. Overall, I think our level of preparation was good and the drivers squeezed everything out of it. It's a very competitive series and some of the other cars were awfully fast out there. I think we're in a good position to keep the progression forward at Mid-Ohio."
Stay updated with Michael Lewis and Bryan Herta Autosport online at:
Follow Michael Lewis here:
Website: www.mjlracing.com
Facebook: /MJLRacing Instagram: @MJLRacing
Twitter: @MJLRacing_
Follow Bryan Herta Autosport here:
Website: www.bryanhertaautosport.com
Twitter: @bha
Instagram: @bryanhertaautosport
Facebook: /BryanHertaAutosport
About Bryan Herta Autosport:
Founded in 2009, Bryan Herta Autosport has grown from a single car Indy-Lights team into a championship winning auto racing franchise. Led by IndyCar and Sports Car star Bryan Herta, Bryan Herta Autosport has won races in every discipline they've entered, including Indy Lights, Indy Car, Global Rally Cross, and Pirelli World Challenge. BHA rose to prominence after winning the 2011 Indianapolis 500 in what was the final race of the Centennial Era, a celebration of 100 years of racing at the Indianapolis Motor Speedway, with driver Dan Wheldon. Five years later, BHA partnered with Andretti Autosport, and defied the odds again, winning their second Indianapolis 500 with rookie driver Alexander Rossi. BHA entered the Global Rally Cross Championship in 2015 under the name Bryan Herta Rallysport, scoring multiple podiums and wins. In 2018, BHA entered the Pirelli World Challenge in partnership with Hyundai and dominated the TCR class, winning seven races with drivers #98 Michael Lewis and #99 Mark Wilkins in the Hyundai i30N TCR, securing the team and manufacturers championships in the process. For 2019, BHA continues its successful partnership with Andretti Autosport to field the #98 U.S. Concrete Honda w/ Curb Agajanian in the IndyCar series for driver Marco Andretti. Also, in 2019, BHA takes their championship winning Hyundai TCR team to the IMSA Pilot Challenge where they will enter the #98 Hyundai Veloster N TCR for Michael Lewis and Mark Wilkins and the #21 for Harry Gottsacker and Mason Filippi. Bryan Herta Autosport is the U.S. sales agent and parts support representative of Hyundai TCR race cars for customer teams. For more information, visit www.BryanHertaAutosport.com.
About Hyundai Motor America:
Hyundai Motor America is focused on delivering an outstanding customer experience grounded in design leadership, engineering excellence and exceptional value in every vehicle we sell. Hyundai's technology-rich product lineup of cars, SUVs and alternative-powered electric and fuel cell vehicles is backed by Hyundai Assurance—our promise to deliver peace of mind to our customers. Hyundai vehicles are sold and serviced through more than 830 dealerships nationwide with the majority sold in the U.S. built at U.S. manufacturing facilities, including Hyundai Motor Manufacturing Alabama. Hyundai Motor America is headquartered in Fountain Valley, California, and is a subsidiary of Hyundai Motor Company of Korea.