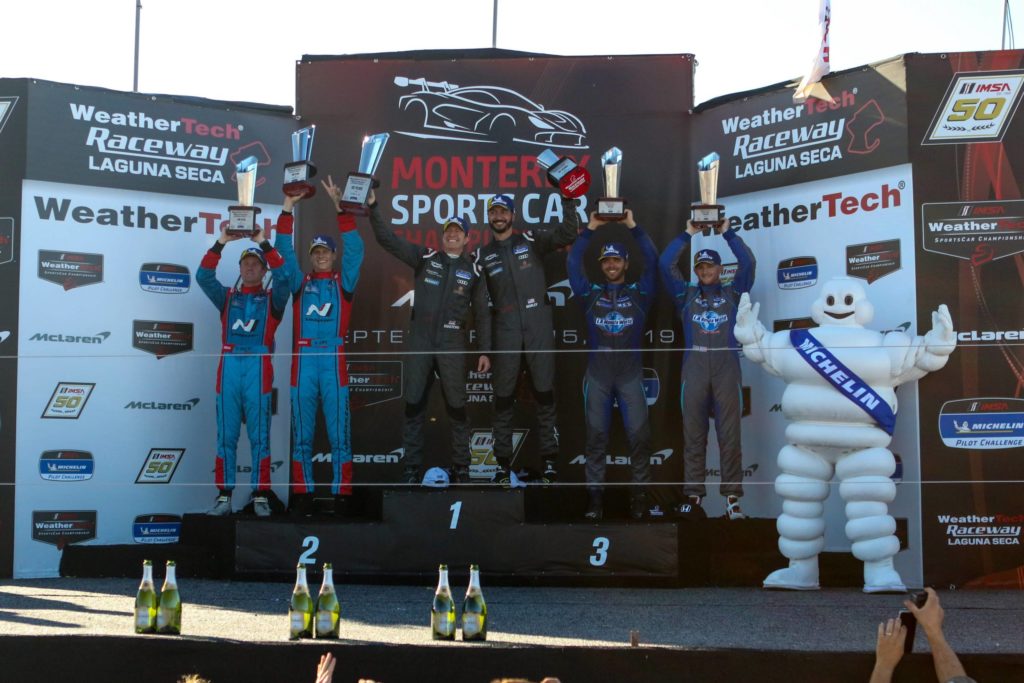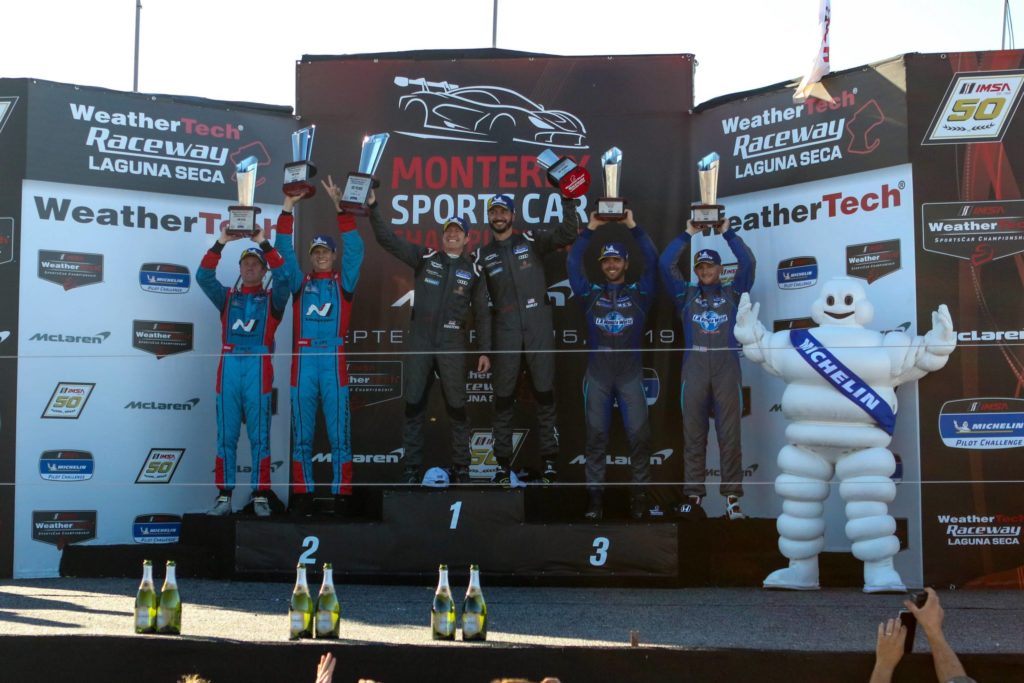 Monterey, California — The penultimate round of the 2019 IMSA Michelin Pilot Challenge is in the books, and it was another weekend of firsts for Hyundai and Bryan Herta Autosport, as they locked in the front row, qualifying first and second. It was the fourth pole position of the season for Michael Lewis and Mark Wilkins.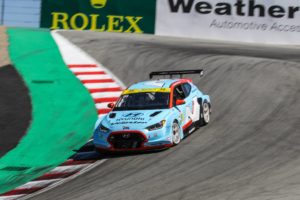 Fresh off his pole-winning performance earlier in the day, Michael had a great start and controlled the pace of the race through his stint. He held onto the lead and turned over driving duties to Mark just under an hour into the two-hour race. A caution period occurred at this time, and that is when they completed their driver change. The No. 98 entered the pits in first and exited the pits in second place. With the championship lead to protect, Mark had the pressure of keeping his closest competitors in the points at bay, while saving tires to be able to race hard at the end. After the restart in the middle part of the race, the Audi of Jon Morley slipped past Mark and through GS traffic opening a 13 second gap. While preserving his tires, Mark raced hard to close the gap to less than two seconds, creating an exciting battle with Morley for the race win. In the end, Mark was just a corner short as the Audi ran out of fuel immediately after taking the victory. Mark Wilkins and Michael Lewis finished second, earning their fourth podium of the season and extending their points lead in the series championship.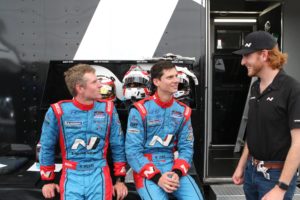 It was another notable performance by rookies Mason Filippi and Harry Gottsacker this weekend. Filippi, a native of the area, set the second fastest qualifying lap and earned his first IMSA front row starting position. The green flag fell and Mason dropped to fourth on the start, but he quickly recovered the positions, outpacing the Honda and Audi to race back to second within the first 15 laps. This was even more notable because Laguna Seca is known to be a very challenging circuit to pass on. Mason turned the #21 Hyundai Veloster N TCR over to co-driver Harry Gottsacker in second position just before the halfway point. The #21 BHA team completed a perfect pitstop and exited the pits as the race leaders. Harry defended his position and led the ensuing Audi of Jon Morley (2nd) and teammate Mark Wilkins (3rd) through much of the second half of the race. Unlike the first half of the race, there were no caution periods, and ultimately Harry, like many other TCR competitors, was forced to pit for a half-gallon of fuel in the closing laps and lost several positions, finishing 10th.
Catch all the action from the WeatherTech Raceway Laguna Seca on NBC Sports Network Wednesday, September 18, 2019, at 1 p.m. ET/10 a.m. PT. The season finale, The Fox Factory 120, round 10 of the 2019 IMSA Michelin Pilot Challenge takes place at Road Atlanta in Braselton, Georgia, on Friday, October 11, 2019.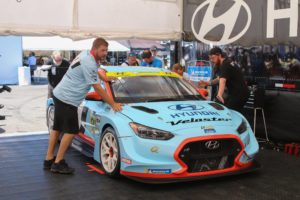 Additionally, view the latest two episodes of "Pole Position" where MotorTrend features the Hyundai and Bryan Herta Autosport team during their 2019 season in the Veloster N TCR race car in the Michelin Pilot Challenge Series:
Episode 4 – Mark drives the Veloster N and Michael drives a simulator at Base51: https://www.youtube.com/watch?v=uK-EyEEAn5o&list=PLGvTvFzdMg_Ppku0ABYa0Ma7e41vO0zVk&index=4
Episode 5 – Mark and Michael Travel to and Win at Lime Rock: https://www.youtube.com/watch?v=iSmxmIdvJss&list=PLGvTvFzdMg_Ppku0ABYa0Ma7e41vO0zVk&index=5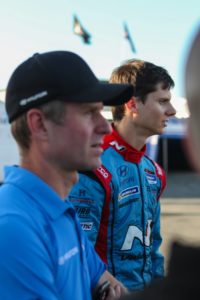 #98 Hyundai Veloster N TCR
Started: 1st
Finished: 2nd
Michael Lewis (started): "It was a delicate balance of trying to push and create a gap but also save tires. Our Hyundai Veloster N TCR was a blast to race out there; John Ward gave us a perfect set-up. It was fun racing with Mason; we were carving our way through the GS traffic together, I really enjoyed my stint. Mark had the toughest job, but as usual, he did a great job and we're looking forward to the finale. It's nice heading into the final round with a bit more of a points cushion, we really want to bring this home for Hyundai. Thank you to all of our Hyundai friends, all of the fans, and all of our family members who visited the race this weekend. It was fun to have you at the race and share our team's success together!"
Mark Wilkins (finished): "Michael was perfect in his stint; he went out and scored another pole today then completely controlled the first half of the race. In my stint, it was all about pushing hard but still protecting the car and the tires. It was a battle the whole run. The #61 Audi got around us early, they were strong, but I thought we'd get them at the end with tire management. I was flat out, one more lap we would have had them. At the end of the day, it was a good weekend for the championship and once again the Hyundai Veloster N TCR car was terrific."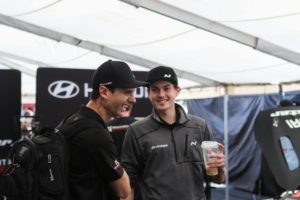 #21 Hyundai Veloster N TCR
Started: 2nd
Finished: 10th
Harry Gottsacker (finished): "At the end of the day it was an unfortunate finish, but once again Mason and I had great pace this weekend. It was tough out there, taking care of the tires was probably the most important and also the most challenging aspect of the race. We're going to come back and go for the win at Atlanta."
Mason Filippi (started): "The start was hectic, and I lost a few positions. That led to some epic battles—it was tight but the Veloster N TCR was perfect and the BHA team gave an awesome set-up. At one point after passing back to second, we thought we may have damage, it was such a close battle, but we made it through OK. Our result doesn't represent our speed today, but we'll take that to Atlanta for a strong finish to the season.
Stay updated with Michael Lewis and Bryan Herta Autosport online at:
Follow Michael Lewis here:
Website: www.mjlracing.com
Facebook: /MJLRacing
Instagram: @MJLRacing
Twitter: @MJLRacing_
Follow Bryan Herta Autosport here:
Website: www.bryanhertaautosport.com
Twitter: @bha
Instagram: @bryanhertaautosport
Facebook: /BryanHertaAutosport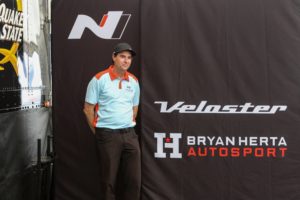 About Bryan Herta Autosport: Founded in 2009, Bryan Herta Autosport has grown from a single car Indy-Lights team into a championship winning auto racing franchise. Led by IndyCar and Sports Car star Bryan Herta, Bryan Herta Autosport has won races in every discipline they've entered, including Indy Lights, Indy Car, Global Rally Cross, Pirelli World Challenge and IMSA. BHA rose to prominence after winning the 2011 Indianapolis 500 in what was the final race of the Centennial Era, a celebration of 100 years of racing at The Indianapolis Motor Speedway, with driver Dan Wheldon. Five years late, BHA partnered with Andretti Autosport, and defied the odds again, winning their second Indianapolis 500 with rookie driver Alexander Rossi. BHA entered the Global Rally Cross Championship in 2015 under the name Bryan Herta Rallysport, scoring multiple podiums and wins. In 2018, BHA entered the Pirelli World Challenge in partnership with Hyundai and dominated the TCR class, winning seven races with drivers #98 Michael Lewis and #99 Mark Wilkins in the Hyundai i30N TCR, securing the team and manufacturers championships in the process. For 2019, BHA continues its successful partnership with Andretti Autosport to field the #98 U.S. Concrete Honda w/ Curb Agajanian in the IndyCar series for driver Marco Andretti. Also, in 2019, BHA takes their championship winning Hyundai TCR team to the IMSA Pilot Challenge where they contest the #98 Hyundai Veloster N TCR for Michael Lewis and Mark Wilkins and the #21 for Harry Gottsacker and Mason Filippi. Just three races into their IMSA debut, BHA won the Mid-Ohio 120 in the #98 Hyundai Veloster N TCR with Wilkins and Lewis. Bryan Herta Autosport is the U.S. sales agent and parts support representative of Hyundai TCR race cars for customer teams. For more information, visit www.BryanHertaAutosport.com.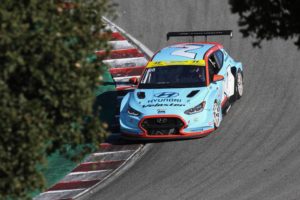 About Hyundai Motor America: Hyundai Motor America is focused on delivering an outstanding customer experience grounded in design leadership, engineering excellence and exceptional value in every vehicle we sell. Hyundai's technology-rich product lineup of cars, SUVs and alternative-powered electric and fuel cell vehicles is backed by Hyundai Assurance—our promise to deliver peace of mind to our customers. Hyundai vehicles are sold and serviced through more than 830 dealerships nationwide with the majority sold in the U.S. built at U.S. manufacturing facilities, including Hyundai Motor Manufacturing Alabama. Hyundai Motor America is headquartered in Fountain Valley, California, and is a subsidiary of Hyundai Motor Company of Korea.