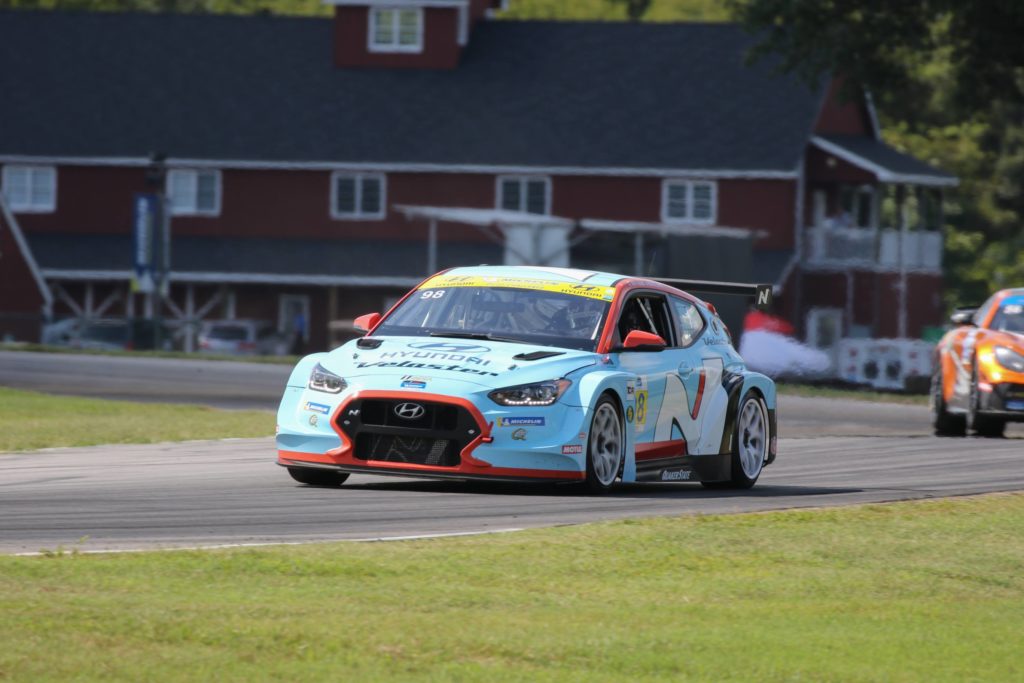 A fourth-place finish at VIR keeps the No. 98 in the championship points lead
Once again, mixed weather conditions played a leading role in the IMSA Michelin Pilot Challenge race, creating challenging strategy decisions and unpredictable track conditions. Despite the intermittent rain and the multiple late race re-starts, the Bryan Herta Autosport team prevailed, with Michael Lewis and Mark Wilkins finishing Round 8 in fourth position in the #98, while teammates Mason Filippi and Harry Gotsacker claiming second in the #21, and first (#98) and second (#21) in the series' championship with just two rounds remaining.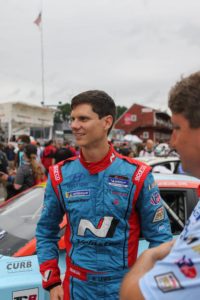 Lightning and heavy rains washed out qualifying on Friday, so the grid was determined by the championship standings. Reaping the benefits of a strong and consistent season, championship leaders Mark Wilkins and Michael Lewis started from the pole position for the third time this year. Harry Gottsacker and Mason Filippi catapulted to third in the championship with their victory two weeks ago at Road America. That paid off again this weekend as their championship ranking secured a second row starting position.
The green flag fell over the rolling hills of VIR and Harry jumped to the lead in the #21 Veloster N TCR. It was a Hyundai battle the first few laps with the #98 driven by Mark prevailing just before a large accident involving two GS cars created a lengthy caution period. Nearly 20 minutes later, the race resumed and the Hyundais continued their bout as rain started to soak the 3.27-mile road course. Harry and Mark raced hard, trading the lead two times each before turning over the cockpit to Mason and Michael, respectively, with just under an hour to go.
The BHA crew once again proved to be as reliable in the pits as they are in their car preparation, performing a perfect stop for both cars. Unfortunately, the racing conditions were not as predictable and multiple incidents caused yellow flags and challenging re-starts.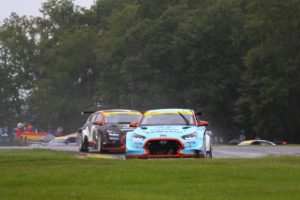 The #98 car remains in the championship lead after a taxing stint for Michael. After a quick off-track excursion, Michael was eighth with less than five minutes remaining in the race. The clock was ticking, and it looked like the race would finish under yellow, but the safety team scurried and the green and white flags fell, indicating one final racing lap. Michael took advantage of the opportunity and charged to fourth position, securing the fifth top-five finish of the season for him and Mark in the #98 Veloster N TCR. Nearly every manufacturer in the TCR class took a turn in the top five, but both Velosters were there in the end.
Catch all the action from VIR on NBC Sports Network on Friday, August 30, at 10 p.m. EDT / 7 p.m. PDT. Round 9 of the 2019 IMSA Michelin Pilot Challenge takes place at WeatherTech Raceway Laguna Seca, in Monterey, CA on Saturday, September 14, 2019.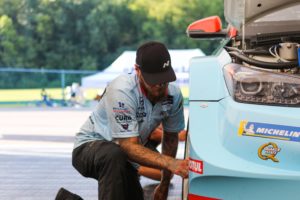 #98 Hyundai Veloster N TCR
Started: 1st
Finished: 4th
Michael Lewis (finished): "We scored more valuable points for Hyundai and our Bryan Herta Autosport team today. Congratulations to Harry and Mason for their second-place finish; they were really on it! It was a crazy race for Mark and myself and I think for most of the teams because of the mixed conditions and the close, competitive racing. Once again, our stops were great. I am thankful to the crew for their reliability. We continue to lead this championship because of a team effort; they get us in position to succeed. Mark drove a great stint and turned the car over to me in the top three. I had some challenges in my stint, but we crossed the finish line in fourth. We had some luck to get there, but I also had to work hard to climb back up to the top five after some mid-race chaos. Thank you to the Hyundai VIPs who visited us this weekend and to the whole team for their efforts. We are working hard to keep our fast Hyundai Veloster N TCR up front in the championship!"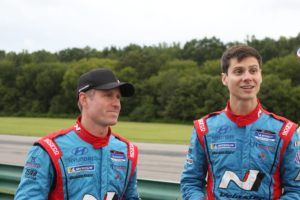 Mark Wilkins (started): "The theme of the season seems to be mixed conditions, and VIR was not an exception! Starting from the pole was a bonus but it put us right in the GS pack, and the start was very hectic. Harry found the path of least resistance and had a great start overall. It took until the esses before we found some breathing room and could start pushing forward. The skies opened and once again we were forced to make a tough tire call. We went to wets and the #98 Veloster N TCR was fantastic! I had some great battles in my stint. It was a wild stint to be honest, but an absolute blast to drive. We pitted from the lead and once again, Michael had to endure some really tough track conditions. The final five minutes was a nail biter with a green, white, checker and Michael charged to fourth at the finish line! Congratulations to Harry and Mason on their podium. It was a great points-scoring day for the team and with two races to go, the championship points are tight!"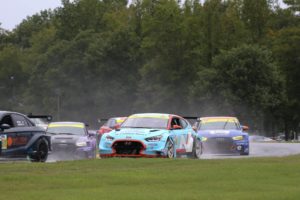 #21 Hyundai Veloster N TCR
Started: 3rd
Finished: 2nd
Harry Gottsacker (started): "That was a wild race! I started from third and was able to take the lead early when we were still on dry tires. The weather started to catch a few people out and we had a long yellow and everyone switched to rain tires. We ran back to the front after the pit stops and pulled a gap with the #98 car. I handed the car over to Mason and he did a great job today. He was smart and put the car in the right spot to put us on the podium. I'm happy to be second in the championship after a strong weekend."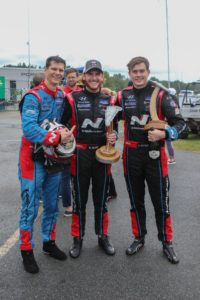 Mason Filippi (finished): "It was a wild race at VIR! The Bryan Herta Autosport Veloster N TCR was incredible in the varying conditions. The last couple of laps were especially crazy and we finished second. It was a great points day for the team, and we are first and second in the championship. Incredible! I am very thankful to be on such a great team with awesome teammates and crew who work extremely hard before, during and after each race to push us to the next level. Harry started out on fire in the beginning of the race and was up front through tough conditions. It was extremely close at the end as it started raining, pushing everyone to the edge. The Hyundai Veloster N TCR is amazing…especially in wet conditions. I cannot wait for my home race at Laguna Seca."
Stay updated with Michael Lewis and Bryan Herta Autosport online at:
Follow Michael Lewis here:
Website: www.mjlracing.com
Facebook: /MJLRacing
Instagram: @MJLRacing
Twitter: @MJLRacing_
Follow Bryan Herta Autosport here:
Website: www.bryanhertaautosport.com
Twitter: @bha
Instagram: @bryanhertaautosport
Facebook: /BryanHertaAutosport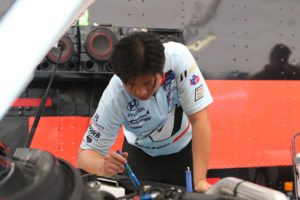 About Bryan Herta Autosport: Founded in 2009, Bryan Herta Autosport has grown from a single car Indy-Lights team into a championship winning auto racing franchise. Led by IndyCar and Sports Car star Bryan Herta, Bryan Herta Autosport has won races in every discipline they've entered, including Indy Lights, Indy Car, Global Rally Cross, Pirelli World Challenge and IMSA. BHA rose to prominence after winning the 2011 Indianapolis 500 in what was the final race of the Centennial Era, a celebration of 100 years of racing at The Indianapolis Motor Speedway, with driver Dan Wheldon. Five years late, BHA partnered with Andretti Autosport, and defied the odds again, winning their second Indianapolis 500 with rookie driver Alexander Rossi. BHA entered the Global Rally Cross Championship in 2015 under the name Bryan Herta Rallysport, scoring multiple podiums and wins. In 2018, BHA entered the Pirelli World Challenge in partnership with Hyundai and dominated the TCR class, winning seven races with drivers #98 Michael Lewis and #99 Mark Wilkins in the Hyundai i30N TCR, securing the team and manufacturers championships in the process. For 2019, BHA continues its successful partnership with Andretti Autosport to field the #98 U.S. Concrete Honda w/ Curb Agajanian in the IndyCar series for driver Marco Andretti. Also, in 2019, BHA takes their championship winning Hyundai TCR team to the IMSA Pilot Challenge where they contest the #98 Hyundai Veloster N TCR for Michael Lewis and Mark Wilkins and the #21 for Harry Gottsacker and Mason Filippi. Just three races into their IMSA debut, BHA won the Mid-Ohio 120 in the #98 Hyundai Veloster N TCR with Wilkins and Lewis. Bryan Herta Autosport is the U.S. sales agent and parts support representative of Hyundai TCR race cars for customer teams. For more information, visit www.BryanHertaAutosport.com.
About Hyundai Motor America: Hyundai Motor America is focused on delivering an outstanding customer experience grounded in design leadership, engineering excellence and exceptional value in every vehicle we sell. Hyundai's technology-rich product lineup of cars, SUVs and alternative-powered electric and fuel cell vehicles is backed by Hyundai Assurance—our promise to deliver peace of mind to our customers. Hyundai vehicles are sold and serviced through more than 830 dealerships nationwide with the majority sold in the U.S. built at U.S. manufacturing facilities, including Hyundai Motor Manufacturing Alabama. Hyundai Motor America is headquartered in Fountain Valley, California, and is a subsidiary of Hyundai Motor Company of Korea.