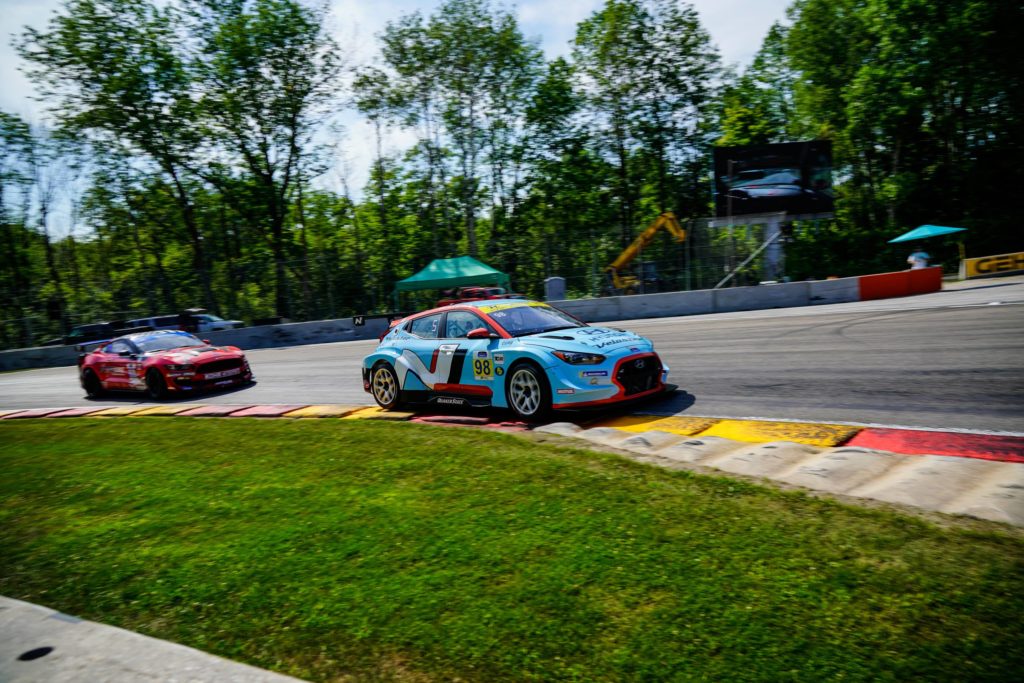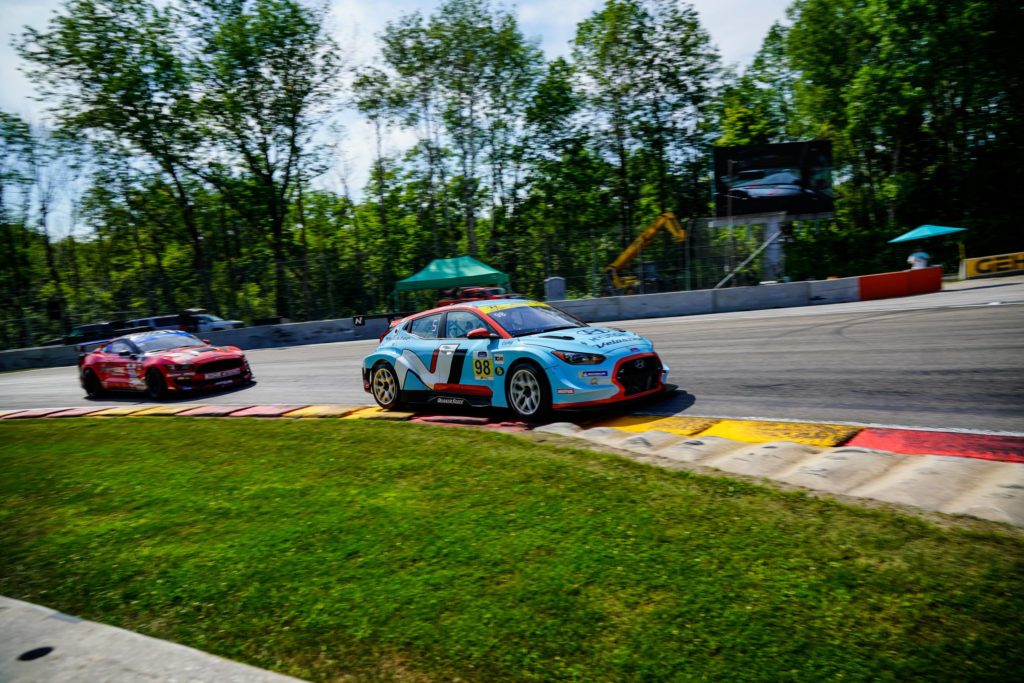 Elkhart Lake, Wisconsin — A lightning storm delayed, then shortened the Road America 120, followed by intermittent rain and wild track conditions, which set the stage for an eventful Round 7 of the IMSA Michelin Pilot Challenge (IMPC) for Bryan Herta Autosport (BHA) drivers Michael Lewis and Mark Wilkins, and their teammates Mason Filippi and Harry Gottsacker on Saturday, August 3.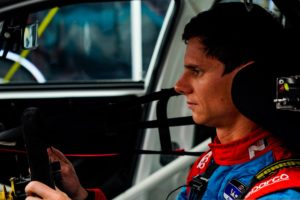 Michael and Mark arrived to the four-mile Wisconsin road course leading the series championship in points. The #98 Hyundai Veloster N TCR started on the front row for the fourth consecutive race. Mark qualified second and, as the championship leaders, the team chose the more conservative strategy and started with rain tires. However, over an hour-long weather delay shortened the race from 120 to 75 minutes. Mark had a heated battle throughout his stint with Shelby Blackstock, his closest championship contender. As the track dried, the rain tires handicapped Mark and the #98 team made their first pit stop, changing to slick tires, and Michael took over, 47 minutes into the race.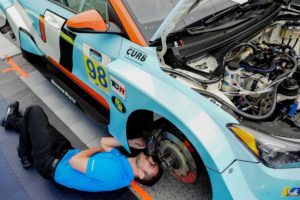 All was well for Michael for a very short time before the weather deteriorated and chaos took over on track. Multiple cars spun in the late stages of the race, but Michael took care of his #98 Hyundai Veloster N TCR, and hovered in the top five. With 10 minutes remaining, the #98 suffered a puncture in the left rear tire and was forced to pit. Coincidentally, the skies opened, and the stop allowed the #98 team to return to rain tires. Michael took advantage of his Michelin rain tires and passed multiple cars on the last lap shoot-out after the re-start.
With quiet skies but potential for rain still looming, BHA teammate Mason Filippi and the #21 crew gambled and chose to start the race on slick tires. The Road America racetrack is over four miles long, conditions and weather can be different from one section to the next. The green flag dropped and Mason, who qualified sixth, dropped to 13th in the opening laps as the still wet track was like an ice rink under his slick tires. He briefly chased the field and then as the dry line developed, Mason patiently and precisely used his slick tires to work his way through the competition. Mason raced to third position, at times five seconds per lap quicker than the rest of the TCR cars.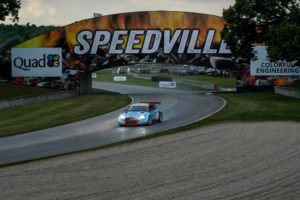 The #21 team finally made their only pit stop with exactly 25 minutes remaining when co-driver Harry Gottsacker took over the cockpit as the rain returned. Harry returned to the track in seventh position, and his stint was flawless. He maneuvered the #21 Hyundai Veloster N TCR through the top five to second position and chased the leader through the heavy rain to the checkered flag. During the cool down lap, IMSA race control announced leading TCR car, driven by Ryan Eversley, which finished just ahead of the #21 Hyundai Veloster N TCR, would be disqualified for failure to meet the drive-time requirements. IMPC rookies Mason and Harry were elevated to first, scoring their inaugural IMSA victory after just seven races. The victory catapulted Mason and Harry to third in the championship standings with three races remaining.
Catch all the action from Road America on NBC Sports Network, Monday, August 12, at 3 p.m. EDT/12 p.m. PDT. Round eight of the 2019 IMSA Michelin Pilot Challenge takes place at Virginia International Raceway (VIR), in Alton, Virginia, on Saturday, August 24.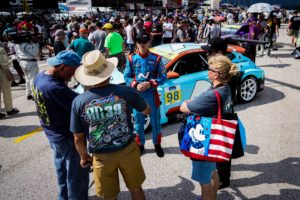 #98 Hyundai Veloster N TCR
Started: 2nd
Finished: 4th
Michael Lewis (finished): "Congratulations to Harry Gottsacker and Mason Filippi on their first win of the season. It is awesome to see them succeed. They deserve it. Mark and I had a race that looked to be clean and simple, but the end of the race proved to be chaotic. I owe our complete success in finishing in fourth place to our team's fast pit stops. We had one crucial pit stop to make in a short amount of time so we wouldn't go a lap down, and the team did it. Thank you. We earned more points and that is good. I wish I could have brought our Bryan Herta Autosport Hyundai Veloster N to a higher finishing position but I made a few mistakes and I will look to fix those. Mark drove so well in his stint, too. It was another good day for Hyundai in the manufacturers points championship. Thank you to all of the many fans for attending our race. There were so many of you!"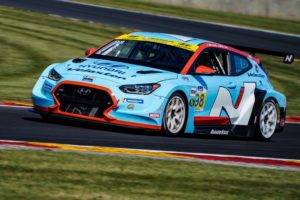 Mark Wilkins (started): "I'm so happy for Mason and Harry on their first win of the season. Congratulations to them on excellent drives in some very challenging conditions! It was a wild race from start to finish. We elected to start on wet tires and ran strong early before the track dried and slicks became the right choice. This lined up well with the first pit stop and Michael did a great job battling changing track conditions as the skies opened once again. His last-lap charge on wet tires was fantastic and we collected some valuable championship points. From a manufacturer's perspective, it was a great points scoring day for Hyundai and our Veloster N TCR once again was excellent in variable conditions! It's going to be an exciting final three races of the season!"
#21 Hyundai Veloster N TCR
Started: 6th
Finished: 1st
Harry Gottsacker (finished): "It feels great to grab our first Michelin Pilot Challenge victory! We have had some good runs all season and we knew that if we continued to work as a team the result would come. Every weekend we run the Bryan Herta Autosport team gets stronger. Mason did a great job in tough conditions to fight his way up the field and bring me a good car. The team had a great strategy and put us in a position to capitalize once the rain arrived. I knew that once we had the yellow to bring everyone back together, I had a shot at it. This is the most rewarding victory of my career. Doing this at Road America in front of our friends and family is the best feeling. Good thing we have a few weeks until VIR to celebrate!"
Mason Filippi (started): "The race was insane! The Hyundai Veloster N TCR was on point all weekend and Road America is a great track. I can't thank the Bryan Herta Autosport guys enough! They really killed it this weekend. From rain to dry to rain again, then the win…it was a race that kept us on our toes the whole time. I am thrilled to be an IMSA race winner in my rookie season and my first time at this incredible track. I can't wait for VIR in just a few weeks."
Bryan Herta, Team Owner: "Such a great day for the Hyundai team at Road America. Harry and Mason have been knocking on the door the last several weekends and I am so pleased they were able to pull off the victory, once again showing the Veloster N TCR is super in all conditions. The championship battle is tightening up too, so it should be an exciting last few races!"
Stay updated with Michael Lewis and Bryan Herta Autosport online at:
Follow Michael Lewis here:
Website: www.mjlracing.com
Facebook: /MJLRacing
Instagram: @MJLRacing
Twitter: @MJLRacing_
Follow Bryan Herta Autosport here:
Website: www.bryanhertaautosport.com
Twitter: @bha
Instagram: @bryanhertaautosport
Facebook: /BryanHertaAutosport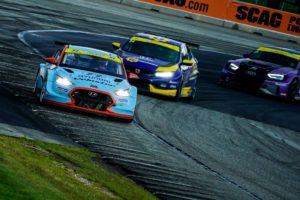 About Bryan Herta Autosport:
Founded in 2009, Bryan Herta Autosport has grown from a single car Indy-Lights team into a championship winning auto racing franchise. Led by IndyCar and Sports Car star Bryan Herta, Bryan Herta Autosport has won races in every discipline they've entered, including Indy Lights, Indy Car, Global Rally Cross, Pirelli World Challenge and IMSA. BHA rose to prominence after winning the 2011 Indianapolis 500 in what was the final race of the Centennial Era, a celebration of 100 years of racing at The Indianapolis Motor Speedway, with driver Dan Wheldon. Five years late, BHA partnered with Andretti Autosport, and defied the odds again, winning their second Indianapolis 500 with rookie driver Alexander Rossi. BHA entered the Global Rally Cross Championship in 2015 under the name Bryan Herta Rallysport, scoring multiple podiums and wins. In 2018, BHA entered the Pirelli World Challenge in partnership with Hyundai and dominated the TCR class, winning seven races with drivers #98 Michael Lewis and #99 Mark Wilkins in the Hyundai i30N TCR, securing the team and manufacturers championships in the process. For 2019, BHA continues its' successful partnership with Andretti Autosport to field the #98 U.S. Concrete Honda w/ Curb Agajanian in the IndyCar series for driver Marco Andretti. Also, in 2019, BHA takes their championship winning Hyundai TCR team to the IMSA Pilot Challenge where they contest the #98 Hyundai Veloster N TCR for Michael Lewis and Mark Wilkins and the #21 for Harry Gottsacker and Mason Filippi. Just three races into their IMSA debut, BHA won the Mid-Ohio 120 in the #98 Hyundai Veloster N TCR with Wilkins and Lewis. Bryan Herta Autosport is the U.S. sales agent and parts support representative of Hyundai TCR race cars for customer teams. For more information, visit www.BryanHertaAutosport.com.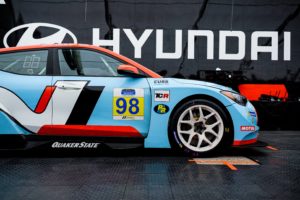 About Hyundai Motor America:
Hyundai Motor America is focused on delivering an outstanding customer experience grounded in design leadership, engineering excellence and exceptional value in every vehicle we sell. Hyundai's technology-rich product lineup of cars, SUVs and alternative-powered electric and fuel cell vehicles is backed by Hyundai Assurance—our promise to deliver peace of mind to our customers. Hyundai vehicles are sold and serviced through more than 830 dealerships nationwide with the majority sold in the U.S. built at U.S. manufacturing facilities, including Hyundai Motor Manufacturing Alabama. Hyundai Motor America is headquartered in Fountain Valley, California, and is a subsidiary of Hyundai Motor Company of Korea.