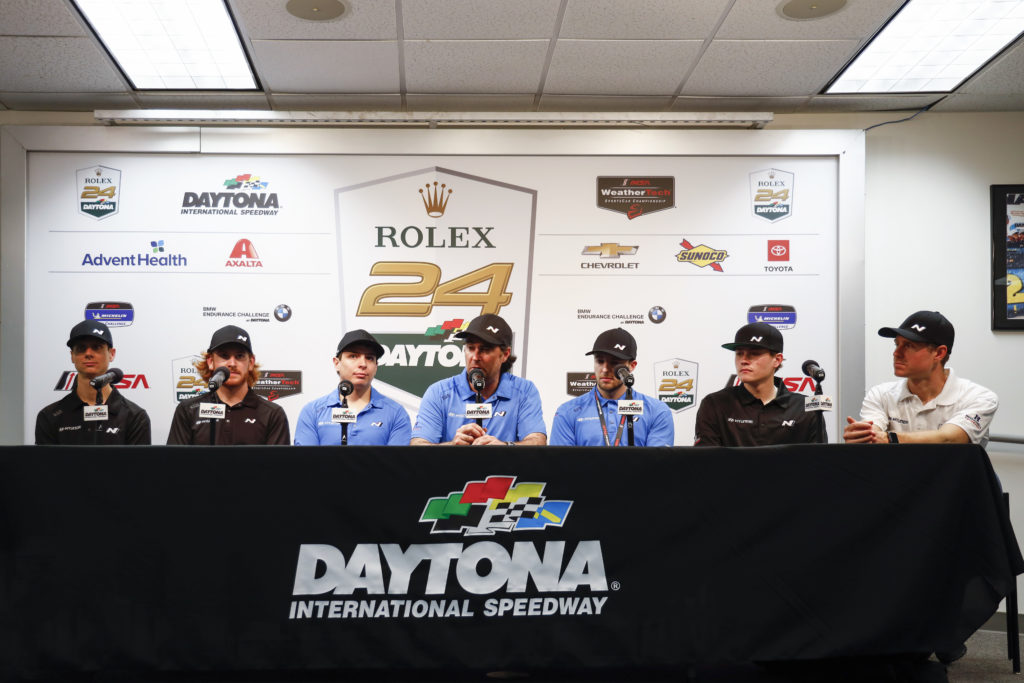 Michael Lewis and Bryan Herta Autosport to defend title in IMSA; will also compete at famed Nürburgring circuit in Germany.
Laguna Beach, CA – Bryan Herta Autosport (BHA) with Curb Agajanian, the 2019 IMSA Michelin Pilot Challenge (IMPC) champions, have announced that they will enter three Hyundai Veloster N TCR race cars in the 2020 IMPC championship, including current series co-champion Michael Lews.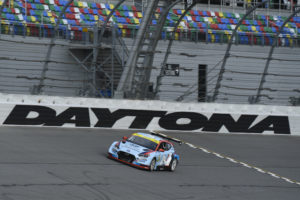 All four BHA drivers from 2019 will return to the roster this season. Michael, and Mark Wilkins, who co-drove the #98 Veloster N TCR to the 2019 IMPC Drivers championship, will drive in separate cars in 2020. Michael will remain in the #98, now with Mason Filippi, while Mark Wilkins will co-drive with Harry Gottsacker in the #21. An additional third entry will be driven by open wheel veterans Gabby Chaves and Ryan Norman.
Team owner Bryan Herta commented, "Hyundai has very quickly established themselves as serious competitors in worldwide motorsports, across multiple platforms. Bringing back our champions, Mark Wilkins and Michael Lewis, along with race winners, Mason Filippi and Harry Gottsacker, for another season was a no-brainer. Having another incredible pairing in Gabby Chaves and Ryan Norman is sure to make us even stronger this season."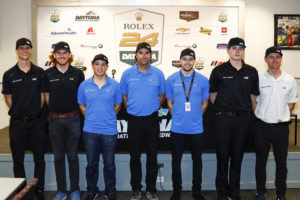 Bryan Herta Autosport was recently testing at Daytona International Speedway, taking part in IMSA's Roar Before the Rolex 24. Round one of the 2020 IMSA Michelin Pilot Challenge takes place Friday, January 24, at 1 pm EST.
All 10 rounds of the 2020 IMPC championship will be broadcast on TV at NBCSN. The broadcast dates and times are as follows:
Round 1 (Daytona) February 6, 1 p.m. ET/10 a.m. PT
Round 2 (Sebring) March 26, 3 p.m. ET/12 p.m. PT
Round 3 (Mid-Ohio) May 8, 2 p.m. ET/11 a.m. PT
Round 4 (Watkins Glen) July 6, 6 p.m. ET/3 p.m. PT
Round 5 (Canadian Tire) July 16, 6 p.m. ET/3 p.m. PT
Round 6 (Lime Rock) August 11, 1 p.m. ET/10 a.m. PT
Round 7 (Road America) August 11, 3 p.m. ET/12 p.m. PT
Round 8 (VIR) September 2, 3 p.m. ET/12 p.m. PT
Round 9 (Laguna Seca) September 20, 5 p.m. ET/2 p.m. PT
Round 10 (Road Atlanta) October 15, 3 p.m. ET/12 p.m. PT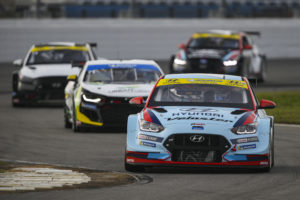 Additionally, each round will be streamed live in the US via TrackPass on NBC Sports Gold, which provides a variety of motorsports content, including coverage of the IMSA Michelin Pilot Challenge, and can be accessed at NBCSports.com or through the NBCSports app, which is available on iOS and Android phones and tablets, Apple TV, Amazon Fire TV, AndroidTV, Roku, Xfinity X1, Xfinity Flex and Chromecast devices. Live IMSA Radio commentary, plus timing and scoring data—as well as a live video stream for international viewers—is available on IMSA.com.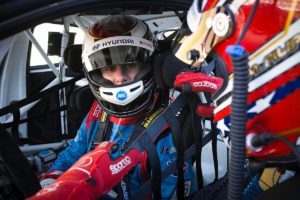 Another major announcement involves Michael and his BHA co-drivers Mark, Mason and Harry, with all four scheduled to compete at the internationally renowned race circuit Nürburgring, in Nürburg, Germany, part of the Eifel mountains region. They will share driving duties together in the same Hyundai Veloster N TCR on the longer segment of the track, the Nordschleife, for "north loop," which is 12.94 miles in length, and attempt to qualify in the ADAC TOTAL 24-hour race.
In order to participate in the 24 Hours of Nürburgring, drivers—regardless of experience—must complete the licensing process, which consists of two VLN Endurance Championship Nürburgring races, along with classes and training. The VLN races range from four to six hours, depending on distance, and are exclusive to the German track.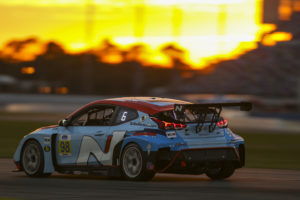 BHA Team Owner Bryan Herta told Autoweek, "It's really an extensive process. They don't care if you are a rookie or a Formula 1 driver, you have to go through the entire program."
Thomas Schemera, Hyundai executive vice-president, also told Autoweek about the possibility of weather being a factor since the VLN races will be held early in the season. "They'll race in the rain, but if it snows, the race is cancelled. And we have to get them through both races," he explained.
For reference, the Hyundai N TCR race cars are built in Alzenau, Germany, by Hyundai Motorsport GmbH, which has a large onsite performance facility at the track. In 2019, Hyundai entered two TCR race cars in the 24 Hours of Nürburgring—finishing second and third in class.
Following is Michael's 2020 race schedule, with links to where one can watch the events live.
2020 Racing Schedule
IMSA Michelin Pilot Challenge (10 Races):
January 22–24 Daytona International Speedway, Florida
March 18–21 Sebring International Raceway, Florida
May 1–3 Mid-Ohio Sports Car Course, Ohio
June 25–28 Watkins Glen International, New York
July 3–5 Canadian Tire Motorsport Park, Ontario, Canada
July 17–18 Lime Rock Park, Connecticut
July 31–August 2 Road America, Wisconsin
August 21–23 VIRginia International Raceway, Virginia
September 11–13 WeatherTech Raceway Laguna Seca, California
October 7–10 Michelin Raceway Road Atlanta, Georgia
Full schedule details can be found here: https://michelinpilotchallenge.imsa.com/schedule-results/race-schedule. Live-stream viewing at https://imsatv.imsa.com/
Nürburgring, Germany Races:
April 4 VLN 2 Nürburgring Race
April 18 VLN 3 Nürburgring Race
April 25–26 Nürburgring 24 Hour Qualification Race
May 21–24 Nürburgring 24 Hour Race
VLN races will be live-streamed here: https://www.vln.de/en/live/
Nürburgring 24-Hour race, Qualification race, and possible VLN races will be live-streamed at: https://www.youtube.com/channel/UCKgMzHVA7nsDsDEKKMc9bKA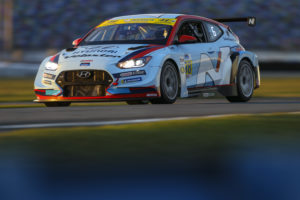 For reference, here is an onboard lap in a Hyundai race car from last year around the Nordschleife race track: https://youtu.be/bQ2vALAc-lc?t=101.
Stay updated with Michael Lewis and Bryan Herta Autosport on the Internet and on social media by clicking the following links:
Follow Michael Lewis here:
Website: www.mjlracing.com
Facebook: /MJLRacing
Instagram: @MJLRacing
Twitter: @MJLRacing_
Follow Bryan Herta Autosport here:
Website: www.bryanhertaautosport.com
Twitter: @BHA
Instagram: @BryanHertaAutosport
Facebook: /BryanHertaAutosport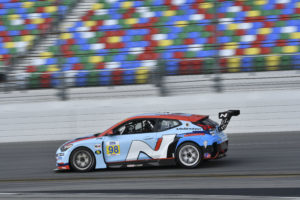 About Bryan Herta Autosport with Curb Agajanian
Founded in 2009, Bryan Herta Autosport (BHA) has grown from a single car Indy Lights team into a championship winning auto racing franchise. Led by IndyCar and Sports Car star Bryan Herta, Bryan Herta Autosport has won races in every discipline they've entered, including Indy Lights, IndyCar, Global Rally Cross, and Pirelli World Challenge. BHA rose to prominence after winning the 2011 Indianapolis 500 in what was the final race of the Centennial Era, a celebration of 100 years of racing at the Indianapolis Motor Speedway, with driver Dan Wheldon. Five years later, BHA partnered with Andretti Autosport, and defied the odds again, winning their second Indianapolis 500 with rookie driver Alexander Rossi. BHA entered the Global Rally Cross Championship in 2015 under the name Bryan Herta Rallysport, scoring multiple podiums and wins. In 2018, BHA entered the Pirelli World Challenge in partnership with Hyundai and dominated the TCR class, winning seven races with drivers #98 Michael Lewis and #99 Mark Wilkins in the Hyundai i30N TCR, securing the team and manufacturers championships in the process. For 2019, BHA continued its successful partnership with Andretti Autosport fielding the #98 U.S. Concrete Honda w/ Curb Agajanian in the IndyCar series for driver Marco Andretti. BHA also made their IMSA Michelin Sports Car Challenge debut and swept the series, driver and team championships with drivers Mark Wilkins and Michael Lewis finishing first in the #98 Hyundai Veloster N TCR, and young guns Harry Gottsacker and Mason Filippi finishing second in the #21 Hyundai Veloster N TCR. Bryan Herta Autosport is the U.S. sales agent and parts support representative of Hyundai TCR race cars for customer teams. For more information, visit www.BryanHertaAutosport.com.
Hyundai Motor America
Hyundai Motor America is focused on delivering an outstanding customer experience grounded in design leadership, engineering excellence and exceptional value in every vehicle we sell. Hyundai's technology-rich product lineup of cars, SUVs and alternative-powered electric and fuel cell vehicles is backed by Hyundai Assurance—our promise to deliver peace of mind to our customers. Hyundai vehicles are sold and serviced through more than 830 dealerships nationwide with the majority sold in the U.S. built at U.S. manufacturing facilities, including Hyundai Motor Manufacturing Alabama. Hyundai Motor America is headquartered in Fountain Valley, California, and is a subsidiary of Hyundai Motor Company of Korea.