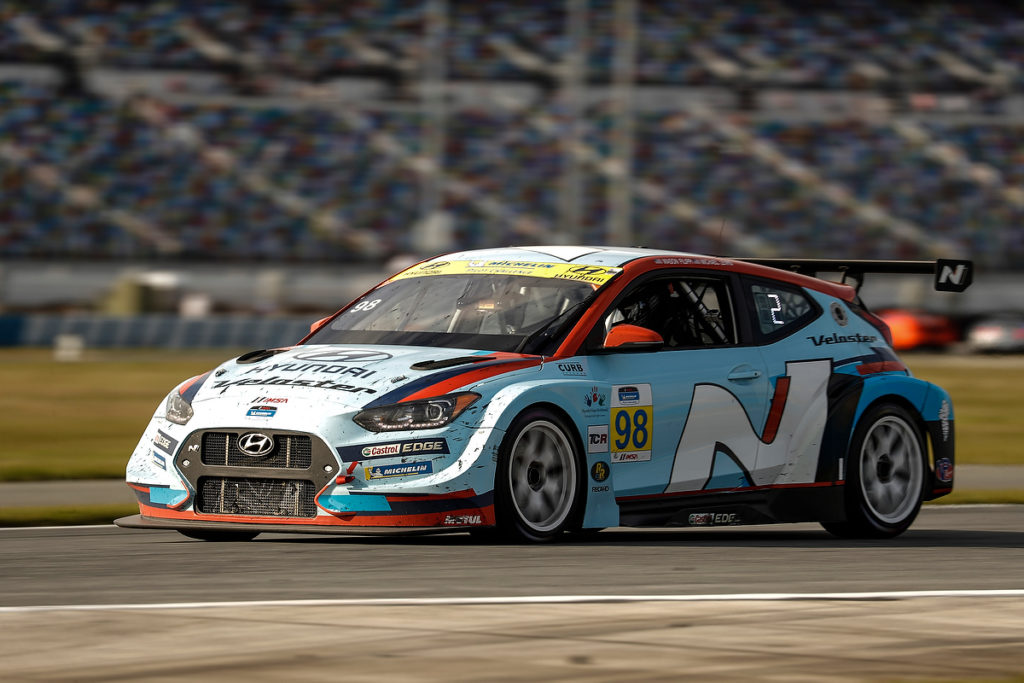 Daytona Beach, Florida — It's been exactly one year since Bryan Herta Autosport made their IMSA Michelin Pilot Challenge debut at Daytona. What a difference a year makes. One year, four race wins, a championship and a third entry later, BHA returned to Daytona and challenged for the race win with all three entries. The BHA Velosters led practice sessions and ran up-front throughout the event. They completed 380 miles in four hours and were the only team in the race to have all cars finish, a testament to their precision preparation.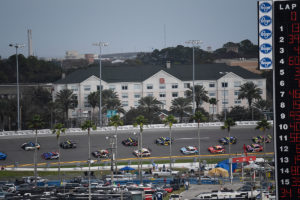 The #98 Hyundai Veloster N TCR started from sixth position with Mason Filippi behind the wheel, who had a phenomenal first stint. He raced from tenth to second on a re-start and led three laps in the season opener at Daytona International Speedway on Friday, January 24th. He turned the car over to reigning IMSA Michelin Pilot Challenge champion Michael Lewis shortly after the halfway mark. In Michael's first re-start of the race, he moved up to second place and ran there for several laps behind the leading #18 Audi. Michael battled with the leaders, but fell to fourth place as their pace was quite strong. After the #98 stopped to make its last pit stop of the race, it emerged in second place due to strategy and from another leading car entering the pits to fix damage. Michael ran in second place for a few laps until two Audis caught him. He was back in fourth, but stayed in touch with second and third. The layout of the Daytona "Roval" is known to be very compatible with the Audis, and they came to life in the final two hours, running first, second and third. Running fourth, Michael pushed the Audis hard, forcing their fuel consumption and ready to pounce into podium position should they make a mistake.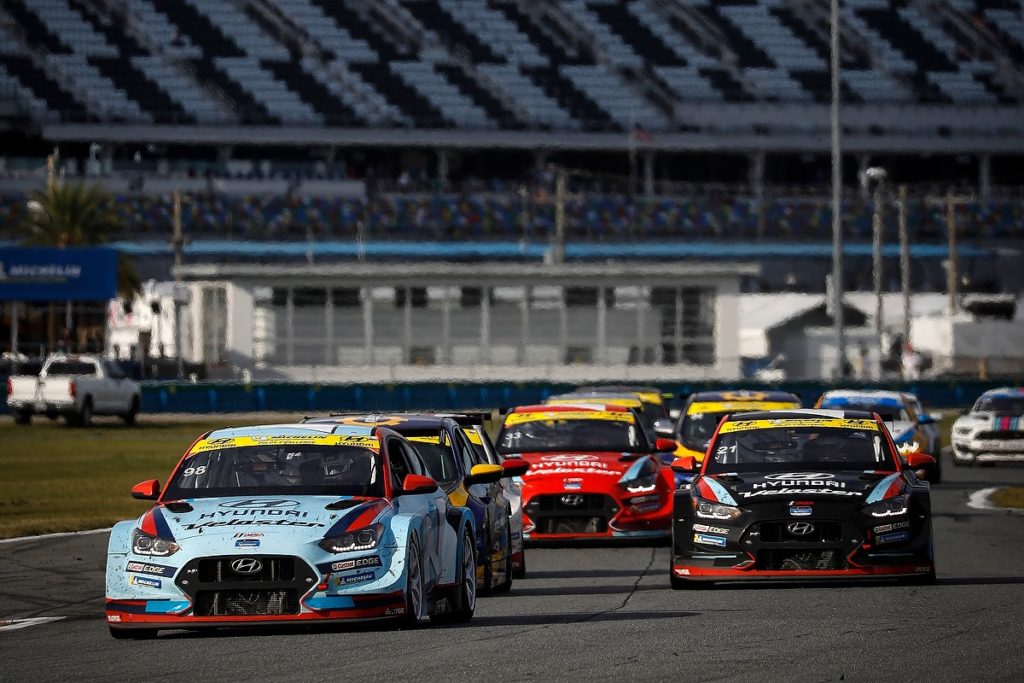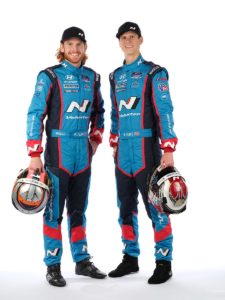 "I was so pumped watching Mason out there," said Michael Lewis. "He did a great job and brought me a clean car for my stint. Fourth isn't necessarily the finish we were hoping for, but I think we did a good job getting the most out of it today. I was really pushing those Audis at the end hoping to take advantage of their fuel situation. The team did a great job and we'll take the points and start working on Sebring!"
BHA teammates Gabby Chaves and Ryan Norman brought their #33 Hyundai Veloster N TCR just behind the #98 in fifth position, while the third BHA car, the #21 Veloster N TCR, driven by Mark Wilkins and Harry Gottsacker, finished Round 1 of the IMSA Michelin Pilot Challenge in sixth place.
After qualifying in sixth position on Thursday, January 23rd, Michael's co-driver Mason Filippi said, "It was my first time qualifying the #98 and it was a blast. That Hyundai Veloster N has so much grip and is so good in mixed conditions. That gives me so much confidence here at Daytona. It's going to be a long race tomorrow and I know my teammate Michael (Lewis) and I are in good shape for the long haul."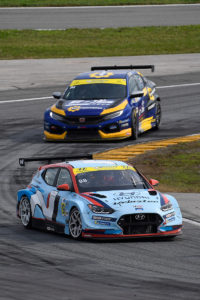 After qualifying concluded, Michael added, "It is so special to be returning with Bryan Herta Autosport to race the #98 Veloster N TCR race car alongside Mason Filippi this year. There is a sincere desire to win within this team and within Hyundai. We have fast, reliable race cars…it's a place where drivers want to be! It was an honor to win the championship with Mark Wilkins last year; he is a great friend and co-driver. Returning this year as the defending champion is a unique feeling, but this season is going to be even more intense. In order to repeat…there can't be any mistakes…execution is the name of the game; we can't leave anything on the table with the level of competition in the Michelin Pilot Challenge. It's going to be a great season racing alongside Mason, he is super-fast, and he makes good moves and good decisions on track. This driver combination and the combination for our other team cars will give us a shot to earn Hyundai a Manufacturer's Championship and that is what we are here to do!"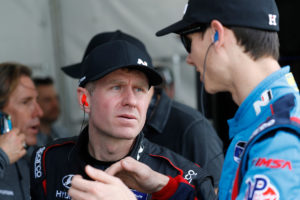 Television coverage of Round 1 of the IMSA Michelin Pilot Challenge from Daytona International Speedway will air beginning at 1 p.m. ET/10 a.m. PT, Thursday, February 6, on NBCSN. Round 2 of the IMSA Michelin Pilot Challenge is scheduled to take place on Thursday, March 19, beginning at 3:50 p.m. ET/12:50 p.m. PT, at Sebring International Raceway, in Sebring, Florida. Live coverage will be available through TrackPass on NBC Sports Gold, with radio, timing and scoring coverage at IMSA.tv.
Stay updated with Michael Lewis and Bryan Herta Autosport on the Internet and on social media by clicking the following links:
Follow Michael Lewis here:
Website: www.mjlracing.com
Facebook: /MJLRacing
Instagram: @MJLRacing
Twitter: @MJLRacing_
Follow Bryan Herta Autosport here:
Website: www.bryanhertaautosport.com
Twitter: @BHA
Instagram:  @BryanHertaAutosport
Facebook: /BryanHertaAutosport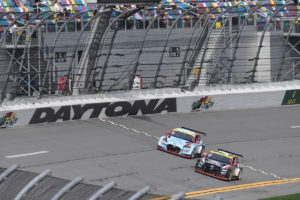 About Bryan Herta Autosport with Curb Agajanian:
Founded in 2009, Bryan Herta Autosport has grown from a single car Indy-Lights team into a championship winning auto racing franchise. Led by IndyCar and Sports Car star Bryan Herta, Bryan Herta Autosport has won races in every discipline they've entered, including Indy Lights, IndyCar, Global Rally Cross, and Pirelli World Challenge. BHA rose to prominence after winning the 2011 Indianapolis 500 in what was the final race of the Centennial Era, a celebration of 100 years of racing at The Indianapolis Motor Speedway, with driver Dan Wheldon. Five years later, BHA partnered with Andretti Autosport, and defied the odds again, winning their second Indianapolis 500 with rookie driver Alexander Rossi. BHA entered the Global Rally Cross Championship in 2015 under the name Bryan Herta Rallysport, scoring multiple podiums and wins. In 2018, BHA entered the Pirelli World Challenge in partnership with Hyundai and dominated the TCR class, winning seven races with drivers #98 Michael Lewis and #99 Mark Wilkins in the Hyundai i30N TCR, securing the team and manufacturers championships in the process. In 2019, BHA moved to the IMSA Michelin Sports Car Challenge, adding pitstops and endurance racing to the mix. The transition was flawless, BHA swept the series driver and team championships with driver Mark Wilkins and Michael Lewis finishing first in the #98 Hyundai Veloster N TCR and young guns Harry Gottsacker and Mason Filippi finishing second in the #21 Hyundai Veloster N TCR. For 2020, BHA continues its successful partnership with Andretti Autosport fielding the #98 U.S. Concrete Honda w/ Curb Agajanian in the IndyCar series for driver Marco Andretti. They will return as champions to the IMSA Michelin Pilot Challenge series with an expanded program, adding a third car, the #33 Hyundai Veloster N TCR for open wheel veterans Gabby Chaves and Ryan Norman. Bryan Herta Autosport is the U.S. sales agent and parts support representative of Hyundai TCR race cars for customer teams. For more information, visit www.BryanHertaAutosport.com.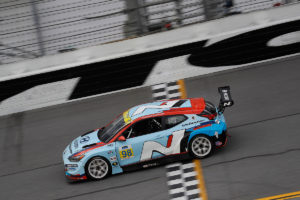 About Hyundai Motor America:
Hyundai Motor America is focused on delivering an outstanding customer experience grounded in design leadership, engineering excellence and exceptional value in every vehicle we sell. Hyundai's technology-rich product lineup of cars, SUVs and alternative-powered electric and fuel cell vehicles is backed by Hyundai Assurance—our promise to deliver peace of mind to our customers. Hyundai vehicles are sold and serviced through more than 830 dealerships nationwide with the majority sold in the U.S. built at U.S. manufacturing facilities, including Hyundai Motor Manufacturing Alabama. Hyundai Motor America is headquartered in Fountain Valley, California, and is a subsidiary of Hyundai Motor Company of Korea.