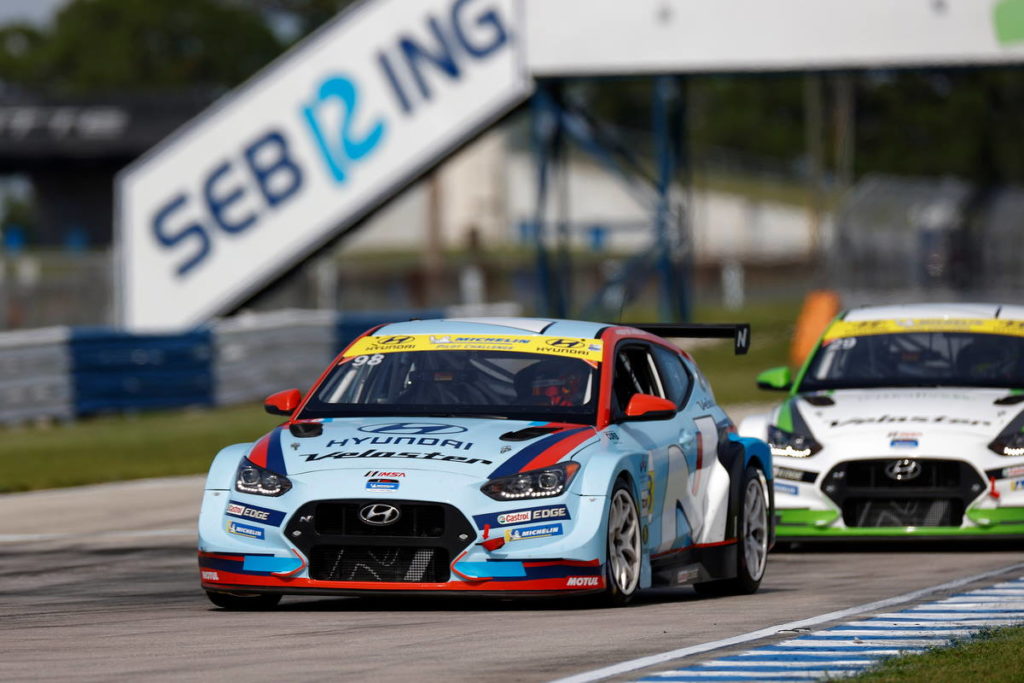 Sebring, Florida — The defending IMSA Michelin Pilot Challenge (IMPC) champions, Bryan Herta Autosport (BHA), dominated their return to IMSA action Friday, July 17, with 2019 series co-champion Michael Lewis and new for 2020 co-driver Mason Filippi claiming second in the Advent Health 120 at Sebring International Raceway.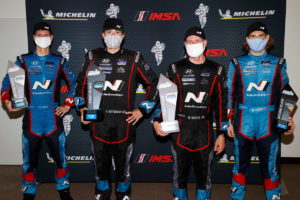 After qualifying the No. 98 Hyundai Veloster N TCR third, Mason Filippi took the first leg of the driving duties for the main event. However, 15 minutes into the two-hour race, lightning electrified the dark skies of Sebring, bringing out the red flags and pausing competition. Drivers were forced to patiently wait out the conditions from the pit lane. After 174 days on pause since their last race at Daytona International Speedway in January, another hour just intensified their pursuit for victory.
With an hour to go, the race re-started, and pit stops commenced shortly after. Mason drove the car into the pits and changed out with Michael, who secured the team's first 1-2 finish in IMSA just missing the top podium spot to Mark Wilkins, who co-drove with Michael last season, and Mark's new co-driver Harry Gottsacker.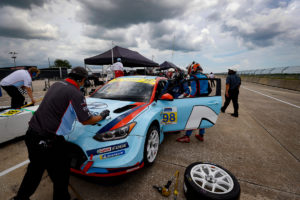 Michael Lewis: "Today was a really special day for Hyundai sweeping the podium for the first time and I am proud to be a part of that. Congratulations to my teammates Mark Wilkins and Harry Gottsacker on the team's first win of the season! Our 98 car was solid all day and Mason drove a great first stint in damp conditions to get us close to the front. After the driver change, I ran behind Mark (Wilkins) and tried to catch him, but he was just a bit better and held a gap until the end. It was cool to get the team's first 1-2 race finish in IMSA Michelin Pilot Challenge."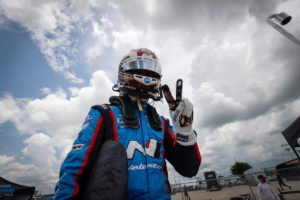 Mason Filippi: "It felt great to be back with my team; they are my extended family. It's a great, dedicated group at BHA. Today we had an amazing race with the Hyundai Veloster N TCR car. Bryan Herta Autosport was on point all week and I couldn't have asked for better equipment. Michael killed it in the car for the final stint and the engineers were perfect on their strategy calls. I can't wait for Road America."
Tune in to NBCSN on Sunday, August 2, at 10:00 a.m. EDT to watch Round 2.
Road America is the site of Round 3 of the 2020 IMSA Michelin Pilot Challenge. Located in Elkhart Lake, Wisconsin, the race is scheduled to begin at 4:45 p.m. EDT on Saturday, August 1. The race can be watched live on Trackpass on NBC Sports Gold, and again on Saturday, August 15, at 12:00 a.m. EDT on NBCSN.
To stay up-to-date with Michael's races, following is the revised 2020 IMSA Michelin Pilot Challenge's remaining schedule:
Round 3 Road America, Elkhart Lake, WI August 1
Round 4 VIRginia International Raceway, Alton, VA Aug. 21–23
Round 5 Watkins Glen International, Watkins Glen, NY Sept. 4–6
Round 6 Lime Rock Park, Lakeville, CT Sept. 11–1
Round 7 Mid-Ohio Sports Car Course, Lexington, OH Sept. 25–2
Round 8 Michelin Raceway Road Atlanta, Braselton, GA Oct. 14–17
Round 9 WeatherTech Raceway Laguna Seca, Monterey, CA Oct. 30–Nov. 1
Round 10 Sebring International Raceway, Sebring, FL Nov. 11–14
New for the 2020 season, California natives Michael and Mason have introduced an apparel line celebrating their California roots and emotion for auto racing. Michael and Mason have teamed up with artist Keiji Hayano to create what that "emotion" would look like in a piece of art. The end result, the 98 peeling out into the sunset to attack the track. #TeamAvocado. Click the link below to see their online, #TeamAvocado store.
https://teespring.com/stores/team-avocado
Bryan Herta Autosport with Curb Agajanian:
Founded in 2009, Bryan Herta Autosport has grown from a single car Indy-Lights team into a championship winning auto racing franchise. Led by IndyCar and Sports Car star Bryan Herta, Bryan Herta Autosport has won races in every discipline they have entered, including Indy Lights, Indy Car, Global Rally Cross, and championship titles in Pirelli World Challenge and IMSA. BHA rose to prominence after winning the 2011 Indianapolis 500 in what was the final race of the Centennial Era, a celebration of 100 years of racing at The Indianapolis Motor Speedway, with driver Dan Wheldon. Five years later, BHA partnered with Andretti Autosport, and defied the odds again, winning their second Indianapolis 500 with rookie driver Alexander Rossi. In 2018, BHA entered the Pirelli World Challenge in partnership with Hyundai and dominated the TCR class, winning seven races with drivers #98 Michael Lewis and #99 Mark Wilkins in the Hyundai i30N TCR, securing the team and manufacturers championships in the process. In 2019, BHA and Hyundai moved to the IMSA Michelin Pilot Challenge, and the transition was flawless. BHA swept the series driver and team championships with drivers Mark Wilkins and Michael Lewis finishing first in the #98 Hyundai Veloster N TCR and young guns Harry Gottsacker and Mason Filippi finishing second in the #21 Hyundai Veloster N TCR. For 2020, BHA continues its successful partnership with Andretti Autosport fielding the #98 U.S. Concrete Honda w/ Curb Agajanian in the IndyCar series for driver Marco Andretti and a four-car Hyundai Veloster N TCR campaign in the IMSA Michelin Pilot Challenge with Michael Lewis and Mason Filippi (#98), Mark Wilkins and Harry Gottsacker (#21), Gabby Chaves and Ryan Norman (#33) and Parker Chase and Spencer Brockman (#29). Bryan Herta Autosport is the U.S. sales agent and parts support representative of Hyundai TCR race cars for customer teams. For more information, visit www.BryanHertaAutosport.com.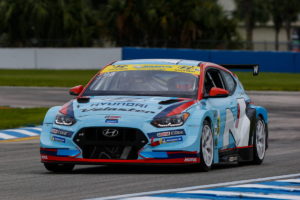 HYUNDAI MOTOR AMERICA
At Hyundai Motor America, we believe everyone deserves better. From the way we design and build our cars to the way we treat the people who drive them, making things better is at the heart of everything we do. Hyundai's technology-rich product lineup of cars, SUVs and alternative-powered electric and fuel cell vehicles is backed by Hyundai Assurance—our promise to create a better experience for customers. Hyundai vehicles are sold and serviced through more than 830 dealerships nationwide and nearly half of those sold in the U.S. are built at Hyundai Motor Manufacturing Alabama. Hyundai Motor America is headquartered in Fountain Valley, California, and is a subsidiary of Hyundai Motor Company of Korea. Please visit our media website at www.HyundaiNews.com
Hyundai Motor America on Twitter | YouTube | Facebook | Instagram