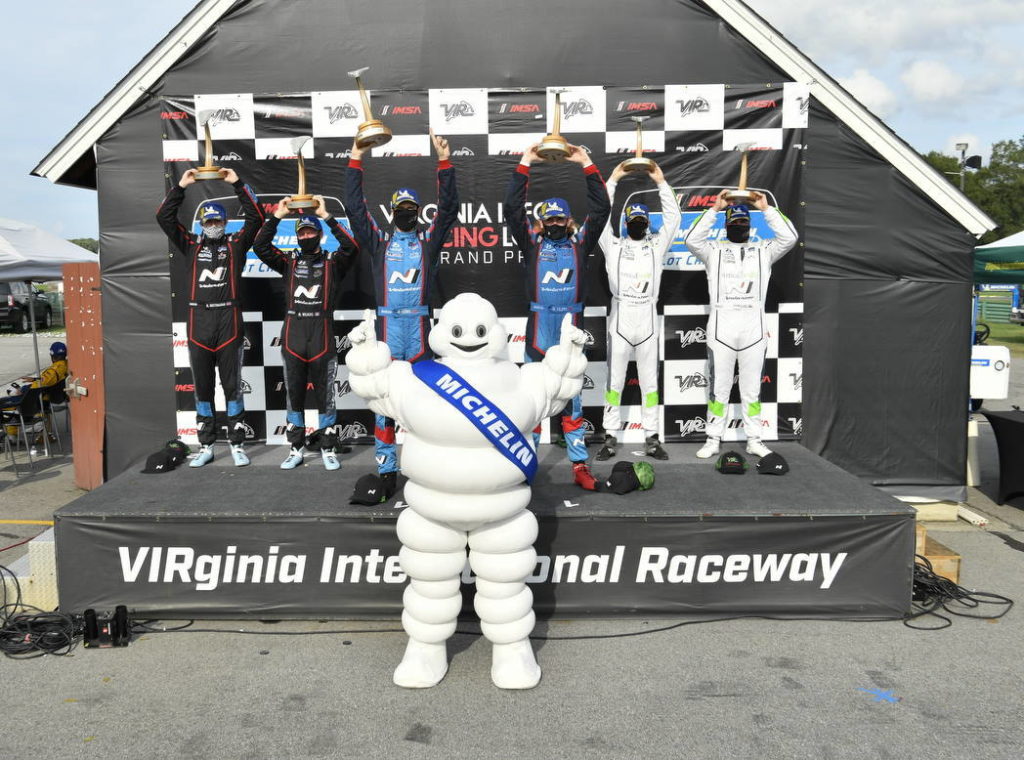 Laguna Beach, CA — In their fourth race together as co-drivers, Michael Lewis and Mason Filippi earned their first victory of the 2020 IMSA Michelin Pilot Challenge season at VIRginia International Raceway, on Sunday, August 23. Sharing driving duties in the No. 98 Bryan Herta Autosport (BHA) Hyundai Veloster N TCR, Michael began the first segment of the two-hour race from the third starting position after qualifying earlier on Sunday morning.
Michael drove a smart race by preserving the tires and saving fuel. Just after the halfway mark of the race, Michael brought the Hyundai onto pit road to swap with co-driver Mason Filippi. After the quick pit stop, Mason was able to immediately take the lead of the race. Although closely challenged on the 3.270-mile road course, Mason held off the nearest competitor and took the checkered flag.
Here's a brief recap of Rounds 3, 4 and 5 for Michael and Mason: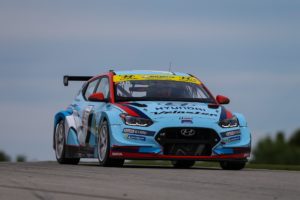 Round 3: Road America
Elkhart Lake, Wisconsin
Saturday, August 1
Started: 10th
Finished: 11th
Coming off a second-place finish in Round 2 at Sebring, Michael and Mason sought another podium finish, but the No. 98 Hyundai Veloster N TCR experienced an electrical issue, which sidelined the car from scoring a solid finish. They ended the race in 11th position.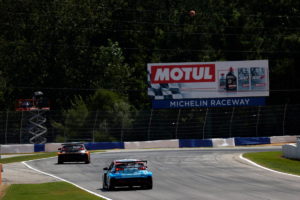 "Tough day for Mason and I today," said Michael Lewis after the race ended. "We had a good weekend going with a strong race car. It wasn't our day, but I couldn't be happier for our teammates (Gabby Chaves and Ryan Norman who won the race) and for Hyundai, who should have a healthy lead in the manufacturers championship now, and we've got to keep that growing."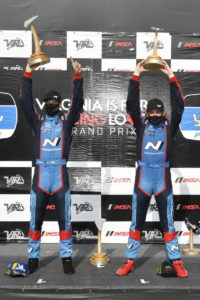 Round 4: VIRginia International Raceway
Danville, Virginia
Sunday, August 23
Started: 3rd
Finished: 1st
"It was another great day for BHA with our victory and all of our team cars inside the top five," Michael explained after taking the checkered flag. "It was so amazing to get the win today. For sure it would be cool to see any team car win, but it was nice to get to victory lane with Mason, especially after our troubles at Road America. Our Hyundai Veloster N TCR handled so well and allowed us to take good care of our tires, save fuel and run strong laps to the end. I was so impressed with Mason in his final stint with so much pressure from the veteran (and BHA teammate) Mark Wilkins. He was in control and really earned that victory."
Round 5: Michelin Raceway Road Atlanta
Braselton, Georgia
Sunday, September 6
Started: 5th
Finished: 5th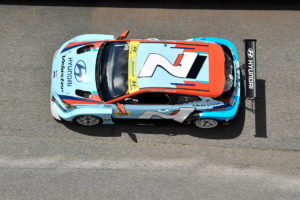 Michael took the green flag in the No. 98 Hyundai Veloster N TCR. Early on, the No. 98 crew diagnosed a fuel issue, which forced the team to make nine pit stops through the four-hour race. Michael and Mason kept their focus and perseverance, finishing inside the top five, despite four more stops than the cars that finished immediately behind them. This result is a testament to the BHA team's quick stops and flawless driving.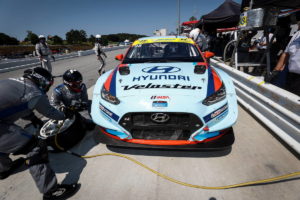 "Congratulations to Gabby and Ryan for their win and more points for Hyundai," said Michael about his BHA teammates after the race. "Mason and I worked really hard for our fifth place today, which we were really happy to get. There was a lot of chaos during the race and we got through it. Thank you to the BHA team, they worked especially hard today with so many pit stops in the intense heat over four hours! We're looking forward to coming back strong at Mid-Ohio."
At the half-way mark of the season, Michael and Mason are in third place in the series' championship standings, just five points from first.
Watch Michael's most recent race from Michelin Raceway Road Atlanta, the VP Racing Stay Frosty Coolants 240, on Tuesday, September 15, beginning at 5 p.m. EDT/2 p.m. PDT, on NBCSN.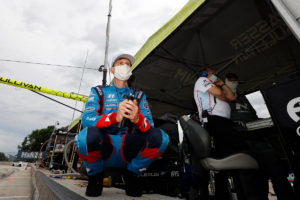 Michael's next race will be a double-header at Mid-Ohio Sports Car Course. Tune in to TrackPass on NBC Sports Gold on Saturday, September 26 at 1:05 p.m. EDT/10:05 a.m. PDT for the first race of the weekend, and again at 10:35 a.m EDT/7:35 a.m. PDT on Sunday, September 27, for the second race, or follow the timing and scoring page at www.IMSA.com. The Mid-Ohio 120 is scheduled to air on NBCSN on Monday, October 5, beginning at 3 p.m. EDT/12 p.m. PDT.
Following is the tentative IMSA Michelin Pilot Challenge schedule for the remainder of the 2020 season:
Round 6: Sept. 26 Mid-Ohio Sports Car Course
Round 7: Sept. 27 Mid-Ohio Sports Car Course
Round 8: Oct. 16 Michelin Raceway Road Atlanta
Round 9: Oct. 31 WeatherTech Raceway Laguna Seca
Round 10: Nov. 13 Sebring International Raceway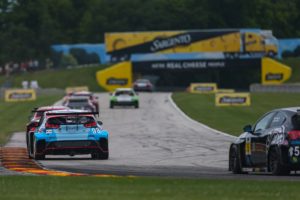 Bryan Herta Autosport with Curb Agajanian:
Founded in 2009, Bryan Herta Autosport has grown from a single car Indy-Lights team into a championship winning auto racing franchise. Led by IndyCar and Sports Car star Bryan Herta, Bryan Herta Autosport has won races in every discipline they have entered, including Indy Lights, Indy Car, Global Rally Cross, and championship titles in Pirelli World Challenge and IMSA. BHA rose to prominence after winning the 2011 Indianapolis 500 in what was the final race of the Centennial Era, a celebration of 100 years of racing at The Indianapolis Motor Speedway, with driver Dan Wheldon. Five years later, BHA partnered with Andretti Autosport, and defied the odds again, winning their second Indianapolis 500 with rookie driver Alexander Rossi. In 2018, BHA entered the Pirelli World Challenge in partnership with Hyundai and dominated the TCR class, winning seven races with drivers #98 Michael Lewis and #99 Mark Wilkins in the Hyundai i30N TCR, securing the team and manufacturers championships in the process. In 2019, BHA and Hyundai moved to the IMSA Michelin Pilot Challenge, and the transition was flawless. BHA swept the series driver and team championships with drivers Mark Wilkins and Michael Lewis finishing first in the #98 Hyundai Veloster N TCR and young guns Harry Gottsacker and Mason Filippi finishing second in the #21 Hyundai Veloster N TCR. For 2020, BHA continues its successful partnership with Andretti Autosport fielding the #98 U.S. Concrete Honda w/ Curb Agajanian in the IndyCar series for driver Marco Andretti and a four-car Hyundai Veloster N TCR campaign in the IMSA Michelin Pilot Challenge with Michael Lewis and Mason Filippi (#98), Mark Wilkins and Harry Gottsacker (#21), Gabby Chaves and Ryan Norman (#33) and Parker Chase and Spencer Brockman (#29). Bryan Herta Autosport is the U.S. sales agent and parts support representative of Hyundai TCR race cars for customer teams. For more information, visit www.BryanHertaAutosport.com.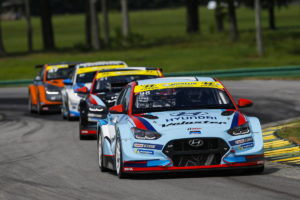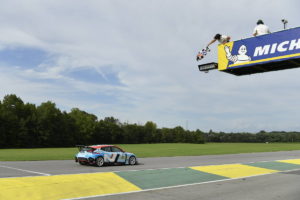 HYUNDAI MOTOR AMERICA
At Hyundai Motor America, we believe everyone deserves better. From the way we design and build our cars to the way we treat the people who drive them, making things better is at the heart of everything we do. Hyundai's technology-rich product lineup of cars, SUVs and alternative-powered electric and fuel cell vehicles is backed by Hyundai Assurance—our promise to create a better experience for customers. Hyundai vehicles are sold and serviced through more than 830 dealerships nationwide and nearly half of those sold in the U.S. are built at Hyundai Motor Manufacturing Alabama. Hyundai Motor America is headquartered in Fountain Valley, California, and is a subsidiary of Hyundai Motor Company of Korea. Please visit our media website at www.HyundaiNews.com