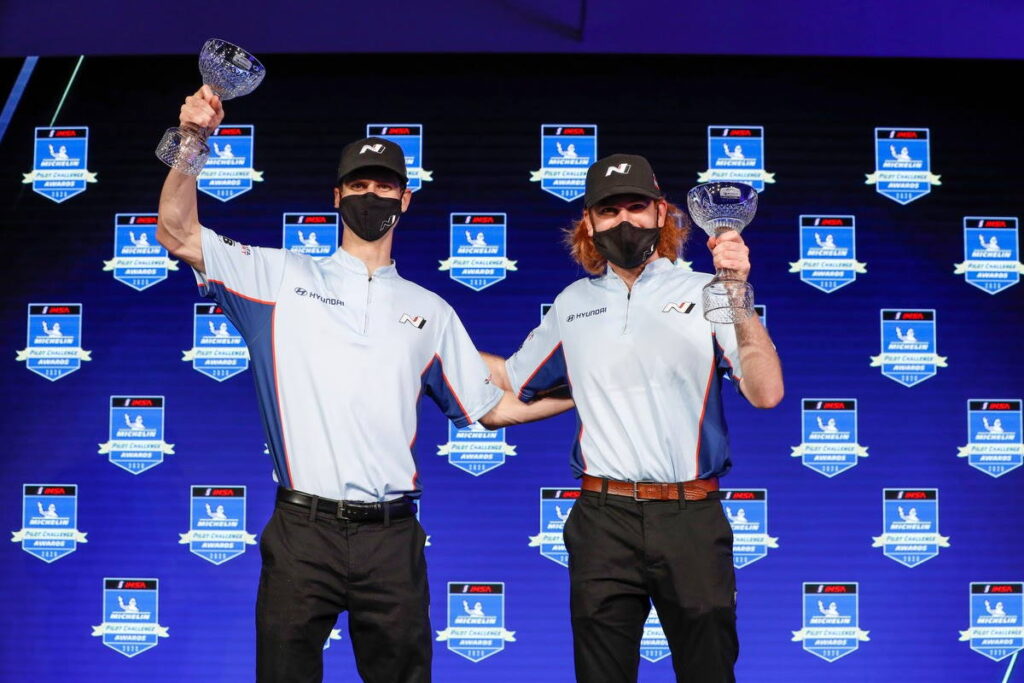 Laguna Beach, California — Two wins and a second-place finish highlighted the 2020 IMSA Michelin Pilot Challenge for Michael Lewis and co-driver Mason Filippi in the No. 98 Bryan Herta Autosport (BHA) Hyundai Veloster N TCR. All season long, the duo were in contention for the series' drivers championship, but bad luck struck the No. 98 at the last two races in the 10-round championship, taking them out of the series' points lead. They were still able to clinch third in a tight-points battle, giving Bryan Herta Autosport a one-two-three championship finish and helped Hyundai claim its first manufacturer's championship in the IMSA Michelin Pilot Challenge.
Following is a recap from the second half of the season for Michael and Mason.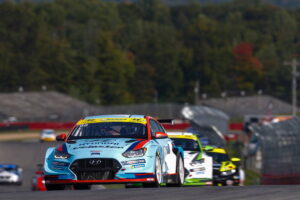 Rounds 6 & 7: Mid-Ohio Sports Car Course
Lexington, Ohio
September 26th & 27th
Started, Race 1: 2nd
Finished, Race 1: 5th
Started, Race 2: 6th
Finished, Race 2: 4th
The IMSA Michelin Pilot Challenge series held its first-ever doubleheader race weekend, competing at the Mid-Ohio Sports Car Course. Typically a spring race that features rain and colder temperatures, perfect racing weather greeted the rescheduled event. Bryan Herta Autosport's four-car Hyundai Veloster N TCR team raced over 150 laps each over the 2.2-mile, 13-turn road course. Michael Lewis and Mason Filippi earned a pair of top-five finishes, which placed them into second in the series' points standings.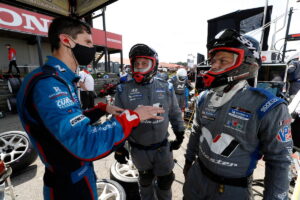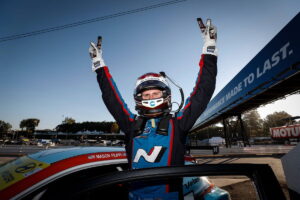 Round 8: Road Atlanta
Braselton, Georgia
October 16th
Started: 2nd
Finished: 1st
On what is normally the season finale, the IMSA Michelin Pilot Challenge returned to Road Atlanta for the Fox Factory 120, a two-hour "sprint" race on Friday, October 16. With just three races to go, the intensity was evident in the battle for the coveted drivers' championship. The Bryan Herta Autosport Hyundais arrived leading the top-three positions, and separated by just 11 points, with the #33 in first, #21 second and #98 in third.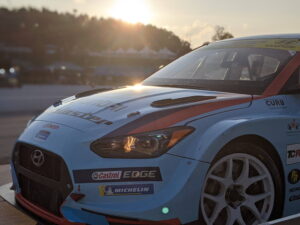 Driving the #98 Hyundai Veloster N TCR, Mason Filippi was the top qualifying Hyundai. Starting second, he led the pack from the front row. The green flag fell and so did the mayhem as the #98, was forced to fifth position due to slower GS traffic.
Having met the 40-minute drive time requirement, all four BHA Hyundais took advantage of the second caution period, 45 minutes into the 2-hour race, when they made their pit stops with driver changes. It was a hectic pit lane, but the experienced BHA crews executed flawlessly, with Michael Lewis joining the track in seventh.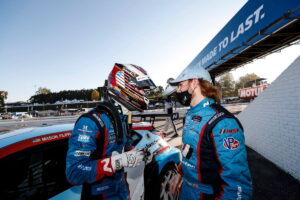 Michael made his final pit stop just as the #73 Honda Civic made heavy contact into the tire barrier causing the third extended caution of the race. The timing benefited Michael and teammate Harry Gottsacker in the No. 21 as they ascended to the race lead when the rest of the field completed their pit stops, under caution.
Ready to battle to the end with fuel and tires, Michael found himself contesting another Hyundai up front, this time with 16-year-old Tyler Maxson. Creating a thrilling finish to a wild race, Tyler took the race lead from Michael with five laps to go. As defending series champion, Michael stayed on the tail of the #27 Veloster of Maxson, pushing through the elevation changes and challenging turns of Road Atlanta. Michael made the pass for the win approaching one lap to go, scoring the second victory for the No. 98 Hyundai Veloster N TCR this season. The victory catapulted them to the front of the championship standings with eight points over teammates Gabby Chaves and Ryan Norman.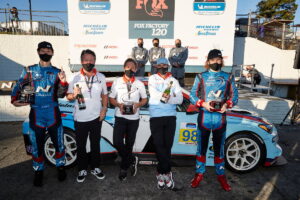 Michael Lewis: "Mason handed me a clean car and I was able to use it to get the win. We dedicate this win to Reese Imhoff, who we lost last year. He was a special part of our team. It was his birthday last week, so we really wanted to go out there and win one for him this weekend. I charged to the front the best I could. The No. 98 Veloster N TCR was very well tuned by our engineer John Ward and the BHA crew, which allowed me to race hard. It was chaotic the last few laps, but it was good, hard racing and I hope the fans enjoyed it. Copeland Motorsports and Tyler Maxson in the #27 Veloster were giving me a good fight, but in the end, we were able to bring it home for the win."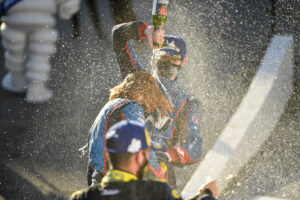 Mason Filippi: "It started off with a lot of aggressive driving out there. It was crazy, it was intense, but even crazier for Michael in the second stint. The Bryan Herta Autosport crew did a great job in the pits, the strategy and the stops were perfect, and Michael drove a really smart race. We're so happy to get our second win this season. I'm really looking forward to the next stop since both Michael and I are from California, so this is our home race and to make it even more special it is the Hyundai Monterey Sports Car Challenge. It's going to be an awesome weekend."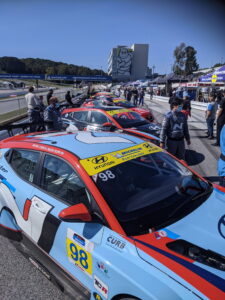 Round 9: WeatherTech Raceway Laguna Seca
Monterey, California
October 31st
Qualified: 2nd
Finished: 8th
This was the second consecutive front row qualifying for Mason Filippi, but unfortunately, the No. 98 Hyundai Veloster N TCR was collected in a first-lap incident, resulting in significant damage. As a result, the race car was unable to continue. The DNF dropped Mason and Michael into second in the championship.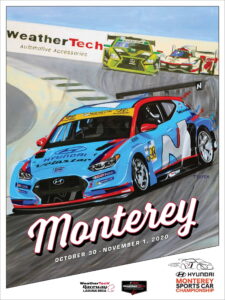 Michael Lewis: "After a great qualifying result for Mason, it's a bummer our race ended on the first lap. But we've got to take it on the chin and move on. There is one race left, the points are tight, and we have the same championship worthy determination going into Sebring! Overall, our goal is to win the manufacturers championship for Hyundai, and it looks like we are in good shape there. I want to give a shout out to Hyundai for sponsoring a great event and to my team for another fast car this weekend."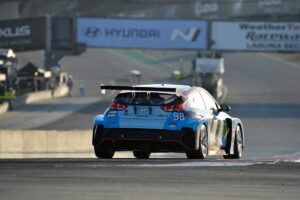 Mason Filippi: "I felt great going into this race. We had a big weekend arriving early to film for Motor Trend's Pole Position. It was awesome and an exciting weekend with Hyundai as the title sponsor. I qualified on the front row and was very optimistic we could win this race. That all changed on the first lap. It was certainly not the race we were looking for this weekend, but the manufacturer championship is looking very good! We were collected at the Andretti hairpin and stuck with no place to go and significant damage to the car. My guys gave it their best shot to get us back out there. The championship standings are still very tight, and we will be back to fight for the championship at Sebring."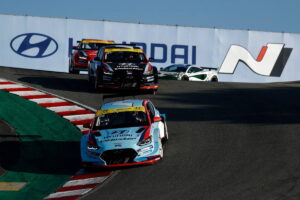 Round 10: Sebring International Raceway
Sebring, Florida
November 13th
Started: 4th
Finished: 11th
Excitement was building as the 2020 IMSA Michelin Pilot Challenge Series champion would be crowned at the conclusion of the two-hour race. With the wave of the green flag, Hyundai would take the manufacturers title in the TCR class. Michael and Mason held second in the drivers championship, just four points shy from the lead.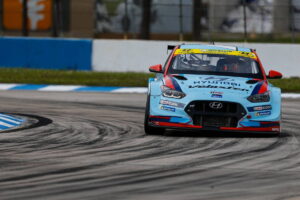 Mason took the driving duties for the No. 98 Hyundai Veloster N TCR for Bryan Herta Autosport with Curb Agajanian to start the race. Unfortunately, deja vu occurred and another first-lap incident damaged their car. Mason was able to bring the car to pit road with suspension damage on the right front corner. With the intense efforts from the BHA crew, they were able to return the No. 98 Hyundai back onto the course after a 14-minute stop.
After the driver swap, Michael was able to avoid any further incidents and crossed the finish line in 11th place, securing third in the championship standings.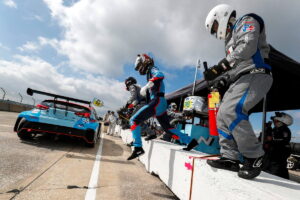 While Michael and Mason were not able to win the drivers championship this year, Bryan Herta Autosport earned its third consecutive team championship, having won a title every year since the inception of their sports car program with Hyundai in 2018. Bryan Herta, co-owner of Bryan Herta Autosport, commented on his team's success: "2020 has been a challenging year, let alone race season. The Bryan Herta Autosport drivers and crew performed incredibly well as did our Veloster N TCR cars. Winning the manufacturers, team and drivers championships is a dream come true for us and our friends at Hyundai."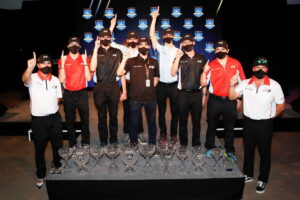 "The stable of Hyundai Veloster N TCR cars grew in 2020 with six entries at the season finale," said Erik Thomas, senior group manager, Experiential Marketing, Hyundai Motor North America. "Velosters led 55% of the race laps this season en-route to seven race victories and nine additional podium finishes. We could not have asked for a better result. Congratulations to our entire motorsports team."
This last race of 2020 will be broadcast on Tuesday, November 24, beginning at 4 p.m. EST/1 p.m. PST on NBCSN.
Michael thanks all of his partners, fans, friends, and family for being with him for this season and for all of the past seasons. It was an intense fight for the drivers championship and a great result for Bryan Herta Autosport and Hyundai in the team and manufacturers championship.
Follow Michael Lewis and Bryan Herta Autosport online.  
Follow Michael Lewis here:
Website: www.mjlracing.com
Facebook: /MJLRacing
Instagram: @MJLRacing
Twitter:   @MJLRacing_
Follow Bryan Herta Autosport here:
Website: www.bryanhertaautosport.com
Twitter: @bha
Instagram:  @bryanhertaautosport
Facebook: /BryanHertaAutosport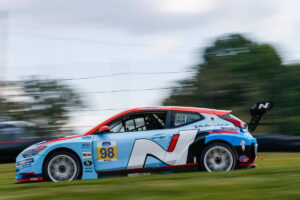 Bryan Herta Autosport with Curb Agajanian:
Founded in 2009, Bryan Herta Autosport has grown from a single car Indy-Lights team into a championship winning auto racing franchise. Led by IndyCar and Sports Car star Bryan Herta, Bryan Herta Autosport has won races in every discipline they have entered, including Indy Lights, Indy Car, Global Rally Cross, and championship titles in Pirelli World Challenge and IMSA. BHA rose to prominence after winning the 2011 Indianapolis 500 in what was the final race of the Centennial Era, a celebration of 100 years of racing at The Indianapolis Motor Speedway, with driver Dan Wheldon. Five years later, BHA partnered with Andretti Autosport, and defied the odds again, winning their second Indianapolis 500 with rookie driver Alexander Rossi. In 2018, BHA entered the Pirelli World Challenge in partnership with Hyundai and dominated the TCR class, winning seven races with drivers #98 Michael Lewis and #99 Mark Wilkins in the Hyundai i30N TCR, securing the team and manufacturers championships in the process. In 2019, BHA and Hyundai moved to the IMSA Michelin Pilot Challenge, and the transition was flawless. BHA swept the series driver and team championships with drivers Mark Wilkins and Michael Lewis finishing first in the #98 Hyundai Veloster N TCR and young guns Harry Gottsacker and Mason Filippi finishing second in the #21 Hyundai Veloster N TCR. For 2020, BHA continues its successful partnership with Andretti Autosport fielding the #98 U.S. Concrete Honda w/ Curb Agajanian in the IndyCar series for driver Marco Andretti and a four-car Hyundai Veloster N TCR campaign in the IMSA Michelin Pilot Challenge with Michael Lewis and Mason Filippi (#98), Mark Wilkins and Harry Gottsacker (#21), Gabby Chaves and Ryan Norman (#33) and Parker Chase and Spencer Brockman (#29). Bryan Herta Autosport is the U.S. sales agent and parts support representative of Hyundai TCR race cars for customer teams. For more information, visit www.BryanHertaAutosport.com.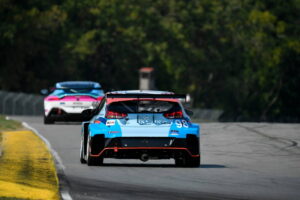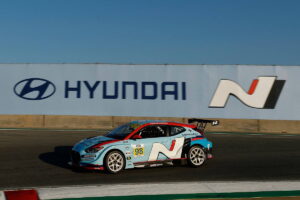 HYUNDAI MOTOR AMERICA
At Hyundai Motor America, we believe everyone deserves better. From the way we design and build our cars to the way we treat the people who drive them, making things better is at the heart of everything we do. Hyundai's technology-rich product lineup of cars, SUVs and alternative-powered electric and fuel cell vehicles is backed by Hyundai Assurance-our promise to create a better experience for customers. Hyundai vehicles are sold and serviced through more than 830 dealerships nationwide and nearly half of those sold in the U.S. are built at Hyundai Motor Manufacturing Alabama. Hyundai Motor America is headquartered in Fountain Valley, California, and is a subsidiary of Hyundai Motor Company of Korea. Please visit our media website at www.HyundaiNews.com
Hyundai Motor America on Twitter | YouTube | Facebook | Instagram