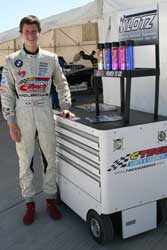 Laguna Beach, California—Rookie Formula BMW driver Michael Lewis, of Laguna Beach, California, driving for Antonio Ferrari's Eurointernational team, had an outstanding first and second round of the Formula BMW Americas event in Puebla, Mexico, March 21 and 22. Michael qualified fourth of 13 drivers for both of the Saturday and Sunday races.
"Qualifying went quite well for both days as I ended up fourth on the grid," said Michael. "Because there was minimal track time before qualifying, I stayed out for the entire session to improve my times. I ended up turning my quickest lap times at the end of both sessions, and the team was very pleased. Overall, the Eurointernational team prepared a great car, and I'm looking forward to the next round at VIR."
"We are very pleased with Michael's Puebla qualifying effort," added Eurointernational team owner Antonio Ferrari. "He is picking up speed on the track, which will soon bring about a podium result."
In his first Formula BMW Americas race on Saturday, Michael raced competitively, and at the checkered flag, almost completed a pass for third position, but missed gaining the third spot by a mere half-car length.
For Sunday's race, although Michael qualified fourth, due to a windshield height infraction, Michael, along with four other drivers, were penalized, sending Michael to start the race in ninth position instead of fourth. During Sunday's feature, Michael wasn't deterred by his discouraging starting position, and had a great beginning of the race, but was suddenly spun out by another competitor, dropping him back to 13th position from eighth. Michael then methodically worked his way back to eighth place at the end, finishing the race on the lead lap.
As a result of the first two rounds, Michael stands in seventh position in the Formula BMW Americas Championship and fourth in the series' rookie championship. His next Formula BMW Americas race will be at Virginia International Raceway, April 24–26.
A great sponsor team is involved with Michael's Formula BMW effort, which includes CTECH, Eibach Springs, Position One Motorsports, SSi Decals, Oakley, Team ASE, Klotz, Orange County Convention Center, Bell Racing, and Earl's Performance Plumbing.