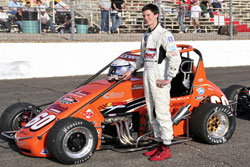 Laguna Beach, CA—Michael Lewis had an impressive night at Havasu 95 Speedway Saturday night, March 14, driving the Western Speed, Kevin Gerhardt-owned Ford Focus Midget, in the USAC Ford Focus California Pavement Series. Michael qualified the Eibach Springs, CTECH Cabinets, Molecule, Oakley, Team ASE, Klotz Oil, Orange County Convention Center, SSI Decals, Mettec, Earl's Performance Plumbing, Bell Racing, K&N Engineering Focus Midget to second overall. His teammate Cody Gerhardt qualified third.
Michael finished second in the trophy dash and second in the eight-lap heat race. Michael started the 30-lap main event inside the third row and quickly moved up to second place. He dropped back to third for the mid part of the race and then with five laps to go in heavy traffic, Michael overtook second position and held on for the checkered flag. Teammate Cody Gerhardt finished a strong seventh for his first Ford Focus main event.
"Kevin Gerhardt and the Western Speed race team gave me a terrific car tonight," exclaimed Michael. "We were fast from the start, and we almost got our first win. I'm happy for my teammate Cody Gerhardt as well for his strong run. Western Speed Racing provided great cars and I'm looking forward to the next race."
"Michael Lewis showed his potential this weekend by posting the second quick qualifying time in the 20-car field," said Kevin Gerhardt. "His second place finish in his heat race after starting sixth, as well as his second place main event finish from the fifth place starting position, is a testament to his driving abilities. Michael continues to impress Western Speed Racing with his car handling capabilities, and we are certain his first win will come very soon."
The next event for Michael in the Western Speed Ford Focus car will be at the Bullring at Las Vegas Motor Speedway, April 4. Michael will also be participating in the first round of the Formula BMW Americas Championship with the Eurointernational race team on March 21 and 22, in Puebla, Mexico.