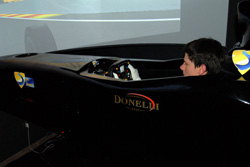 American Formula BMW Europe driver Michael Lewis took a day off from his busy Formula BMW Collective Test schedule to venture south to Modena, in the middle of the Italian Motorsport Valley, where he was offered the opportunity to spend some time in the AllinSports race car simulator.
After spending five hours with Michael, Engineer Emiliano Capoccia said, "Michael adapted quickly to the simulator culture and then we began to work on various driving style approaches to maximize lap times. It was an excellent experience for him to see how close the simulator is to 'real' racing conditions and how the various changes we made in the car reacted on the track via the simulator."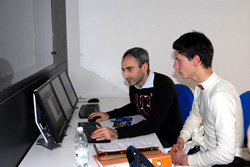 "We would love to have Michael return to get some more time on our simulator with the new FBMW monocoque we have built," stated Anton Stipinovich, founder of AllInSports. AllInSports can easily be considered a center of excellence, specializing in race car electronic systems and in the development of simulators, and has been nominated as the official simulator for the newborn Ferrari Driver Academy Program.
"It was a very productive day. I was able to test on a road track that I will race on in the Formula BMW Europe series this season and worked with very experienced engineers, who have followed me during my sessions. I am sure I will get the most out of this opportunity of cooperation started with AllInSports," explained Michael Lewis.
AllInSports has also joined the Michael Lewis sponsorship team for the 2010 race season. For more information about AllInSports, please visit www.allinsports.it.