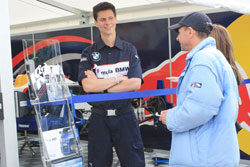 Laguna Beach, California (May 10, 2010) — The 2010 Formula BMW Europe season launched in full force this past weekend at the Circuit de Catalunya in Barcelona, Spain, where a full field of young drivers took the grid for Rounds 1 and 2. Young American driver Michael Lewis made his European racing debut with the Italian Eurointernational team along with his two teammates Carlos Sainz Jr. and Daniil Kvyat.
Michael qualified 11th for both the Saturday and Sunday thirteen-lap Formula BMW Europe races. "My qualifying effort put me farther back on the grid than I wanted so I knew when the races started that I would have to work hard, pass cars, and quickly get to the front," exclaimed Michael. He achieved an excellent start for the Saturday's Round 1 event and quickly went from 11th starting position to 7th. While challenging for sixth position on a tight portion of the track during lap three, he was suddenly hit from behind and spun around. During the spin the front wing was damaged considerably, which hampered Michael's ability to run quick lap times as he returned to the track to finish the race in 14th position.
"Our Eurointernational car was fast and I was working my way up through the pack and had my sights on the next car when I was hit from behind and was taken out of the race," said Michael. "Although the damage to my front wing kept me from being able to advance further, I was able to stay in the race and finish."
For Sunday's Round 2 Michael again started from eleventh position on the grid. At the end of the first lap Michael progressed up to 8th position. On the second lap he moved into 7th place and held this position until late in the race. Michael finished Round 2 in a solid 8th position and during the process recorded the fourth fastest lap.
"I made another great start and really enjoyed being able to move forward," explained Michael. "Unfortunately the lead pack got away but I am pleased to have a strong finish and to earn some points toward the championship." As a result of Michael's finishing positions in Rounds 1 and 2, Michael currently resides 10th in the series' points.
The next Formula BMW Europe event will be held at Circuit Park Zandvoort in Zandvoort, The Netherlands, June 4–6. In the meantime, Eurointernational team owner Antonio Ferrari will take all three of the team's drivers to the Sepang International Circuit in Malaysia for Rounds 3–6 at this weekend's Formula BMW Pacific series event. "It is a four race weekend and it will be good for Michael to run more laps and gain experience in one race weekend," added Antonio Ferrari.
Michael and Team Eurointernational thank the 2010 sponsor team, which includes K&N Engineering, Eibach Springs, SSi Decals, CTECH, GoPro, Cometic Gasket, ASE, Klotz Synthetic Lubricants, AllInSports, Bell Helmets, Earl's Performance Plumbing and Subè Sports.