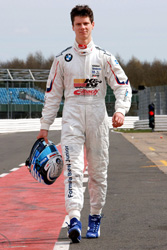 Laguna Beach, California — A strong contingent of primary and associate sponsors have made the commitment to join American Michael Lewis as he competes with the Eurointernational team in the 2010 Formula BMW Europe series, which kicks off in just one week at Barcelona, Spain, May 8–9. All of the 2010 Formula BMW Europe race events will be held in conjunction with Formula 1 race weekends except Rounds 3 and 4 in Zandvoort, The Netherlands.
K&N Engineering, a Riverside, California-based hardcore race and automotive aftermarket air filter and air intake system manufacturer will be the primary sponsor for the 2010 season. "K&N believes Michael is a great, young, talented driver and we are proud to be working with him in his racing efforts," stated Steve Williams, Vice President of Product Development at K&N Engineering.
Heading up a strong group of associate sponsors is Eibach Springs, the internationally acclaimed racing and automotive aftermarket high-performance spring manufacturer. Eibach Springs has played a key role in Michael's racing career from 1/4 midgets to USAC Ford Focus oval racing. Eibach Springs was a sponsor of Michael's 2009 Formula BMW Americas racing program and will again take a strong position with Michael for the 2010 Formula BMW Europe season. "For Eibach, Michael is the perfect example of our company philosophy: The Will To Win. From the beginning, he has shown the drive, patience, and tenacity to go to the front—no matter what series or level of racing. We are excited to continue our relationship for the 2010 racing season," said Oliver Rathlein, Vice President of Marketing, Eibach Springs.
Another returning associate sponsor is SSi Decals, a large decal graphic company, located in Galena, Illinois. SSi Decals has signed on to sponsor Michael in his second season of Formula BMW racing, and is proud to be able to contribute to Michael's racing program by providing all the race car and trailer sponsor graphics for all of the sponsors. "It's been a privilege to have the opportunity to work with Michael Lewis Racing and be represented by such a dynamic team," said Ian Harris, owner of SSi Decals.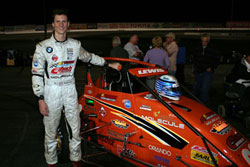 Returning for its second season with Michael's 2010 Formula BMW program as an associate sponsor is CTECH Aluminum Trailer Cabinets of Weston, Wisconsin. CTECH manufacturers a variety of interior cabinet systems for trailers and race shop facilities as well as high tech rolling pit carts and timing stations for all the major US racing series. "We are proud to support Micheal Lewis in the Formula BMW Europe series," commented Dean Lee, CTECH Business Manager. "Since our involvement we have discovered a number of opportunities for products that we intend to manufacture this year for the series. Our goal is to bring these exciting new products to the 2010 PRI Trade Show in December for their initial public offering."
Another returning sponsor is Klotz Synthetic Lubricants, of Fort Wayne, Indiana. The Klotz family of products have been involved with Michael the last three years in the support of his karting, USAC Ford Focus, and Formula BMW Americas programs. John Klotz believes Michael Lewis has shown exceptional talent at such a young age and certainly will be a driver with great future possibilities. Klotz manufactures a variety of synthetic lubricants for the automotive racing market including specialty engine, transmission, and differential hypoid products.
The final returning associate sponsor is ASE (The National Institute for Automotive Service Excellence), based in Leesburg, Virginia. ASE has been a part of Michael's racing career from the very beginning starting with 1/4 midgets, and this is the eighth year that ASE has been involved with Michael's racing endeavors. ASE provides training and certification for automotive service technicians in the United States and Canada. "We are pleased to be part of Michael's continuing development as an outstanding driver and individual. His dedication to excellence and professionalism, both on and off the track, represents the best of what ASE stands for, and all of us here at ASE wish him continued success in the Formula BMW Europe Series," said Tim Zilke, ASE President and CEO.
Coming on board with Michael and Eurointernational for the 2010 Formula BMW Europe series as a new associate sponsor is GoPro, of Half Moon Bay, California, which manufactures and distributes the world's best selling line of wearable and gear mountable HD cameras for sports. GoPro is supplying Michael with onboard HD GoPro cameras to document his Formula BMW Europe Collective Test Sessions, many of which have been posted on Michael's website and will soon be available at GoPro's website. "Michael is living the dream and GoPro is very excited to sponsor him and help him document his racing and overall Formula BMW experience with our industry leading HD HERO cameras," said GoPro founder and CEO, Nicholas Woodman. "Many of us dream of racing at the top level of motorsports, and Michael is doing it. He's an impressive young man with a bright future in motorsports. GoPro is proud to be affiliated with Michael Lewis."
Coming onboard for the first time as an associate sponsor is Cometic Gasket, in Concord, Ohio. Cometic Gasket is known for creating high-performance gaskets for a variety of motorsports markets, including auto racing. "Cometic over the last several years has had a major impact in the domestic automotive business and one of the key elements of that is due to our association with Roush Yates and Richard Childress Racing. Over the last few years we have expanded into the European market and we are pretty excited about our partnership with Michael Lewis and the Eurointernational Formula BMW Europe team. We believe that their qualifications and presentation will have virtually the same impact in the European market for Cometic as what the other teams did in the United States," said Bob Gorman, owner of Cometic Gasket.
Bell Racing Company, a division of Easton Bell Sports, is a leading manufacturer of racing helmets, and continues to partner with Michael Lewis as a product sponsor. Bell helmets have been worn and trusted by more racing champions, in all forms of racing, than any other helmet. Bell has supplied Michael Lewis with helmets throughout his racing career. "Michael Lewis is an extremely talented driver who represents and promotes the Bell brand in a very professional manner. We look forward to our continued association as he advances within the sport of auto racing," said Kyle Kietzmann, General Manager, Bell Racing Company.
Another new sponsor is AllInSports, based in Modena, Italy, which specializes in racing car electronic systems and in the development of simulators.
"It is great as a driver to have the number of sponsors that have committed to my Formula BMW Europe program for the 2010 season," said Michael Lewis. "All of the Formula BMW Europe race events will be broadcast throughout Europe on Motors TV and the traditional print and numerous racing sites will cover the exciting Formula BMW Europe championship this season. I am pleased to help each and every sponsor gain exposure to the world racing community and I will work hard on their behalf to give them every opportunity for market exposure and visits that the winner's podium offers.
On-site race event sponsor activation will be managed by Arianna Maugeri, who is Performance Racing Industry's European & Middle Eastern Business Development Manager. Activation elements will include distributing sponsor brochures and catalogs, explanation of international distribution policies, and coordinating media interest. Along with the on-site marketing activation programs additional sponsor exposure will be offered via Michael's social network that consists of substantial numbers on Twitter and Facebook as well as sponsor links on the Michael Lewis website at www.mjlracing.com.
Michael and Eurointernational thank the 2010 sponsor team, which includes K&N Engineering, Eibach Springs, SSi Decals, CTECH, GoPro, Cometic Gasket, ASE, Klotz Synthetic Lubricants, AllInSports, Bell Helmets, Earl's Performance Plumbing and Subè Sports.