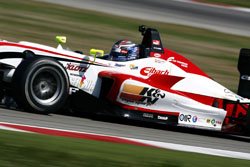 Laguna Beach, California (June 6, 20110) — With second- and sixth-place finishes during Rounds 3 and 4 at the Misano Circuit in Italy this past weekend, Michael Lewis, of Laguna Beach, California, now claims third place in the Formula 3 Italia Championship points standings and second place in the rookie championship battle.
Michael Lewis and the PREMA Powerteam were off to a strong start for the weekend with Michael recording fast lap times in both of the free practice sessions. When it came time to qualify on Saturday morning, Michael's PREMA engineer Fabio Zilio and mechanic Marco Sbabo put together the right set-up, which allowed Michael to record a lap time of 1:31.098 to place him third overall among the 16 drivers. Series veteran Edoardo Liberati captured the pole position with a lap time of 1:30.998.
"Qualifying well was our team's goal for the Misano weekend," said Michael Lewis. "The Formula 3 Italia series is very competitive with its great drivers and teams, so to do well you must put together a strong qualifying effort. I owe my success today at Misano to my PREMA team as they worked very hard to get the car right."
Michael started Round 3 on Saturday afternoon third on the grid. When the lights went off and the 16 drivers launched from the grid, Michael took charge and quickly moved into second on the exit of turn one. Michael kept pace with the leader throughout the 30-minute timed race. When the checkered flag waved on lap 20, Michael achieved a solid second-place finish and recorded his second podium finish in three race events driving the PREMA Powerteam Dallara FPT car #4.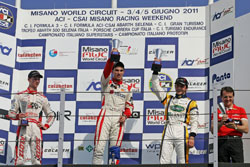 "It was a fantastic feeling to be able to keep pace with the top three drivers in this race and all of the hard work we have been doing of late at the Collective Tests paid dividends for our team today," added Michael.
Round 4 of the 2011 Formula 3 Italia Championship occurred early on Sunday morning with excellent weather prevailing. Michael started the race in sixth position on the grid because the top eight qualifiers from the first round of the weekend are inverted on the grid for the following round. Again Michael got an excellent start and quickly moved into fifth place on the first lap and kept pace with the lead pack. However, as the race progressed, Michael began defending himself from a charge by Sergio Campana. By lap eight Campana squeezed by Michael and went on through the lead pack to finish the race in third position. Michael continued running competitive lap times during the race and crossed the finish line in sixth place when the race concluded on lap 19. Michael's PREMA teammate Raffaele Marciello won the race by leading every lap.
"I was very pleased with our results this weekend at Misano," commented Michael. "It means a lot to me to be able to run with the best and be competitive. I know it is important for me to be able to showcase all my sponsors and because these race events are televised by RAI Sport live, there is an extra added benefit for my sponsors to gain valuable exposure during the race weekend."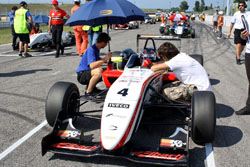 Angelo Rosin, Team Principal for the PREMA Powerteam added, "After Franciacorta, PREMA achieved another huge goal at Misano. We brought both Raffaele Marciello and Michael Lewis onto the podium again, and Raffaele managed to score the victory after having missed it earlier this season. He also became the youngest driver ever to have scored wins in the championship. The second round of 2011 ended with our drivers standing in second and third place (in the series championship), and that's an incredibly good factor for us. Michael had a very good weekend showing constantly his capabilities and performance."
Michael will return to the United States for his next two races, which will be at Toyota Speedway at Irwindale, on June 18 and 25. Michael will then head back to Italy for the next two rounds of the Formula 3 Italia Championship, which will be Rounds 5 & 6 at Imola, on July 16 and 17.
Michael's sponsor lineup for 2011 includes Eibach Springs, K&N Engineering, SKF, GoPro, Klotz Synthetic Lubricants, Cometic Gasket, Bell Helmets, Subè Sports and Calico Coatings.
Round 3 Formula 3 Italia at Misano
1. Edoardo Liberati, Ghinzani Arco Motorsport
2. Michael Lewis, PREMA Powerteam
3. Sergio Campana, BVM S.r.l
4. Kevin Giovesi, Lucidi Motors
5. Maxime Jousse, BVM S.r.l.
6. Facu Regalia, Ghinzani Arco Motorsport
7. Eddie Cheever, Lucidi Motors
8. Brandon Maisano, BVM S.r.l.
9. Jesse Krohn, RP Motorsport
10. Raffaele Marciello, PREMA Powerteam
Round 4 Formula 3 Italia at Misano
1. Raffaele Marciello, PREMA Powerteam
2. Eddie Cheever, Lucidi Motor Sports
3. Sergio Campana, BVM S.r.l.
4. Facu Regalia, Ghinzani Arco Motorsport
5. Maxime Jousse, BVM, S.r.l.
6. Michael Lewis, PREMA Powerteam
7. Edoardo Liberati, Ghinzani Arco Motorsport
8. Brandon Maisano, BVM S.r.l.
9. Daniel Mancinelli, RP Motorsport
10. Federico Vecchi, Line Race
2011 Formula 3 Italia Championship Points Standings (As of 06/06/11)
1. Edoardo Liberati – 37 points
2. Raffaele Marciello – 31 points
3. Michael Lewis – 30 points
3. Maxime Jousse – 30 points
5. Eddie Cheever – 27 points
6. Sergio Campana – 26 points
7. Daniel Mancinelli – 25 points
7. Kevin Giovessi – 25 points
9. Brandon Maisano – 20 points
10. Victor Guerin – 13 points