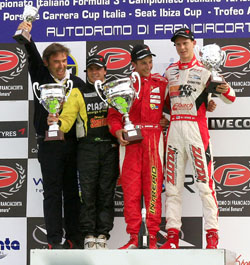 Laguna Beach, California (May 16, 2011) — After completing a very successful preseason testing effort, Michael Lewis and the PREMA Powerteam anticipated this weekend's first two races of the Formula 3 Italia Championship. The season kicked off at Italy's Franciacorta Circuit, with Rounds 1 and 2 of the series taking place on Sunday, May 15.
Michael's strong times from preseason testing carried over into the practice sessions for this weekend's event as he recorded excellent times in the two free practice sessions on Friday and Saturday.
"I tested well here at Franciacorta and I really like this track," said Michael Lewis. "I know the PREMA team will give me a good car to qualify."
The weather was perfect for the Saturday afternoon qualifying session as 16 drivers took to the track for 30 minutes. When the session was over, Michael qualified sixth, placing him in sixth starting position for Race 1 on Sunday morning. For Sunday afternoon's second race, he started third as the top eight qualifiers are inverted.
"This was my first Formula 3 Italia qualifying experience and my goal was to qualify in the top three, but I was so close and just one-tenth short of my goal," explained Michael. "I knew that I would have to push hard in Race 1 to run up front with the leaders. The PREMA team and my engineer Fabio Zilio gave me a great car so I knew that I could run well in the race."
On Sunday morning, the weather changed with the sun disappearing behind the clouds and the rain arriving, so Race 1 earned the "wet track" designation requiring all the competitors' race cars to use "wet" tires. At the start of the race, Michael fell back a number of positions from his 6th-place starting position but quickly moved back into 6th position and he was challenging for 5th position in the early stages of the race in the wet conditions. As the race progressed, Michael lost a position and then with five laps to go, he was hit from behind and as a result made a one half spin and lost several positions, finishing Race 1 in 10th position.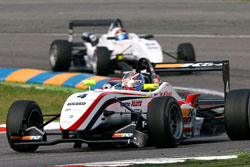 "My PREMA car was fast during the first part of the race as our pace was quite good," said Michael. "Unfortunately, I was hit from behind so any chance of a strong finish was erased, but I was able to earn points toward the championship," he added, optimistically.
Race 2 brought a completely different scenario as the skies cleared and the sun appeared to provide dry track conditions. Michael was placed third on the grid for Race 2. The start was frantic as the top four cars roared into turn one battling for the top position. Exiting turn one, Michael and another driver collided as they raced side by side, and as a result, Michael's left front wing became damaged. However, this damage did not affect Michael's progress as he exited turn one in 3rd place. At the beginning stages of the race Michael challenged for 2nd briefly but because of the loss of the function of the front wing the car developed a tremendous under steer condition that lasted the entire race. Michael worked hard to keep his position and fend off the challenges of 4th-place driver Kevin Giovesi.
After the 30-minute event, Michael crossed the finish line in 3rd place about two car lengths ahead of the 4th place driver. "I owe this podium finish to the PREMA team, my engineer Fabio Zilio, and my mechanic Marco, who gave me a great car that was strong even with the damage to the front wing. It was a great feeling to be on the podium in my first race weekend in this very competitive series, and to be able to provide my sponsors with exposure on the live television coverage," added Michael.
"I'm satisfied with how the first weekend of the 2011 Formula 3 Italia championship ended up for us," commented Angelo Rosin, PREMA Powerteam Team Principal, about his team's three drivers: Michael Lewis, Raffaele Marciello, and Andrea Roda. "Our drivers finished onto the podium in the two races and they captured good points in standings. Marciello went really close to record his maiden formula 3 win, but despite committing a mistake, he showed that such results are clearly in his frame. Lewis scored a podium finish too despite a front wing problem that certainly hit his car's potential. I feel for Roda, who was unable to get to the results he deserved, but I'm sure he will in the next round of the series, starting on June 5 at Misano."
Both rounds of the Franciacorta Formula 3 Italia Championship were broadcast live on RAI Sports. A synopsis of the television broadcast will soon appear on Michael's website at www.mjlracing.com. Michael's next Formula 3 Italia event will be Rounds 2 and 3 held June 5, at Misano Circuit, in Misano, Italy.
Michael's sponsor lineup for 2011 includes Eibach Springs, K&N Engineering, SKF, GoPro, Klotz Synthetic Lubricants, Cometic Gasket, Bell Helmets, Subè Sports and Calico Coatings.
Round 1 Formula 3 Italia at Franciacorta
1. Daniel Mancinelli, RP Motorsport
2. Maxime Jousse, BVM SRL
3. Raffaele Marciello, PREMA Powerteam
4. Edoardo Liberati, Ghinzani/ARCO
5. Kevin Giovesi, Lucidi Motors
6. Eddie Cheever, Lucidi Motors
7. Jesse Krohn, RP Motorsport
8. Simone Iaquinta, Arm Competition
9. Victor Guerin, Lucidi Motors
10. Michael Lewis, PREMA Powerteam
Round 2 Formula 3 Italia at Franciacorta
1. Brandon Maisano, BVM SRL
2. Victor Guerin, Lucidi Motors
3. Michael Lewis, PREMA Powerteam
4. Kevin Giovesi, Lucidi Motors
5. Eddie Cheever, Lucidi Motors
6. Raffaele Marciello, Prema Powerteam
7. Sergio Campana, BVM SRL
8. Daniel Mancinelli, RP Motorsport
9. Jesse Krohn, RP Motorsport
10. Simone Iaguinta, ARM Competition
2011 Formula 3 Italia Rookie Championship Points Standings
1. Maxime Jousse – 24 points
2. Raffaele Marciello – 21 points
3. Eddie Cheever – 19 points
3. Victor Guerin – 19 points
5. Brandon Maisano – 17 points
6. Michael Lewis – 15 points
6. Simone Iaquinta – 15 points
8. Federico Vecchi – 5 points
9. Luca Marco Spiga – 3 points
9. Regalia Facundo – 3 points