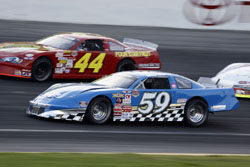 Laguna Beach, California (June 20, 2011) — Michael Lewis, of Laguna Beach, California, returned back to the United States during a break between Formula 3 Italia events to race a High Point Racing (HPR) Late Model car at Toyota Speedway at Irwindale on Saturday night, June 18. Michael, who is currently ranked third in the F-3 Italia Championship, accepted the offer extended by HPR team owner Tim Huddleston to join his team for six Late Model events this summer at the Irwindale race track.
The evening started off well for Michael as he was on top of the speed charts for the second practice session. When it came time to qualify Michael climbed into his blue HPR #59 Chevy Late Model and qualified 4th with a lap time of 18.961. HPR teammate Brandon Davis set fast time for the evening with a lap time of 18.751.
"I was very pleased with our qualifying effort," said Michael Lewis. "I really enjoy working with Tim, Jeff Schrader of the RaceCar Factory, and my spotter/mechanic Mark Perry. I am new at racing Late Models, so I rely on their experience and advice. They give me all the support and a fast car to drive."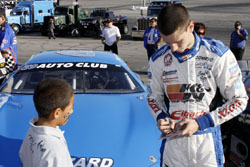 Saturday's Irwindale program included two Late Model feature races. Michael started the first 30-lap feature in third position and missed a shift right at the wave of the green flag causing him to slip back several positions. As the race progressed he passed some cars and finished the race in 11th. For the second 30-lap feature, Michael started in 4th and got a great start and was going down the back straight in second position when the car in front of him hit the third turn wall hard and bounced back directly in front of Michael, which ended Michael's night when his HPR Chevy Late Model took a big hit.
"Michael did well tonight as it was only his second time in a Late Model car," said Tim Huddleston. "He qualified really well and he just needs to learn some of the 'tricks of the trade' and he will be running up front."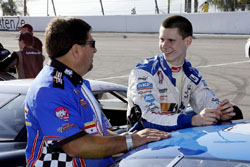 Michael Lewis returns to Toyota Speedway at Irwindale on Saturday, June 25, in the High Point Racing #59 Late Model. Following the race, Michael will fly back to Italy to prepare for Rounds 5 and 6 of the Formula 3 Italia Championship at the Imola Circuit, July 16—17.
Michael's sponsor lineup for 2011 includes Eibach Springs, K&N Engineering, SKF, GoPro, Klotz Synthetic Lubricants, Cometic Gasket, Bell Helmets, Subè Sports and Calico Coatings.