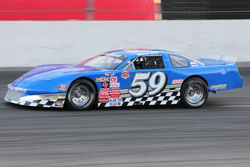 Laguna Beach, California (June 27, 2011) — Michael Lewis, of Laguna Beach, California, topped off his three-week return trip home in the U.S. with a strong performance at Toyota Speedway at Irwindale on Saturday night, June 25, while driving the High Point Racing #59 Late Model stock car to a fourth-place finish.
Summer finally arrived in the Southland providing high temperatures during both practice and qualifying. However, the heat was not a factor for Michael as he qualified the Tim Huddleston prepared #59 High Point Racing (HPR) Late Model to a respectable seventh with a time of 18.893 out of a field of 18 Late Models.
"Tim and Jeff Schrader (of chassis builder Racecar Factory) always give me a good car and I wanted to qualify at least in the top three but I was just a bit loose," explained Michael. "I figured by the time the main event occurred later in the evening that the track would come to us."
Michael was positioned to start the 40-lap main event in sixth position on the outside of the third row. At the wave of the green flag, Michael immediately went to the high side of the track working to pass the cars in front of him. There were two yellow flags during the event, which allowed Michael to advance during each restart. Toward the end of the race, Michael was in third place, but with two laps to go, teammate Dylan Lupton made a strong move on the bottom and slipped passed Michael, resulting in Michael finishing with a strong fourth in just his third Late Model race.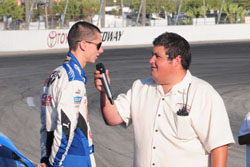 "It was really fun out here tonight," said Michael. "I had Tim Huddleston as my spotter and he gave me great instructions about how to attack the track. My restarts were really good this week as my car took off and I was able to get the advantage of going into turn one on the high side. It was a good night for the HPR team as we ran first through fourth. I look forward to returning to Toyota Speedway at Irwindale on August 20."
"Michael did a great job tonight and he was really smooth and on the attack," added Tim Huddleston, HPR team owner. "He did everything I asked him to do and he is quickly learning."
Michael will return to Italy this week to resume his Formula 3 Italia testing and race program. Michael is currently ranked third in the Formula 3 Italia Championship and second in the Rookie Championship. His next Formula 3 race will be at the famous Imola Circuit on July 16 and 17.
Michael's sponsor lineup for 2011 includes Eibach Springs, K&N Engineering, SKF, GoPro, Klotz Synthetic Lubricants, Cometic Gasket, Bell Helmets, Subè Sports and Calico Coatings.