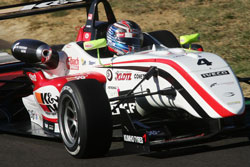 Laguna Beach, California (October 1, 2011) – Michael Lewis, of Laguna Beach, California, won his second Formula 3 Italia race of the season today at Autodromo Internazionale del Mugello in Mugello, Italy.
Michael qualified third fastest for Round 13 of the Formula 3 Italia Championship event so he started the race on the inside of the second row. The race began with a wild start in the first turn as PREMA teammate Raffaele Marciello tried to overtake Michael but went wide into the grass and Michael held onto 3rd.
During lap seven, the leader Facu Regalia spun and returned to the track in last position, but then stopped in the pits to end his day. Edoardo Liberati inherited the lead, but Michael continued to gain ground as the laps progressed. By lap 10, Michael was closely behind Liberati and finally on lap 15 Michael made his move on the outside to pass Liberati. Michael managed his lead wisely to hold off Liberati and took the checkered flag.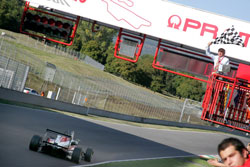 Michael attributed the car's setup as part of why he was able to preserve the tires for the race victory. "I spoke with my engineer Fabio Zilio and we made one little change to the car before the start of the race," explained Michael Lewis. "The tires were amazing during the whole race and I didn't have any problems. Thank you to the entire PREMA Powerteam, my engineer Fabio Zilio, Angelo Rosin, and Giacomo Ricci for this victory. I also want to thank Eibach Springs and K&N Air Filters for helping me"
Michael and the PREMA Powerteam will return to the Mugello Circuit tomorrow for the second race of the event weekend. He'll start the second race in 6th position based on an invert of the qualifying order from the first race.
As a result of Michael's win today, he now stands in second, only 14 points behind Sergio Campana in the series' points standings, and Michael again leads the Formula 3 Italia Rookie Championship.
Michael's sponsor lineup for 2011 includes Eibach Springs, K&N Engineering, SKF, GoPro, Klotz Synthetic Lubricants, Cometic Gasket, Bell Helmets, Braille Battery, Subè Sports and Calico Coatings.
Round 13 Formula 3 Italia Mugello Race Results:
1. Michael Lewis, PREMA Powerteam
2. Edoardo Liberati,Team Ghinzani
3. Victor Guerin, Lucidi Motors
4. Sergio Campana, BVM-Target
5. Edward Cheever, Lucidi Motors
6. Raffaele Marciello, PREMA Powerteam
7. Maxime Jousse, BVM-Target
8. Simone Iaqinta, JD Motorsport
9. Brandon Maisano, BVM-Target
10. Edoardo Bacci, LineRace-CO2
Formula 3 Italia Championship Standings:
1) Sergio Campana (BVM-Target), 121
2) Michael Lewis (Prema Powerteam), 107
3) Edoardo Liberati (Team Ghinzani), 102
4) Raffaele Marciello (Prema Powerteam), 101
5) Brandon Maisano (BVM-Target), 99
6) Maxime Jousse (BVM-Target), 95
7) Kevin Giovesi (Lucidi Motors), 79
8) Edward Cheever (Lucidi Motors) 68
9) Victor Guerin (Lucidi Motors), 59
10) Facu Regalia (Team Ghinzani), 52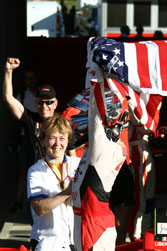 Formula 3 Italia Rookie Championship Standings:
1) Michael Lewis, PREMA Powerteam 133
2) Brandon Maisano, BVM-Target 130
3) Raffaele Marciello, Prema Powerteam, 128
4) Maxime Jousse, 127
5) Edward Cheever, Lucidi Motors, 99
6) Victor Guerin, Lucidi Motors, 92
7) Facu Regalia, Team Ghinzani, 82
8) Federico Vecchi, LineRace-CO2 52
9) Simone Iaquinta, Downforce Competition, 40
10) Luca Marco Spiga, GTR Racing, 13