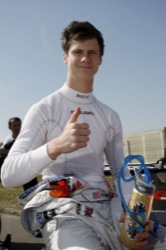 Speilberg, Austria (June 2, 2012) — American Michael Lewis charged through the field for Round 7 of the Formula 3 Euro Series visit to Austria's Red Bull Ring this morning, and that charge ultimately led him to a podium finish in Round 8 this afternoon.
Race 1
Michael Lewis and the PREMA Powerteam arrived to the 4.326-km Red Bull Ring this morning determined to improve upon yesterday's 13th-place qualifying effort. Sixteen drivers were positioned on the starting grid for this morning's 26-lap/40-minute Round 7 of the Formula 3 Euro Series.
"Even though my qualifying yesterday was not what our team expected, I was fast in practice. That gave me confidence, so when I arrived to the track today I knew that I had to pass a number of cars to earn as many points as possible," explained Michael Lewis. "Between Friday's qualifying and this morning my PREMA crew worked hard and made some changes, so I was excited for the lights to go out on the starting grid to show what our team and our Mercedes-powered Dallara could do."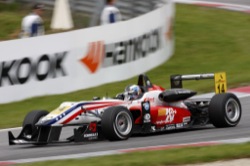 After the warm-up lap, all 16 cars lined up on the grid with their engines on the rev limiters waiting for the starting lights to go out. Michael was able to make a strong launch from his starting box and passed a couple of cars right away. During the first few laps he was able to overtake a couple more cars and then settled into 9th position midway through the race. Next up, Michael saw the opportunity to take 8th position. The starting grid for Round 8 is based on an inversion of the top-8 finishers in Round 7. This means, the 8th-place finisher would start from the pole for Round 8.
"Finishing in 8th position was my goal, so I was really going to push hard and do everything I could to earn that position," said Michael.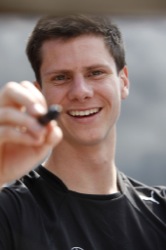 Just as Michael was challenging for the 8th position, a yellow flag appeared on the course in a high speed corner because another driver drove off the track. The course marshals saw a number of cars that did not heed the yellow flag and those drivers received drive-through penalties, which helped Michael then move up to 7th place with about 10 laps to go.
With four laps to go Carlos Sainz Jr. overshot the final corner entering the main straight, then spun and crashed into the inside wall, which brought out the Safety Car. The green flag waved with only one lap to go with the drivers lined up nose to tail for the start. Michael wanted to gain one more position and worked hard on the driver ahead of him during the last lap, but at the same time, his PREMA Powerteam teammate Dani Juncadella was on the tail of Michael's car. Michael held off Juncadella's charge and salvaged a strong 6th-place finish, which was a terrific accomplishment coming from the 13th starting position.
"While I had to work my way through the field by having to start so far back, my Mercedes-powered Dallara F312 prepared by the PREMA experts was fast enough for me to be able to work my way up," described Michael. "The misfortune of the other drivers receiving the drive-through penalties also was a help. Now I will start 3rd for the afternoon's sprint race."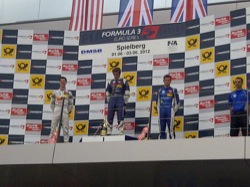 Race 2
Round 8 of the Formula 3 Euro Series only consisted of 20 minutes and 13 laps. Michael lined up in his K&N Eibach Springs Dallara F312 with Mercedes power on the starting grid in 3rd position. When the lights went out, 2nd-place Daniel Juncadella stalled, which Michael took advantage of and jumped into 2nd behind William Buller. As the race progressed, Michael followed Buller closely but was challenged for position by Tom Blomqvist who was running in 3rd place. Michael held his line, built a one-second gap over Blomqvist, drove a smart race, and crossed the finish line in 2nd place.
After pulling the car onto pit road before heading up to the podium, Michael gave the thumbs-up to his PREMA team as they celebrated Michael's accomplishment.
"I had a really good starting position with 3rd, so I wanted to take advantage and fight for the win," said Michael. "I was able to get another strong start and slipped in behind the leader William Buller. I was doing my best to manage my tires so toward the end of the race I hoped to close in for an overtaking maneuver. The last lap of the race was my fastest. Although I came up short for the win, running second here was a real thrill.
"This 2nd-place finish shows just how well the PREMA Powerteam prepared our Mercedes-powered Dallara F312," continued Michael. "I am excited to be able to showcase my main sponsors K&N and Eibach Springs, as well as all my associate sponsors, on the podium again for consecutive race weekends. I'm looking forward to tomorrow's race as I will try to gain more points toward the F3 Euro Series Championship."
For Sunday's Race 3 (Round 9) Michael must again start 13th on the grid as a result of his qualifying effort, so he is determined to deliver another strong finishing position.
As a result of today's 6th- and 2nd-place finishes, Michael Lewis stands in 6th place in the series championship standings. He is only 4 points out of 4th place as there are three drivers in a tight battle for positions 4 through 6.
Round 9 will take place on Sunday, June 3, at 10:45 a.m. local time (1:45 a.m. PDT/4:45 a.m. EDT). The race will be broadcast live at www.f3euroseries.com or www.premapowerteam.com.
Michael Lewis' 2012 sponsor lineup includes Eibach Springs, K&N Engineering, GoPro, Electric Sunglasses, Klotz Synthetic Lubricants, Cometic Gasket, Bell Helmets, Braille Battery, Wiisaa, CMNTY Clothing and Performance Racing Industry.
F3 Euro Series Standings After Round 8
1. Raffaele Marciello, 99
2. Daniel Juncadella, 84
3. Carols Sainz, Jr., 72
4. William Buller, 63
5. Pascal Wehrlein, 60
6. Michael Lewis, 59
7. Sven Muller, 56
8. Felix Rosenqvist, 53
9. Tom Blomqvist, 44
10. Emil Bernstorff, 11