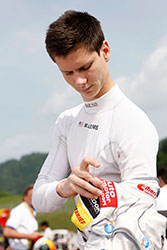 Spielberg, Austria (June 3, 2012) — American Michael Lewis battled his way through traffic to earn a top-6 finish for Round 9 of the 2012 Formula 3 Euro Series' visit to the Red Bull Ring in Austria.
Determined to overcome his 13th-place qualifying effort, Michael Lewis showed his strength and ability as a race car driver this weekend by earning three admirable finishing positions: 6th in Round 7, 2nd in Round 8, and today, another 6th in Round 9.
The Red Bull Ring was filled with packed grandstands full of Austrian race fans who came out to watch the exciting Formula 3 Euro Series drivers perform just prior to the afternoon's DTM event. Sixteen Formula 3 drivers were placed on the grid for the 11:45 a.m. start of the 40-minute, 26-lap Race 3 of the weekend. Michael Lewis placed his K&N Eibach Springs PREMA Powerteam Mercedes-powered Dallara F312 13th on the grid.
Surprisingly, a number of drivers at the Austrian race experienced difficulty when trying to make a proper launch at the start of each race when the lights go out. "I have been working hard at improving my starts," said Michael Lewis. "I'm trying my best not to make any mistakes and then take advantage of gaining as many positions as I can immediately when the starting lights go out."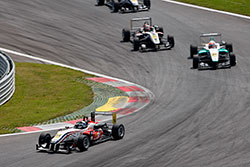 As the starter pushed the button, the lights went out to begin Round 9 and Michael launched his way immediately into a battle for position. He quickly gained two positions on the exit of turn 1 and also picked up another position during the first lap, so when lap 1 was completed Michael had advanced to P-10. On lap 3 Michael advanced to P-9, and by lap 20 Michael was P-6 and the last car in 4-car train that was nose to tail most of the race. Michael finished Race 3 in 6th position, which was well earned as he came from far back on the grid.
"I was pleased with my overall performance this weekend," reported Michael. "Because of the help and support of my PREMA team I was able to salvage a strong points effort overall. I was able to stand on the podium for my 2nd-place finish for Race 2 and give my sponsors the opportunity for the recognition they deserve. Now my attention is focused on the upcoming Norisring event in three weeks. Racing here in Austria was a very exhilarating experience and the fans here truly love their racing."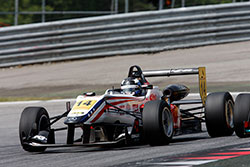 "After a less than brilliant qualifying effort on Friday, I am relatively happy with Michael's results during this weekend in Spielberg," said Rene Rosin, PREMA Powerteam Team Manager. "He has managed to get the best from a difficult starting position for Race 1 and Race 3 using all his capabilities and speed during the three races. We must continue to work hard together in order to do everything possible to avoid what happened in Friday's qualifying, so the poor grid position for the 40-minute races will not happen again in the future. The championship is still very long and I am sure we can achieve good results together."
Michael's next F3 Euro race event will be at Germany's Norisring on June 29–July 1.
Michael Lewis' 2012 sponsor lineup includes Eibach Springs, K&N Engineering, GoPro, Electric Sunglasses, Klotz Synthetic Lubricants, Cometic Gasket, Bell Helmets, Braille Battery, Wiisaa, CMNTY Clothing and Performance Racing Industry.
F3 Euro Championship Standings After Round 9
1. Daniel Juncadella, 109
2. Raffaele Marciello, 103
3. Carlos Sainz Jr., 82
4. William Buller, 81
5. Pascal Wehrlein, 72
6. Sven Muller, 71
7. Michael Lewis, 67
8. Felix Rosenqvist, 54
9. Tom Blomqvist, 50
10. Emil Bernstorff, 11
Round 7 Results
1. Raffaele Marciello
2. Pascal Wehrlein
3. Jazeman Jaafer
4. Sven Muller
5. Tom Blomqvist
6. Michael Lewis
7. Daniel Juncadella
8. William Buller
9. Felix Roxenqvist
10. Andrea Roda
Round 8 Results
1. William Buller
2. Michael Lewis
3. Tom Blomqvist
4. Sven Muller
5. Jazeman Jaafar
6. Pascal Wehrlein
7. Carlos Sainz Jr.
8. Daniel Juncadella
9. Raffaele Marciello
10. Emil Bernstorff
Round 9 Results
1. Daniel Juncadella
2. William Buller
3. Sven Muller
4. Pascal Wehrlein
5. Carlos Sainz Jr.
6. Michael Lewis
7. Tom Blomqvist
8. Raffaele Marciello
9. Sandro Zeller
10. Jazeman Jaafar