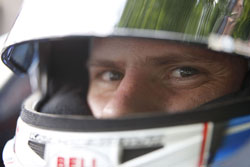 Nürnberg, Germany (June 29, 2012) — With four visits planned to Germany on the 2012 Formula 3 Euro Series race schedule, American Michael Lewis and the PREMA Powerteam unloaded the Dallara F312 with Mercedes power for the series' second trip to Germany at the Norisring in Nürnberg anticipating a strong result.
Today, two free practice sessions took place for the 28 participating drivers, but Michael experienced different results in each session.
"I am very much looking forward to this opportunity to race here at Norisring," said Michael Lewis, "and especially because the PREMA Powerteam has achieved excellent results at this track over the years. I know they will give me the engineering support necessary for me to perform well here this weekend."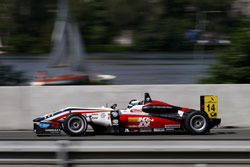 Practice Session 1
Under bright blue skies the first practice session started on time at 10:50 a.m. with all 28 Formula 3 drivers taking to the Norisring circuit for the first time of the event weekend. Immediately the PREMA Powerteam drivers soared to the top of the time charts and began turning very competitive lap times. On Lap 12 of the first session Michael was ranked P-2 and was trying to improve his time until he made slight contact with the wall. He retired to the pit area where the PREMA Powerteam mechanics worked diligently and quickly to get Michael's car repaired so he could participate in the second 50-minute practice session that would start immediately after Practice Session 1.
Practice Session 2
After the PREMA Powerteam mechanics repaired Michael's race car, he was one of the first Formula 3 cars to take the track in the second practice session where he again started turning very competitive lap times.
"While I made a mistake in the first session trying to improve my time, thankfully my PREMA crew made the repairs so I could go out again to compete for a strong time," explained Michael.
At the beginning of Practice Session 2 Michael was again on top of the time charts and he entered the pits on his 10th lap ranked P-3. After a seven-minute pit stop for some chassis adjustments Michael returned to the track in P-13. The top-six drivers frantically tried to improve their times and Michael broke into that group on his 19th lap with a time of 50.737, which placed him P-3. His PREMA teammate Daniel Juncadella was P-1 with a time of 49.934.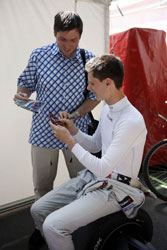 The furious fight among the top-six drivers continued until the final moments when Michael turned his best lap of the day. With just moments to go before the session concluded, he climbed up the time chart to P-6 with a time of 50.080, just .183 off the fastest lap turned by Daniel Juncadella at 49.897.
"This is such a competitive track because all the drivers are so close with their times, so you have to make the perfect lap every time or else you lose a couple of spots on the charts," said Michael. "I was very fortunate that my PREMA team give me a car that I could compete in for good practice times this morning. I know we can get some more speed and I will just keep working hard so I can push for a good qualifying result," added Michael.
Qualifying for this weekend's Formula 3 Euro Series event at the Norisring was scheduled to take place on Friday afternoon, but a DTM car broke through a barrier and track officials felt that they could not fix the barrier in time, so qualifying has been rescheduled for Saturday morning after the repairs are completed.
Race 1 of the weekend is scheduled for 11:50 a.m. CEST (5:50 a.m. EDT/2:50 a.m. PDT) on Saturday, while Race 2 is scheduled later on Saturday at 6 p.m. CEST (12 p.m. EDT/9 a.m. PDT). Race 3 is scheduled to start on Sunday, July 1, at 10:45 a.m. CEST (4:45 a.m EDT/1:45 a.m PDT). The races can be viewed live by visiting http://www.f3euroseries.com/livestream/.
Michael Lewis' 2012 sponsor lineup includes Eibach Springs, K&N Engineering, GoPro, Electric Sunglasses, Klotz Synthetic Lubricants, Cometic Gasket, Bell Helmets, Braille Battery, Wiissa, CMNTY Clothing and Performance Racing Industry.
Practice Times for Norisring F3 Euro Series Event
1. Daniel Juncadella, PREMA Powerteam, 49.897
2. Harry Tincknell, Carlin, 49.958
3. Tom Blomqvist, ma-con Motorsport, 49.976
4. Jazeman Jaafar, Carlin, 50.005
5. Pietro Fantin, Carlin, 50.011
6. Michael Lewis, PREMA Powerteam, 50.080
7. Pascal Wehrlein, Mücke Motorsport, 50.093
8. Carlos Sainz Jr., Carlin, 50.104
9. Raffaele Marciello, PREMA Powerteam, 50.115
10. Luis Felipe Derani, Fortec Motorsport, 50.129