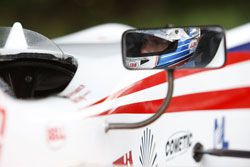 Nürnberg, Germany (June 30, 2012) — Saturday offered a full schedule for American Michael Lewis as the day began with qualifying for this weekend's fifth event on the Formula 3 Euro Series schedule at Norisring in Germany.
Qualifying for the Series typically occurs on Fridays of event weekends, however due to track damage, which occurred while the DTM cars were on the track, qualifying was moved to Saturday morning.
Qualifying
Twenty-eight drivers lined up early on Saturday morning to set the starting grid for the first and third races of the weekend. Before the heat of the day kicked in, the green flag waved for the 30-minute qualifying session promptly at 8:00 a.m.
Every team received two sets of tires for each driver so the qualifying session is basically divided into two 15-minute sessions. Each driver then has two sets of new tires to work with during the qualifying period. In the first session Michael started out fast and recorded a best time of 49.893, which placed him P-10. He came in for his second set of new tires and immediately started to improve his lap times from the first session. With one lap to go Michael turned his fastest lap of the second session at 49.506, which placed him 9th overall and placed him in the 5th row for the start of the 40-minute Race 1 later Saturday morning.
"This track is quite different from what we regularly race on as it consists of two long straights, a chicane and two hairpin turns," described Michael Lewis. "I have to be very precise but still aggressive to record a fast lap. My K&N, Eibach Mercedes-powered Dallara F312 was perfectly prepared by my PREMA team and I was able to record a top-10 qualifying effort this morning. Now I must concentrate on getting a good quality start and go to work during the long 40-minute Race 1."
Round 10
Only a few short hours after qualifying, the grandstands began filling with race fans who watched the 28 cars line up on the starting grid for Round 10 of the Formula 3 Euro Series. Michael approached this race optimistically after having earned a fifth-row position on the starting grid with his K&N Engineering – Eibach Springs PREMA Powerteam Mercedes-powered Dallara F-312 in 9th.
"As I parked in my grid box I started concentrating on how to manage the start of the race as it is so important to gain positions without getting involved in an incident," explained Michael. "My goal was to get as many positions at the start and then settle in and use the car given to me by PREMA and slowly work myself up to the front."
The lights went out to start the race and the 28 drivers headed to the first corner, which is a tight left hander. There was contact all through the pack as the cars negotiated through the turn. Because of Michael's great launch, he quickly moved up two positions to P-7 and started to fall in line with the lead pack of cars. On lap 2 there was a full course caution. The green flag soon waved again when on the 4th lap Michael positioned himself for an overtaking maneuver on the inside of a tight left-hand turn. Unfortunately, a number of cars arrived at the same location at once and contact was made. Michael retired from the race on lap 7 due to suspension damage.
"I wanted to move ahead and I did not want to put myself in a position of jeopardy but there was not enough room for all of us to get through the corner," said Michael. "My car sustained damage and I could not continue on. It is a shame because I knew I had a car that could run up front and contend for a podium position. Everyone at PREMA and Mercedes worked very hard to get me in this position and today just was not my day."
Round 11
As a result of Michael finishing Round 10 in 26th position, he started Round 11 on Saturday evening in 23rd. However, starting the race deep in the field did not deter Michael and as soon as the starting lights turned off, he immediately overtook several cars improving his position. One car hit the wall before the conclusion of the first lap, which brought out the safety car causing a full race course caution. Michael had already moved into 16th place by that time. On lap 5 the race went green again and Michael overtook one position and then another by lap 7. Michael moved up to 13th on lap 13 by passing Jazeman Jaafar and held him off to finish the 20-minute race in 13th.
"Moving up from 23rd to 13th in only a 20-minute race shows the strength of our PREMA Powerteam Dallara F312 with Mercedes power," said Michael. "You can use the draft here in dramatic fashion for overtaking and that was how I gained the positions. I am now looking forward to Sunday's Race 3 where I will be starting 9th and will apply what I learned today for that 40-minute race."
Round 12 of the Formula 3 Euro Series is scheduled to take place at 10:45 a.m. local time (1:45 a.m. PDT/4:45 a.m. EDT). The race can be watched live at www.f3euroseries.com/livestream/.
Michael Lewis' 2012 sponsor lineup includes Eibach Springs, K&N Engineering, GoPro, Electric Sunglasses, Klotz Synthetic Lubricants, Cometic Gasket, Bell Helmets, Braille Battery, Wiissa, CMNTY Clothing and Performance Racing Industry.