Nürnberg, Germany (July 1, 2012) — After battling heat on Friday and Saturday of the Formula 3 Euro Series' visit to the 2.3-kilometer Norisring in Nürnberg, Germany, American Michael Lewis and the 27 other drivers in Round 12 instead countered a heavy downpour of rain on Sunday.
Early Sunday morning a strong weather front moved into the Nürnberg area, which brought a heavy downpour that lasted for several hours. The 28 Formula 3 Euro Series drivers were staged to go racing with their cars equipped with tires specifically designed for rain conditions.
Michael was slotted on the grid in his PREMA Powerteam K&N Engineering – Eibach Springs Mercedes-powered Dallara F312 in 9th position based on his qualifying effort from Saturday morning.
"The rain was pouring down and I thought about how I dealt with this type of condition last year at Spa, Belgium, which is where I earned my first F3 race win," said Michael Lewis. "I was actually looking forward to this race because it was going to be a real chess match and a will of wits for all of the drivers especially here at the tight Norisring circuit."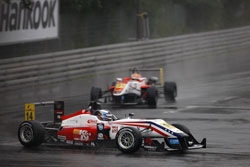 Instead of the usual pre-race festivities the race marshals displayed the Safety Car sign so all the drivers knew that the first few laps would be run with the Safety Car leading the way. The cars took off and followed the Safety Car in a slow formation weaving back and forth for 7 laps. When a break in the rain occurred, the course marshal brought the Safety Car into the pit area and waved the green flag to begin lap 8.
Immediately a number of drivers found difficulty negotiating the extremely wet track surface and numerous spins and crashes occurred. Fortunately, Michael remained calm and focused as he weaved through and avoided the carnage during the 6 laps of green. However the green quickly turned to yellow conditions bringing out the Safety Car again requiring drivers still on the track to run at a very reduced rate of speed. When another storm cell emerged the decision was made to red flag the race on lap 22. Michael finished 8th in the weekend's third race.
"I was hoping for more green flag laps because I had a good car and I felt comfortable in the rain," explained Michael. "However, this was more than just rain it was a real downpour and the visibility was very difficult. I wish I could have gained more positions but I did come out with some championship points, so I feel fine with how today ended. Now my focus is on our next race at the end of the month at Spa, where I found success last year. This gives me and the PREMA Powerteam plenty of time to make adjustments and finish the second half of the season strong."
After 12 rounds, Michael is ranked 8th in the F3 Euro Series Championship, but a close battle has formed between the drivers ranked from 5th to 8th, so with continued strong performances at the upcoming events, there is a opportunity for Michael to improve his Series' championship ranking.
Michael Lewis's 2012 sponsor lineup includes Eibach Springs, K&N Engineering, GoPro, Electric Sunglasses, Klotz Synthetic Lubricants, Cometic Gasket, Bell Helmets, Braille Battery, Wiissa, CMNTY Clothing and Performance Racing Industry.
Round 12 F3 Euro Results
1. Raffaele Marciello, PREMA Powerteam
2. Daniel Juncadella, PREMA Powerteam
3. Felix Serralles, Fortec Motorsport
4. Emil Bernstorff, ma-con Motorsport
5. Hannes Van Asseldonk, Fortec Motorsport
6. Pietro Fantin, Carlin
7. Tom Blomqvist, ma-con Motorsport
8. Michael Lewis, PREMA Powerteam
9. Alex Lynn, Fortec Motorsport
10. Harry Tincknell, Carlin
F3 Euro Drivers Championship Standings
1. Daniel Juncadella, 122
2. Raffaele Marciello, 116.5
3. William Buller, 105.5
4. Pascal Wehrlein, 92
5. Sven Müller, 83
6. Carlos Sainz Jr., 82
7. Felix Rosenqvist, 76
8. Michael Lewis, 74
9. Tom Blomqvist, 76
10. Emil Bernstorff, 33.5