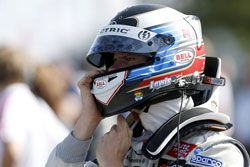 Nürburg, Germany (August 19, 2012) – American Michael Lewis showed that he had the speed to compete this weekend at the Formula 3 Euro Series' visit to the Nürburgring in the Eifel region of Germany, but luck was just not on his side…until his strong performance today.
The third and final race of the Formula 3 Euro Series' race weekend took place on Sunday morning amid clear skies, which also brought sweltering heat. Race 3, or the Series' Round 15, delivered a spectacular race that kept the German race fans entertained for the full 29 laps or 40 minutes.
Today's grid positions were determined by the fastest lap during Friday's 30-minute qualifying session. As a result, Michael placed his PREMA Powerteam K&N Engineering / Eibach Springs sponsored Dallara F312 with Mercedes power on the starting grid in 10th position. Michael has shown in the two previous Nürburgring races on Saturday that he has the speed to be competitive so he was positive about achieving a strong finish.
Anticipating the starting lights going out, with the engine rev limiter on, Michael prepared for the Turn 1 battle, which produced plenty of excitement. As has done all season, Michael made another strong launch and headed toward Turn 1 and immediately passed two cars. He earned a couple more positions and was running in 5th when he arrived at a left-hand turn where he suddenly hit the inside burm and spun. Fortunately for Michael, other accidents had occurred just behind him as well as ahead of him, so the safety car came out onto the track, which allowed Michael to join the pack in 13th position. Green flag racing resumed on lap 2. On lap 5, Michael passed another car, plus a drive-through penalty incurred by another driver allowed him to move up to 11th. Then on lap 7, Carlos Sainz Jr., who was ahead of Michael, spun and Michael passed another car to move up to 9th. The following lap Michael passed two more cars to 7th. He next moved up to 6th when another driver received a drive-through penalty. Michael quickly ran down the three-car train of Jazeman Jaafar, Emil Bernstorff and Tom Blomqvist. For the last 8 laps of the race, a torrid battle occurred by these four drivers while they challenged for positions 3 through 6. When the checkered flag waved, Michael crossed the start/finish line in a solid 6th place.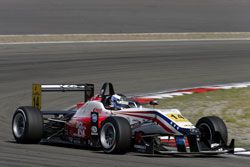 "After my spin on the first lap I had to make up ground quickly," described Michael Lewis. "Because I had such a good car from the PREMA Powerteam, I passed cars and made up time. I got back up to the front and challenged the three drivers that were all vying for third place. On the last lap I made an attempt to pass Tom Blomqvist in Turn 1 but could not make it stick. It was a fun race and I earned some Championship points, too."
Michael's next race will be this coming weekend when the Formula 3 Euro Series will visit Circuit Park Zandvoort in The Netherlands. Earlier in the season, Michael and many of his Formula 3 Euro Series competitors raced at Zandvoort in the FIA Formula 3 Championship, so Michael has experience at the Dutch track.
"I am really looking forward to going back to Zandvoort," said Michael. "The PREMA Powerteam cars are strong there and now I am familiar with the track. I really enjoy these back-to-back race weekends."
Michael Lewis's 2012 sponsor lineup includes Eibach Springs, K&N Engineering, GoPro, Electric Sunglasses, Klotz Synthetic Lubricants, Cometic Gasket, Bell Helmets, Braille Battery, Wiisaa, CMNTY Clothing and Performance Racing Industry.
Round 15 Results
1. Pascal Wehrlein, Mücke Motorsport
2. William Buller, Carlin
3. Jazeman Jaafar, Carlin
4. Emil Bernstorff, ma-con Motorsport
5. Tom Blomqvist, ma-con Motorsport
6. Michael Lewis, PREMA Powerteam
7. Luis Sa Silva, Angola Racing Team
8. Lucas Worlf, URD Rennsport
9. Sandro Zeller, Jo Zeller Racing
10. Carlos Sainz Jr., Carlin