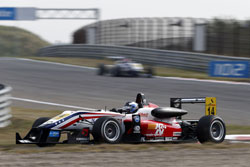 Zandvoort, The Netherlands (August 24, 2012) — Competition is growing fierce as the drivers in the Formula 3 Euro Series are focused to conclude the 2012 season strong, and American Michael Lewis has also intensified his practice and qualifying effort with an impressive performance today at Circuit Park Zandvoort in the Netherlands.
Michael joined 13 other drivers for two practice sessions and one 30-minute qualifying session for Rounds 16, 17 and 18 of the series' visit to the 4.307-kilometer Dutch track.
Practice began this morning with two 50-minute green flag sessions with a five-minute rest period in between. After hovering around the top 8 for most of the first session and the beginning of the second session, Michael worked up to claiming the 6th fastest lap for the morning practice session. His best lap time was 1:32.039, which occurred on the 22nd lap of the session, and ranked him just .440 seconds from P-1.
"As I spent more time on the track during the practice session, I felt more confident," said Michael Lewis."My PREMA Powerteam engineer made a number of changes during the session that improved the handling of the car, which helped improve my times. I am looking forward to a strong effort in qualifying later this afternoon."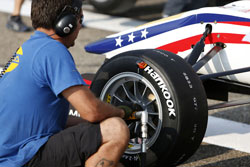 Qualifying was scheduled for 5:15 p.m. The second fastest times from the 30-minute session would determine the starting positions for Saturday morning's Race 1 (Round 16) while the session's fastest qualifying times will set the starting grid for Sunday morning's Race 3 (Round 18). Michael Lewis brought his PREMA Powerteam, K&N Engineering / Eibach Springs, Mercedes-powered Dallara F312 car to the pit lane and waited in anticipation for the qualifying session to begin.
Typical of Zandvoort, the wind blew through the sand dunes but there was bright sunlight with no rain in sight so qualifying would occur on slicks tires. All teams are given two sets of tires so the 30-minute qualifying session offers the drivers approximately 7 laps per session to find the perfect lap. On the first set of tires, Michael ended the session P-3 turning his best lap on lap 6 with a time of 1:30.743 and only .351 from P-1. All the drivers came in to pit lane for the 2nd set of tires and roared back onto the Circuit.
For the entire second session Michael moved from P-2 down to P-3 and back to P-2 recording very competitive lap times. His best lap time of 1:30.600 was turned on lap 11 and put Michael in P-3. Then the red flag waved with just a couple of laps left in the session. Two drivers recorded slightly better times than Michael after the green flag reappeared, so when the qualifying session ended, Michael was ranked 5th. As a result of today's qualifying, Michael will start in 5th position for both Race 1 and Race 3. The starting grid for Saturday afternoon's Race 2 (Round 17) will be determined by an invert of the top-8 finishers from Race 1.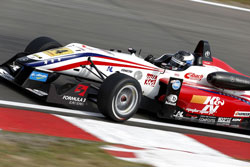 "The PREMA Powerteam gave me a car that had the potential to fight for the pole position and I wanted to give them that reward for all of their hard work this weekend at Zandvoort, but unfortunately I came up bit short," explained Michael. "The gap from P-5 to P-1 is only .280 seconds, which shows how competitive and close each driver is in this series."
Race 1 (40 minutes in length) will take place Saturday morning beginning at 11:15 a.m. local time (5:15 a.m. EDT / 2:15 a.m. PDT). Race 2 is a 20-minute sprint race that is scheduled to start later in the day at 3:25 p.m. local time (9:25 a.m. EDT / 6:25 a.m. PDT). The races are broadcast live on the Formula 3 Euro Series website at www.f3euroseries.com. Visit the website and click on the "Live Stream" icon.
Michael Lewis's 2012 sponsor lineup includes Eibach Springs, K&N Engineering, GoPro, Electric Sunglasses, Klotz Synthetic Lubricants, Cometic Gasket, Bell Helmets, Braille Battery, Wiisaa, CMNTY Clothing and Performance Racing Industry.
Qualifying for Round 16 (Race 1)
1. Sven Müller, PREMA Powerteam, 1:30.412
2. Felix Rosenqvist, Mücke Motorsport, 1:30.441
3. Daniel Juncadella, PREMA Powerteam, 1:30.529
4. Raffaele Marciello, PREMA Powerteam, 1:30.618
5. Michael Lewis, PREMA Powerteam, 1:30.743
6. Tom Blomqvist, ma-con Motorsport, 1:30.793
7. William Buller, Carlin, 1:30.947
8. Pascal Wehrlein, Mücke Motorsport, 1:30.952
9. Carlos Sainz Jr., Carlin, 1:30.977
10. Emil Bernstorff, ma-con Motorsport, 1:31.081
Qualifying for Round 18 (Race 3)
1. Sven Müller, PREMA Powerteam, 1:30.320
2. Raffaele Marciello, PREMA Powerteam, 1:30.369
3. Felix Rosenqvist, Mücke Motorsport, 1:30.392
4. Daniel Juncadella, PREMA Powerteam, 1:30.506
5. Michael Lewis, PREMA Powerteam, 1:30.600
6. Tom Blomqvist, ma-con Motorsport, 1:30.728
7. William Buller, Carlin, 1:30.746
8. Carlos Sainz Jr., Carlin, 1:30.773
9. Pascal Wehrlein, Mücke Motorsport, 1:30.805
10. Emil Bernstorff, ma-con Motorsport, 1:30.987