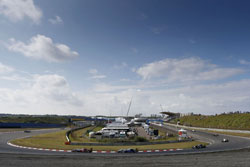 Zandvoort, The Netherlands (August 25, 2012) — A strong qualifying effort yesterday is just what American Michael Lewis needed to deliver his impressive podium finish today at Circuit Park Zandvoort where Michael finished 3rd for Round 16 of the Formula 3 Euro Series.
Rain arrived at the track Saturday morning, but cleared up in time for the 11:15 a.m. race start. The track began to dry out so the teams did not need to put on their rain tires. Michael's PREMA Powerteam K&N Engineering / Eibach Springs sponsored Dallara F312 with Mercedes power was lined up on the starting grid on the outside row in 5th position.
Michael has been making strong launches at the beginning of many recent races and this would be a real advantage at the Dutch 4.307-kilometer track, because as the race progresses, passing is very difficult here. With the drivers having their cars' rev limiters on, the starting lights went out to begin the 40-minute / 26-lap Round 16. As the 14 drivers headed toward the Tarzan Turn 1, Michael chose the outside lane while many of the cars tucked in on the low line. Michael exited Turn 1 in 3rd place behind teammate Sven Müller and Felix Rosenqvist. As the race progressed, Michael kept close to the leaders and the gap from 3rd place to 1st place ranged from 1.7 seconds for the first half of the race to over 3 seconds at the end. Michael finished Round 16 in 3rd place and earned his 4th podium of the F3 Euro season.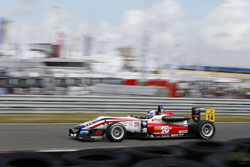 "The start went perfectly for me," described Michael Lewis. "Everyone seemed to settle in down low. I had the momentum from a really good launch and decided to stay in the upper groove. It worked and I came out of the first turn right behind Felix Rosenqvist and the race was on from that standpoint. My PREMA Powerteam Mercedes-powered Dallara F312 was very fast at the beginning and I could keep pace with the two cars ahead of me. My pace fell off some towards the end of the race so I was unable to make a challenge for a position. I owe my success today to the work that was done all weekend in the PREMA tent as I was given a really quick car to drive this morning."
As a result of the podium finish, Michael made a substantial gain in the 2012 Formula 3 Euro Series Championship standings as well as the FIA Formula 3 Championship. Race 1 and Race 3 from this weekend will earn points toward the FIA Formula 3 Championship.
Round 17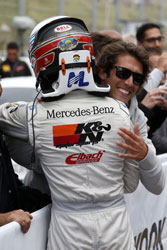 After a tremendous effort in Race 1 earlier in the day, expectations were very high for Michael to have another strong performance in the 20-minute sprint Race 2 (Round 17) on Saturday afternoon. The grid for Race 2 is set by the finishing order from Race 1 with the first 8 grid positions assigned in inverted order. Michael Lewis brought his PREMA Powerteam K&N Engineering / Eibach Springs sponsored Dallara F312 powered by Mercedes car to the grid in the 6th starting position. Rain showers were looming with some wet spots on the track from a small storm that came through, so there was much anticipation if rain would be a factor. The race began promptly at 3:25 p.m., and Michael started on the inside lane heading into the first turn. He braked late into Turn 1 after his good launch and then pushed up into his PREMA Teammate Raffaele Marciello. Unfortunately, the resulting contact severely damaged Michael's car and caused Raffaele to leave the track and return after losing many positions.
"Obviously I did not plan for this to happen," explained a dejected Michael Lewis. "I made a mistake entering Turn 1 and hit my teammate Raffaele Marciello. It was my mistake and it should not have happened. I gave up an opportunity to score points for my team and myself because my car was strong."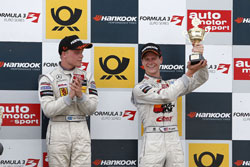 Michael's car was severely damaged and the PREMA Powerteam will work diligently to get it ready for Sunday's Race 3, starting at 11:15 a.m local time (5:15 a.m. EDT / 2:25 a.m. PDT), where Michael will be placed in 5th on the starting grid.
Michael Lewis's 2012 sponsor lineup includes Eibach Springs, K&N Engineering, GoPro, Electric Sunglasses, Klotz Synthetic Lubricants, Cometic Gasket, Bell Helmets, Braille Battery, Wiisaa, CMNTY Clothing and Performance Racing Industry.
Round 16 Results1. Felix Rosenqvist, Mücke Motorsport
2. Sven Müller, PREMA Powerteam
3. Michael Lewis, PREMA Powerteam
4. Raffaele Marciello, PREMA Powerteam
5. Tom Blomqvist, ma-con Motorsport
6. Daniel Juncadella, PREMA Powerteam
7. Pascal Wehrlein, Mücke Motorsport
8. William Buller, Carlin
9. Emil Bernstorff, ma-con Motorsport
10. Lucas Wolf, URD Rennsport
2012 F3 Euro Drivers Championship Points
1. Daniel Juncadella, PREMA Powerteam, 162
2. Raffaele Marciello, PREMA Powerteam, 148.5
3. Pascal Wehrlein, Mücke Motorsport, 147
4. William Buller, Carlin, 137.5
5. Sven Müller, PREMA Powerteam, 126
6. Felix Rosenqvist, Mücke Motorsport, 122.5
7. Tom Blomqvist, ma-con Motorsport, 101.5
8. Michael Lewis, PREMA Powerteam, 101
9. Carlos Sains Jr., Carlin, 92
10. Emil Bernstorff, ma-con Motorsport, 53