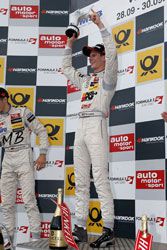 Valencia, Spain (September 29, 2012) — American Michael Lewis earned his first win in the Formula 3 Euro Series today.
After qualifying 11th yesterday for today's 40-minute Race 1, or Round 19, of the Formula 3 Euro Series, Michael set a goal to finish the race in at least 8th position, which would put him on the pole for this afternoon's 20-minute Race 2, which he accomplished. The excellent starting position gave him the confidence to earn this valuable victory.
Round 19
After a dismal Friday practice session in the rain, the sun finally broke through on Saturday morning allowing the 14 Formula 3 Euro Series drivers much better racing conditions at the 4.005-kilometer Circuit Ricardo Tormo, just outside Valencia, Spain.
Michael lined up his PREMA Powerteam F312 Dallara sponsored by K&N Engineering and Eibach Springs with Mercedes power to the 11th position on the starting grid. While the race track was dry for the most part, there were occasional puddles of water, with one located where Michael's car was positioned for the start.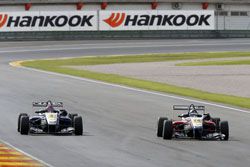 The starting lights went out and Michael experienced wheel spin, which caused him to lose a position at the start. He gained the position back at the exit of turn 1 and then there was contact between his car and another car in turn 2 that appeared initially to be a racing incident. By lap 4 Michael had worked up to 7th position and was pursuing the tail of a three-car train ahead of him when word came from the Race Director that Michael needed to make a drive through penalty on lap 5.
After driving through the pit area, from lap 5 to lap 16 Michael worked back to the tail end of the pack still on the lead lap. Then he started picking off a car every other lap up until the final lap when he was in 9th position. He needed to pass one more car on the last lap to gain the coveted 8th position, which would place him on the pole for the start of Race 2.
"I had come so far, even with the drive-through penalty, so I dug deep and found an opening on the last lap to slip by one more car," said Michael Lewis. "This assured me the opportunity to start up front for Round 20, which is a 14-lap sprint race."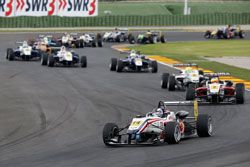 Round 20
Michael Lewis's 8th-place finish in Race 1 on Saturday morning placed him on the pole for Race 2, because the top 8 finishers from the first 40-minute race are then inverted for the second race, which is only a 20-minute sprint race.
Michael climbed into his car optimistically and knew what he needed to do to earn the win. However, the bright sunny day was suddenly turning dark as clouds drew near and there was concern that the 14-lap sprint race might not be completed in time before rain arrived.
"After starting 11th in this morning's Race 1, and racing up to 7th position in the early stages of the race, but then having to deal with a drive-through penalty, I suddenly found myself on the last lap of that race in 9th position," described Michael. "I had to pass one more car to finish 8th, so I could start up front in the short sprint Race 2. I certainly wanted to take advantage of the front row start."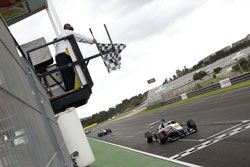 Michael's PREMA Powerteam teammate Sven Müller shared the front row with Michael so the anticipation was great as the race crowd waited to see which PREMA car would come out of turn 1 in the lead. The red starting lights went out and Michael made another strong launch as he has been doing all season long. He headed to the turn 1 left hander with a two-car advantage. The two PREMA Powerteam cars and drivers were the class of the field, but Michael was able to keep the slim two-car gap for the 14-lap race. He led every lap and crossed the finish line 0.643 seconds ahead of Müller to record his first Formula 3 Euro Series win.
"I am incredibly happy with my first win in the Formula 3 Euro Series," exclaimed Michael. "Today, the start was decisive, so I totally concentrated on that. After that, I just kept my own rhythm. The fact that, with this success, I now have achieved something that drivers like Sebastian Vettel, Lewis Hamilton, or my compatriot Charlie Kimball, already did before me, is just awesome.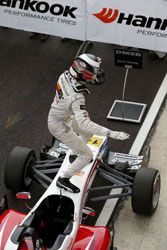 "I knew that my PREMA engineer Cosimo Prusciano and my mechanic Francesco would give me a good car like they have done all year long," continued Michael. "I wanted to bring them a win before the season ended as a reward for all their hard work. My Mercedes engine ran flawlessly and gave me the power I needed to stay up front. There are so many people who have helped me all year long, including my primary sponsors K&N Engineering and Eibach Springs. I appreciate all the support and help provided by René and Angelo Rosin, who are the masterminds of the PREMA organization. This team is like a family, so all of the drivers work so hard to bring the results. It means so much to me to be able to win this race driving a PREMA car."
Michael will start 11th in Sunday's Race 3,which will be a 27 lap event that is scheduled to begin at 11:15 a.m. local time (5:15 a.m. EDT/2:15 a.m. PDT) Sunday morning. The race can be viewed live at wwww.f3euroseries.com, and click on "live stream."
Michael's final 2012 Formula 3 Euro Series event weekend will be October 19–21 at the famous Hockenheimring.
Michael Lewis's 2012 sponsor lineup includes Eibach Springs, K&N Engineering, GoPro, Electric Sunglasses, Klotz Synthetic Lubricants, Cometic Gasket, Bell Helmets, Braille Battery, Wiisaa, CMNTY Clothing and Performance Racing Industry.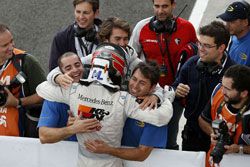 Round 19 Results
1. Raffaele Marciello, PREMA Powerteam
2. Daniel Juncadella, PREMA Powerteam
3. Tom Blomqvist, ma-con Motorsport
4. Emil Bernstorff, ma-con Motorsport
5. Pascal Wehrlein, Mücke Motorsport
6. William Buller, Carlin
7. Sven Müller, PREMA Powerteam
8. Michael Lewis, PREMA Powerteam
9. Andrea Roda, Jo Zeller Racing
10. Luis Sa Silva, Angola Racing Team
Round 20 Results
1. Michael Lewis, PREMA Powerteam
2. Sven Müller, PREMA Powerteam
3. Pascal Wehrlein, Mücke Motorsport
4. Tom Blomqvist, ma-con Motorsport
5. William Buller, Carlin
6. Emil Bernstorff, ma-con Motorsport
7. Daniel Juncadella, PREMA Powerteam
8. Felix Rosenqvist, Mücke Motorsport
9. Andrea Roda, Jo Zeller Racing
10. Carlos Sainz Jr., Carlin