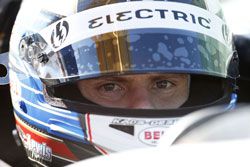 Valencia, Spain (September 30, 2012) — American Michael Lewis confidently walked through the main gate at the Circuit Ricardo Tormo, just outside of Valencia, Spain, this morning after having a full night to enjoy his inaugural win in the Formula 3 Euro Series on Saturday afternoon.
"What happened yesterday is now in the past, and today I must concentrate on obtaining maximum points and performance during Race 3," said Michael Lewis about Sunday's Round 21 of the Formula 3 Euro Series. The Spanish track hosted Rounds 19, 20 and 21 of the F3 Euro Series this weekend. "Since the PREMA Powerteam made the decision yesterday for me to have four new tires for Race 2, I must start today with four tires with at least 15 laps on them. This could be a factor in my ability to overtake as the race progresses."
The third race of the series' weekend was determined on Friday during the 30-minute qualifying session. Unfortunately, Michael did not qualify as well as he expected, so his starting grid position for Race 3 would be 11th.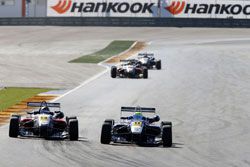 Michael and the PREMA Powerteam placed the F312 Dallara with Mercedes power featuring K&N and Eibach Springs livery in his assigned grid position this morning at 11 a.m. in time for the 11:15 a.m. start. The rain that plagued the race weekend finally cleared, so Race 3 would be run in perfect weather conditions with only a slight breeze under bright blue skies.
When the starting lights went out to begin Round 21, two cars stalled, but Michael's No. 14 car jumped forward allowing him to immediately gain two positions. He fell in line behind British driver William Buller in 9th position. For the next 12 laps, Michael made numerous attempts to overtake Buller's No. 11 car. Finally on lap 14, Michael made a bold move in the left-hand Turn 1 and forced Buller wide to claim 8th position. All race long, an intense battle for positions 6 and 7 took place, which allowed Michael to work up to the rear wing of the 7th-place car after claiming 8th. When the checkered flag was waved on lap 27, unfortunately Michael was out of laps to overtake for 7th.
"Everyone got stretched out at the start," described Michael. "After I was able to get into 8th place, I was told on the radio that I was going to run down the two cars ahead of me in about 8 laps, which I did. I had used up my tires by that point, so I did not want to risk making a move that I could not pull off. Today resulted in an 8th place finish for me, which allowed me to earn valuable points toward the F3 Euro Series Championship."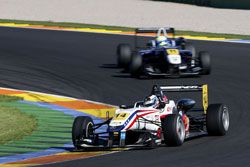 After the Rounds 19–21, Michael moved up a position in the Championship points standings to 8th, just 12 points shy of 7th. The final 2012 Formula 3 Euro Series season event will occur October 19–21, at the world-famous Hockenheimring Circuit.
Michael Lewis's 2012 sponsor lineup includes Eibach Springs, K&N Engineering, GoPro, Electric Sunglasses, Klotz Synthetic Lubricants, Cometic Gasket, Bell Helmets, Braille Battery, Wiisaa, CMNTY Clothing and Performance Racing Industry.
Round 21 Results
1. Felix Rosenqvist, Mucke Motorsport
2. Daniel Juncadella, PREMA Powerteam
3. Raffaele Marciello, PREMA Powerteam
4. Pascal Wehrlein, Mucke Motorsport
5. Tom Blomqvist, ma-con Motorsport
6. Carlos Sainz Jr., Carlin
7. Emil Bernstorff, ma-con Motorsport
8. Michael Lewis, PREMA Powerteam
9. William Buller, Carlin
10. Andrea Roda, Jo Zeller Racing