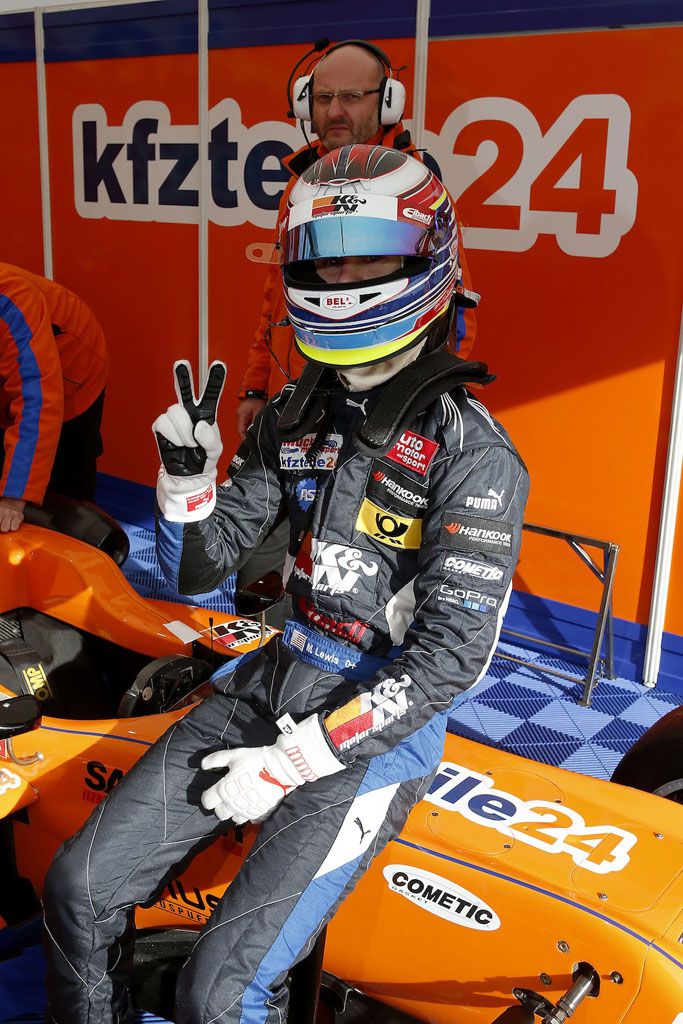 Laguna Beach, California (July 1, 2013) — For the second consecutive year, American Michael Lewis will compete in the prestigious RTL GP Masters of Formula 3, July 5–7, 2013. Approximately 30 of the best drivers in the FIA Formula 3 European Championship and the British Formula 3 Championship will compete on the 4.307-kilometer Circuit Park Zandvoort, in Zandvoort, The Netherlands.
Michael enters this event in the kfzteile24 Mücke Motorsport Dallara with Mercedes-Benz power confidently after earning an 8th-place finish in the 2012 Masters of Formula 3 event, which featured 20 drivers. Michael is familiar with the Zandvoort Circuit having raced there in 2010 in Formula BMW and twice in 2012. He appeared on the podium at Zandvoort in Race 1 of the Formula 3 Euro Series race last year.
"I'm pretty excited to get back to the Masters event for 2013, and I'll drive hard for my kfzteile24 Mücke Motorsport guys," said Michael Lewis. "With no points on the line, it's all for glory, and I hope to be fighting at the front for the victory. We'll take it step by step. I know my engineer Peter Flückiger will get the car fast like he usually does. I'm just excited to get back to racing!"
The Masters of Formula 3 will be the headlining event of the race weekend, with accompanying races from the FIA GT Series, DSSS Series, HDI-Gerling Dutch GT Championship, Formula Ford North Sea Series, Dutch Renault Clio Cup and Formido Swift Cup.
Fans from across Europe flock to this event as a crowd of over 25,000 pack the grandstands and the surrounding sand dunes to see some of racing's best young, up-and-coming drivers. Past winners include Lewis Hamilton (2005), Jos Verstappen, Nico Hülkenburg, and David Coulthard, who won the inaugural event in 1991. The festive atmosphere of the race event, as well as the frantic and exciting Formula 3 wheel-to-wheel racing, will be televised live throughout Europe.
One of the challenges to this event is the use of Kumho's ECSTA slicks and wets, while the FIA Formula 3 Europe Championship cars normally run on Hankook tires.
"The challenge is the same for everybody regarding the tires, but our team will use our skills to get the car working well on these tires," explained Michael. "I'm confident in my kfzteile24 Mücke Motorsport guys, and so all I have to do is lay down a fast lap during qualifying. Last year's Kumho tires had their peak after laps 3 and 4, while the Hankook's that we normally run get better and better as you do more laps, about after laps 8 and 9. It will be interesting, but also with nearly 30 cars you may not get your clear lap when you have the optimum performance of the tires. So it's important to keep driving hard to the finish of the session."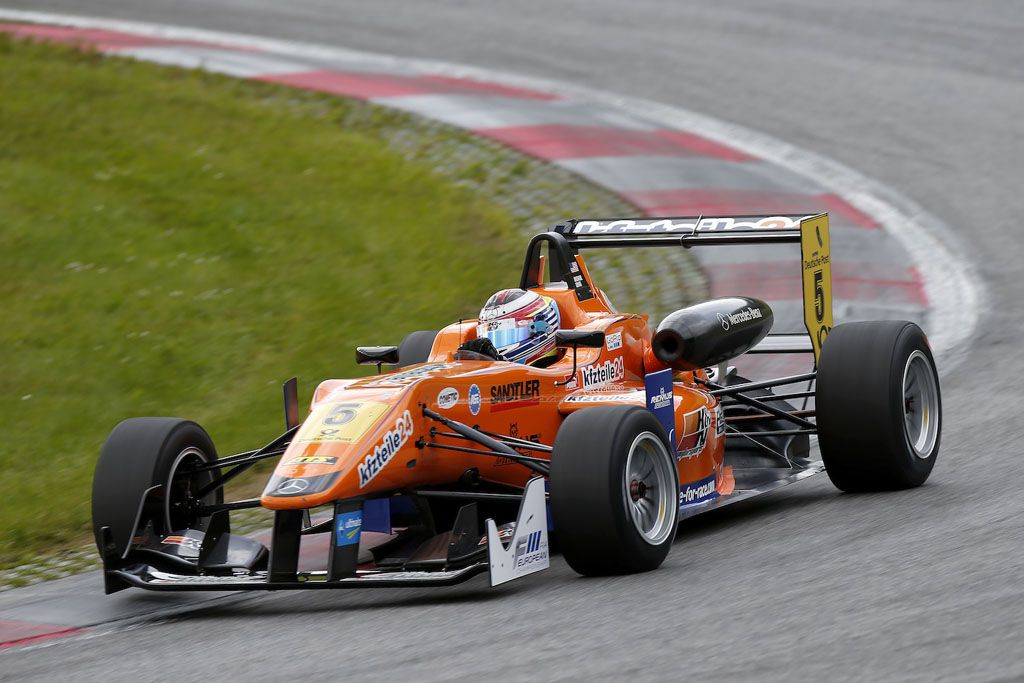 Practice at the Dutch track just outside of Amsterdam will take place on Friday, July 5, with qualifying scheduled for Saturday, July 6, and the main event on Sunday, July 7.
"I will dedicate this Zandvoort Masters of F3 race to my dear friend Jason Leffler who lost his life in a winged sprint car race two weeks ago on June 12, 2013," added Michael. "For those who don't know me, I practically grew up watching Jason race when he drove for my father's #9 midget team. I was just a little kid running around in the pits at the race track when I first met Jason. When I started my own driving career, Jason was always around and interested in what I was doing.
"So this race is for him," continued Michael. "I will run a memorial logo on my helmet to acknowledge him as my friend as well as race driver. I look to drive as hard as I can, and give all my effort just as he would have done. I'm sure he will have fun driving the Zandvoort track in my Formula 3 car in spirit. We'll miss you greatly my friend, RIP Jason Leffler 1975–2013."
The following weekend (July 12–14) Michael will again compete in the FIA Formula 3 European Championship at the famous street circuit Norisring in Nuremberg, Germany. The Formula 3 cars will share the billing with the DTM Series, which brings race fans in droves to watch the exciting racing action.
Michael Lewis' 2013 sponsor lineup includes K&N Motorsports, Eibach, Mercedes-Benz, ASE, Cometic Gasket, GoPro, Bell Helmets, Puma Motorsport, Subè Sports, Braille Batteries, Formula Medicine, Klotz, and Racing Electronics.
In loving memory of Jason Leffler 1975–2013
For more information about Mücke Motorsports and photos to download, visit www.muecke-motorsport.de.
American contact:
Meredith Kaplan Burns
[email protected]
International contact:
Roland Hanke
Team kfzteile24 Mücke Motorsport Presse
E-Mail:…………… [email protected]
Background information of the German Team kfzteile24 Mücke Motorsport from Berlin
Peter Mücke started in Formula motor sports with his team in 1998 and nowadays it is the one of the biggest and most successful private racing stables in Germany and it is involved in the DTM since 2005 as well. Already at the first year in Formula sports his son as the newbie in the field, Stefan Mücke, got the title for Mücke Motorsport at the Formula BMW, and at the offspring series there were three further titles, last time with Pascal Wehrlein in 2011 at the ADAC Formula Masters. The driver from Worndorf got the sixth Rookie title one year later as well as the fifth vice championship at the drivers ranking since the access of Mücke into the Formula 3 in 1999. Attached to that there were two wins at the Formula 3 Masters in Zandvoort as well as position two in 2012 at the Formula 3 Grand Prix in Macau of the Swede Felix Rosenqvist, who was championship third last year as well and who fights for the European Championship title in the actual team as well. Now in 2013 the team has four Dallara Mercedes at the FIA Formula 3 European Championship, as well as six Formula ADAC powered by Volkswagen at the ADAC Formula Masters.
Car master craftsman, car and bike shop owner Peter Mücke is involved in motor sports for about 40 years already. The 66 year old got more than 500 wins himself and has been Auto Cross European Champion three times in his self built Buggy as well as GDR Champion eleven times (seven times Auto-Cross, four times circular track) and is still behind the wheel of his Ford Capri RS at some Youngtimer races, if there is the time. His good feeling for talented drivers made his team to a well-known offspring team that offers the whole range, from rookies and beginners of motor sports up to the advancement into the royal league of the Formula sport. Until now, six former drivers of Mücke Motorsport started at the Formula 1. And one of them is the threefold World Champion Sebastian Vettel from Heppenheim. Five further drivers that were engaged in the offspring school of Mücke Motorsport in different series, also succeeded to drive at the Formula 1: Sergio Perez (Mexico), Robert Kubica (Poland), Sébastien Buemi (Switzerland), Christian Klien (Austria) and Markus Winkelhock (Germany).
Stefan Mücke (31), who is the consultant of his father's team as well, switched 2007 to the sports cars scene after his time as Mercedes pilot at the DTM. In 2009, he was the champion of the Le Mans Series in the LMP1 sports car prototype, in 2011 vice champion at the FIA GT1 World Championship and in 2012 vice champion with his Team Aston Martin Racing at the FIA World Endurance Championship. At the WEC, the Berlin is behind the wheel in 2013 as well and this will be his sixth year in a row as an Aston Martin works driver. In June he took part at the famous 24 hour race of Le Mans for the seventh time.